1
Houston
Houston News & Search
1 News - 1 eMovies - 1 eMusic - 1 eBooks - 1 Search
• Kate Upton takes in Verlander's debut
"A lot of nerves, a lot of excitement," Verlander said. "I think the closest thing I can compare it to is Opening Day kind of nerves. The unknown — don't really want to let everybody down, new team. These guys have made the process pretty easy on me so far, just fitting in and feeling like I'm right at home as quickly as possible."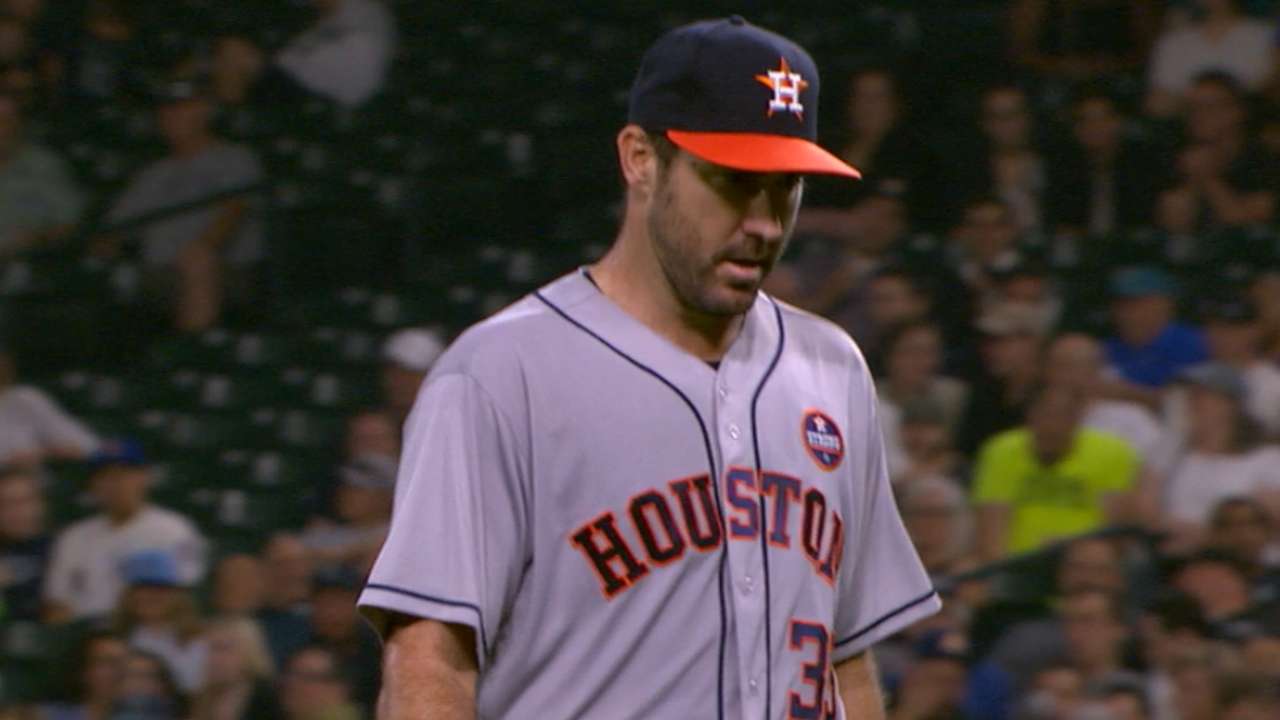 Verlander, acquired by the Astros in a trade last week, dazzled manager A.J. Hinch and his new teammates in his preparation and execution. He allowed a run on a Kyle Seager homer in the fourth, and but got Seager to hit into a key 3-6-1 double play in the sixth before blowing a fastball past Haniger to end his night.
"It was definitely different, seeing him in a different uniform for sure," Seager said. "But his stuff was the same and the colors were the same. He's tough. We all know that. We had a couple opportunities. The one inning Robbie [Cano] and Nelly [Cruz] got on, that was a big double play ball he got there. That one definitely hurt. He's tough. You're not going to get a ton of opportunities off him and you really have to grind it out when you get one."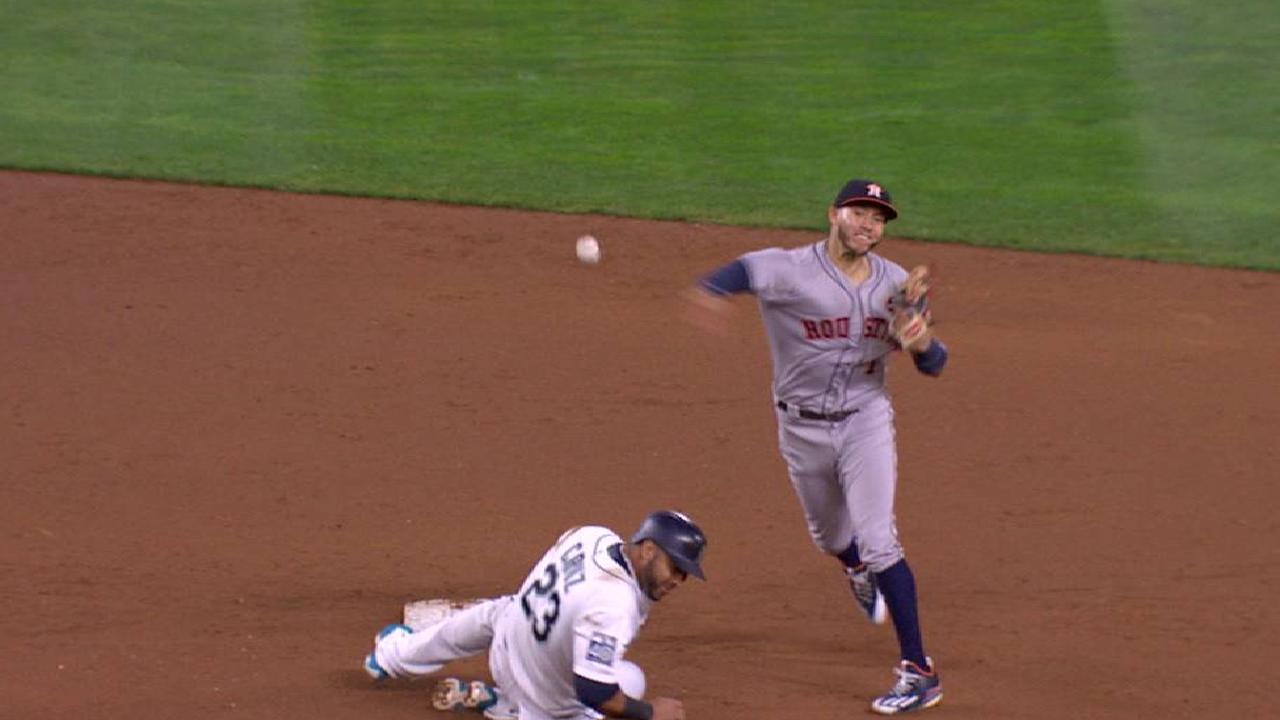 Knowing he was at the end of his outing, Verlander said he let it fly on his final pitch — the 99-mph fastball to Haniger.
"I was really hoping to hit 100 there. Didn't quite get it," he joked. "Honestly, just a good kind of ending to the night and to have Cam step up that next inning and hit a huge home run and for the bullpen to come in and shut it down, this is how you win tight ballgames. We had been no-hit to that point and we were still able to win this game. These are the type of games you can see in the playoffs. We scored a run without a hit. Those are the type of things that matter."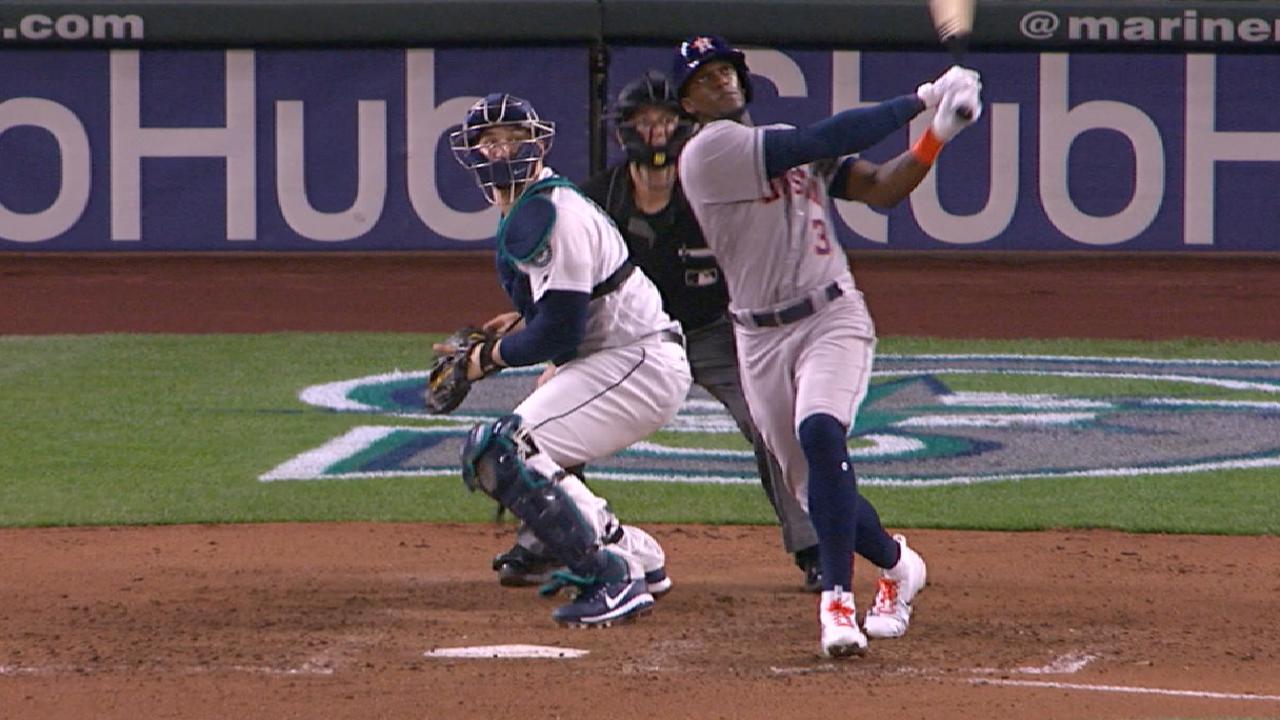 Hinch said the sixth inning was worth the price of admission.
"That was as impressive a finish to an outing as we could ask for, especially in the big moments where the inning starts out with runners on base," he said. "He never gets out of control. You wouldn't expect him to. He completely dominated the rest of the inning."
Astros catcher Brian McCann, who broke into the big leagues three weeks before Verlander did in 2005, said catching him solidified his belief in Verlander's ability.
"He's a true top-of-the-rotation starter that wants the ball and competes every pitch," he said. "You watch him pregame, you watch him go about his day on a start. Really impressive."
Verlander was struck on the wrist by a 103.5-mph Cano line drive hit to start the sixth, but stayed in the game after throwing one warmup pitch for Hinch.
"I knew I was good and threw one warmup pitch and felt fine and said, 'Let's go,'" he said.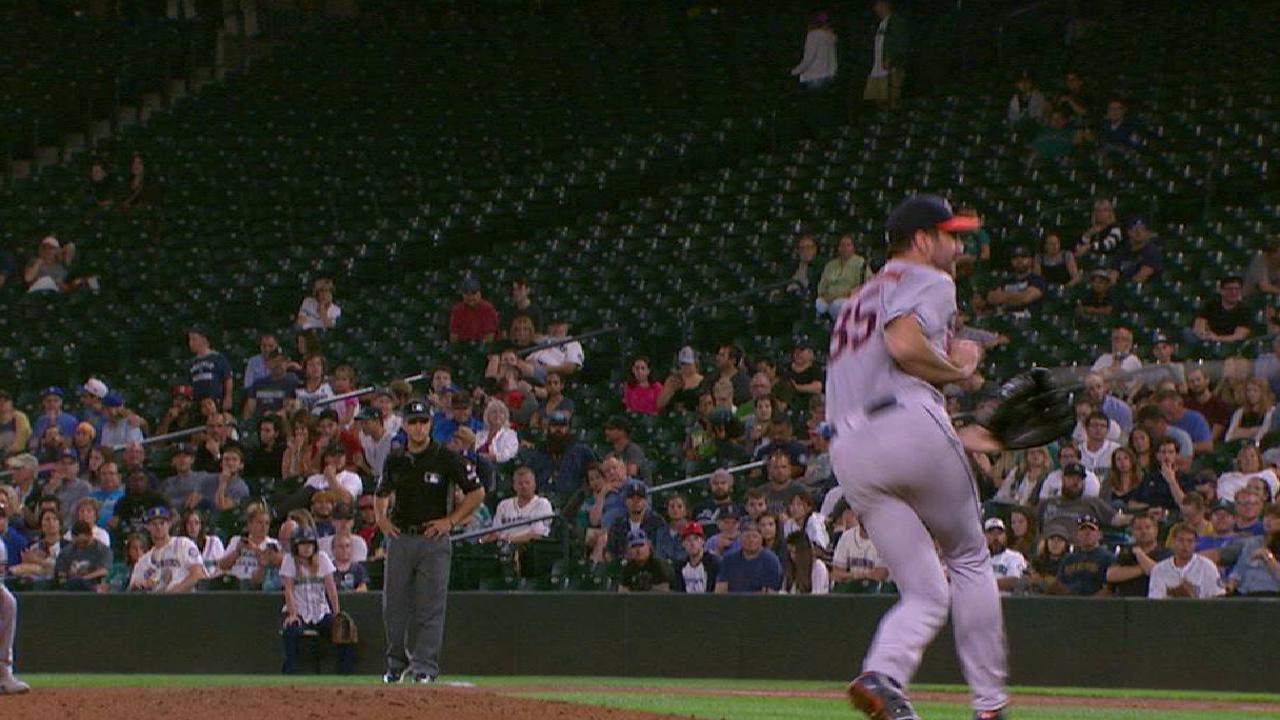 Brian McTaggart has covered the Astros since 2004, and for MLB.com since 2009. Follow @brianmctaggart on Twitter. This story was not subject to the approval of Major League Baseball or its clubs.
1
Houston
Houston News & Search
1 News - 1 eMovies - 1 eMusic - 1 eBooks - 1 Search