1
Houston
Houston News & Search
1 News - 1 eMovies - 1 eMusic - 1 eBooks - 1 Search
There must also be some magic in the air. That's another requirement for a 10-game winning streak.
Maybe that's the best explanation for the Astros, who defeated the Rangers, 7-2, Sunday afternoon to win their 10th straight game.
• Cast your Esurance All-Star ballot for Springer, Correa, Altuve and other #ASGWorthy players
When this streak started, the Astros had baseball's best record (31-16) and largest division lead (seven games).
Now, the numbers are starting to look silly. At 41-16, the Astros have six more wins than any other team and have opened up a 13 1/2-game canyon over the Angels and Mariners in the American League West.
This winning streak has been the latest surreal moment in a season filled with them. It's the kind of streak — and season — that can build confidence and resilience for the road ahead.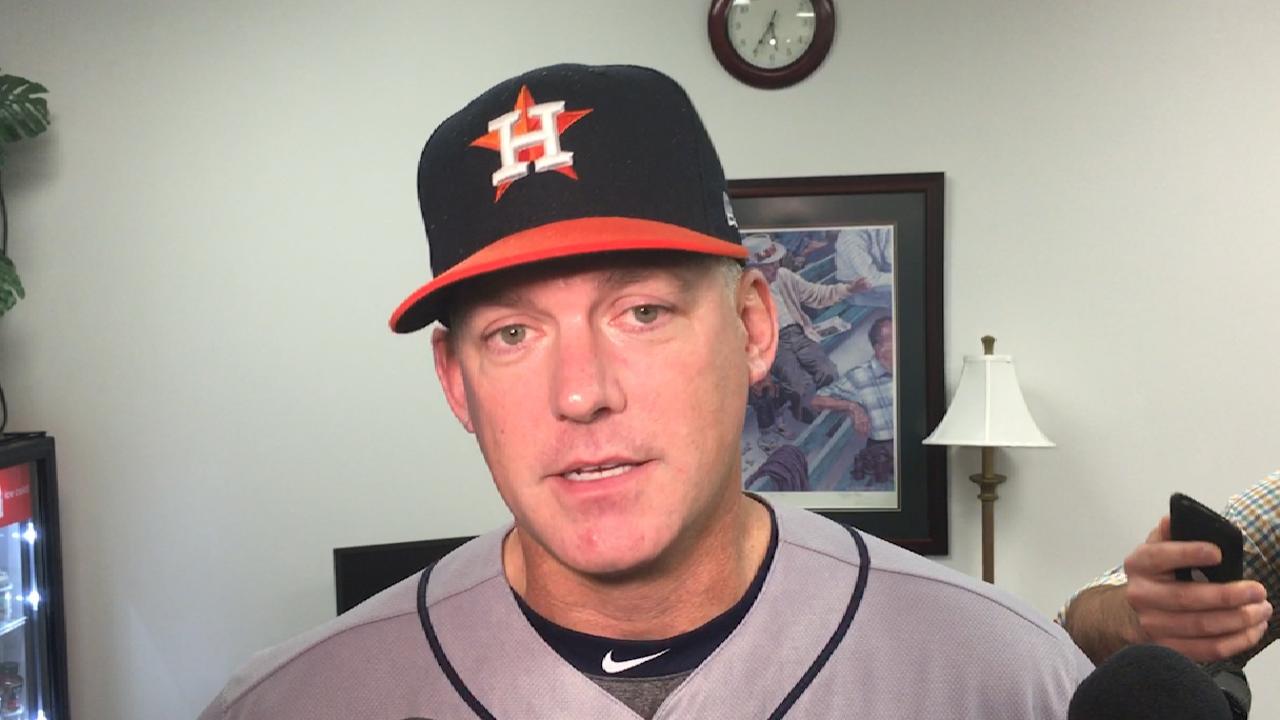 If the Astros can overcome an 8-2 eighth-inning deficit once — as they did on Memorial Day in Minneapolis — why can't they do it again?
As Hinch reminds reporters almost daily, it won't always be this way. There'll still be tough times with four regular-season months remaining. As Hinch also knows, there are times when things happen that are without explanation. When a team is playing this way, the good vibes fuel more good vibes.
The Astros have hit .327 and averaged 8.2 runs per game during the streak. They've homered 26 times, including seven by Springer and five by Correa. They've come from behind in five games, including that Memorial Day contest. They've scored the deciding run in the seventh inning once, in the eighth inning twice and in the ninth inning once.
Their run differential is a whopping plus-46 (82-36), but they've also body-punched their way to a pair of one-run victories and another by two runs.
Did we mention Altuve? He's hitting .429 during the streak. Gonzalez is at .419.
Keuchel? He has pitched twice and allowed one earned run.
Bullpen? Four relievers — Chris Devenski, Luke Gregerson, Will Harris and Michael Feliz — have allowed one earned run in 20 innings for a 0.45 ERA.
That's how you win 10 in a row.
If you need to ask who Juan Centeno, Travis Jankowski and David Paulino are, you haven't been keeping up. Centeno got one start during the winning streak as a fill-in for Brian McCann. Centeno homered off Justin Verlander.
One rookie, Jankowski, got his first Major League victory. Another, Paulino, pitched four innings and allowed two runs in an emergency spot start.
Here is a breakdown of how the Astros got here:
Game 1: Astros 7, Tigers 6
One of the toughest games in the streak came at the start. Astros trailed Verlander, 3-0, in the fourth inning and didn't seal the deal until Jake Marisnick's home run in the bottom of the eighth broke a 6-6 tie.
Game 2: Astros 2, Orioles 0
Devenski allowed three straight Orioles to reach base when he was summoned to protect a 2-0 lead in the seventh. He then retired three in a row to preserve the shutout. Joe Musgrove pitched seven shutout innings in the best outing of his young career.
Game 3: Astros 5, Orioles 2
This may be the blueprint game for 2017. Keuchel allowed one run in six innings, and the top of the order — Springer, Altuve and Correa — collected seven hits. Four relievers finished up.
Game 4: Astros 8, Orioles 4
Another 3-0 deficit disappeared thanks to an offense that pounded out 11 hits, including another Springer home run. Hinch rested his regular late-inning relievers and got three innings from Feliz, James Hoyt and Tony Sipp.
Game 5: Astros 16, Twins 8
This was the one they'll remember. For the third time in five games, the Astros came from behind to win. Only this time they were trailing 8-2 in the eighth. They collected 18 hits, including home runs by Correa, Beltran and Alex Bregman. Jankowski got the win right after being summoned back from Triple-A Fresno.
Game 6: Astros 7, Twins 2
A 2-0 first-inning deficit was not even a speed bump. Mike Fiers was terrific, allowing two runs in six innings two days after being told he had been removed from rotation (only to be returned when Charlie Morton went on the disabled list). Altuve collected four hits.
Game 7: Astros 17, Twins 6
It was starting to feel ridiculous. The Astros got 19 hits and hit six home runs, including two by Springer. They called up Paulino and got four innings out of him, then Hinch paraded in four relievers to finish up. He was committed to giving Ken Giles, Devenski, Harris and Gregerson rest, but the Astros won anyway.
Game 8: Astros 7, Rangers 1
Keuchel pitched six shutout innings to run his record to 9-0 and lower his ERA to 1.67. Correa and Springer homered. Stop me if you've heard this one before.
Game 9: Astros 6, Rangers 5
This might have been the toughest of the streak as an early 5-1 lead became a dogfight in the late innings. Lance McCullers Jr. got knocked out in the fifth, but Hinch mixed and matched five relievers for the final 4 2/3 innings. Altuve's solo home run in the top of the ninth sealed the deal.
Game 10: Astros 7, Rangers 2
The Astros scored in the first inning. And the second. And the third, fourth and fifth, too, for a 7-0 lead. Springer homered twice. Correa and Yuli Gurriel homered. Brad Peacock pitched six solid innings, and Hinch got three innings of shutout relief from Sipp, Feliz and Gregerson.
Having run off 10 in a row in Houston, Minneapolis and Arlington, the Astros were off to Kansas City on Sunday night to begin a four-game series against the Royals on Monday.
Stay tuned.
Richard Justice has been a reporter for MLB.com since 2011. Read his columns and follow him on Twitter at @RichardJustice. This story was not subject to the approval of Major League Baseball or its clubs.
1
Houston
Houston News & Search
1 News - 1 eMovies - 1 eMusic - 1 eBooks - 1 Search