1
Houston
Houston News & Search
1 News - 1 eMovies - 1 eMusic - 1 eBooks - 1 Search
In the Tigers' 6-3 win over the Astros, Jose Iglesias hit a two-run homer in the top of the ninth inning on a 90.1 mph four-seam fastball from Houston reliever Jordan Jankowski. The ball had an exit velocity of 90.4 mph and a launch angle of 29 degrees. Then, in the bottom of the ninth, Alex Bregman hit a solo shot on a 94.8 mph cutter from Detroit reliever Justin Wilson. The exit velocity on Bregman's homer was 88.3 mph, with a launch angle of 28 degrees.
Similar batted balls to the Iglesias homer — which had a hit probability of eight percent — have gone for home runs just one percent of the time in the Statcast™ era. Bregman's homer, which had a seven percent hit probability, was even rarer: Prior to it sailing over the fence, similar batted balls had a zero percent home run probability.
Both homers traveled 348 feet and landed in the Crawford Boxes at Minute Maid Park, a section of seating that juts out from left-center field to the left-field foul pole. The distance to the fence down the left-field line is 315 feet, and the distance to left-center is 362 feet.
Including the homers by Iglesias and Bregman on Wednesday, batted balls not classified as barrels or solid contact have made up an MLB-high 16.5 percent of all homers at Minute Maid Park in the Statcast™ era. The next closest ballpark in terms of highest percentage of non-barreled/solid-contact home runs is Yankee Stadium (9.9 percent) — thanks in large part to its short porch in right field (314 feet down the line).
Minute Maid Park's dimensions offer two particularly home-run friendly quirks — one being the Crawford Boxes in left, and the other a short right-field corner. The right field foul pole stands 326 feet from home plate, and Marwin Gonzalez took advantage of the short porch in a big way on May 2 against the Rangers, when he hit a go-ahead grand slam in the eighth inning in an eventual 8-7 victory.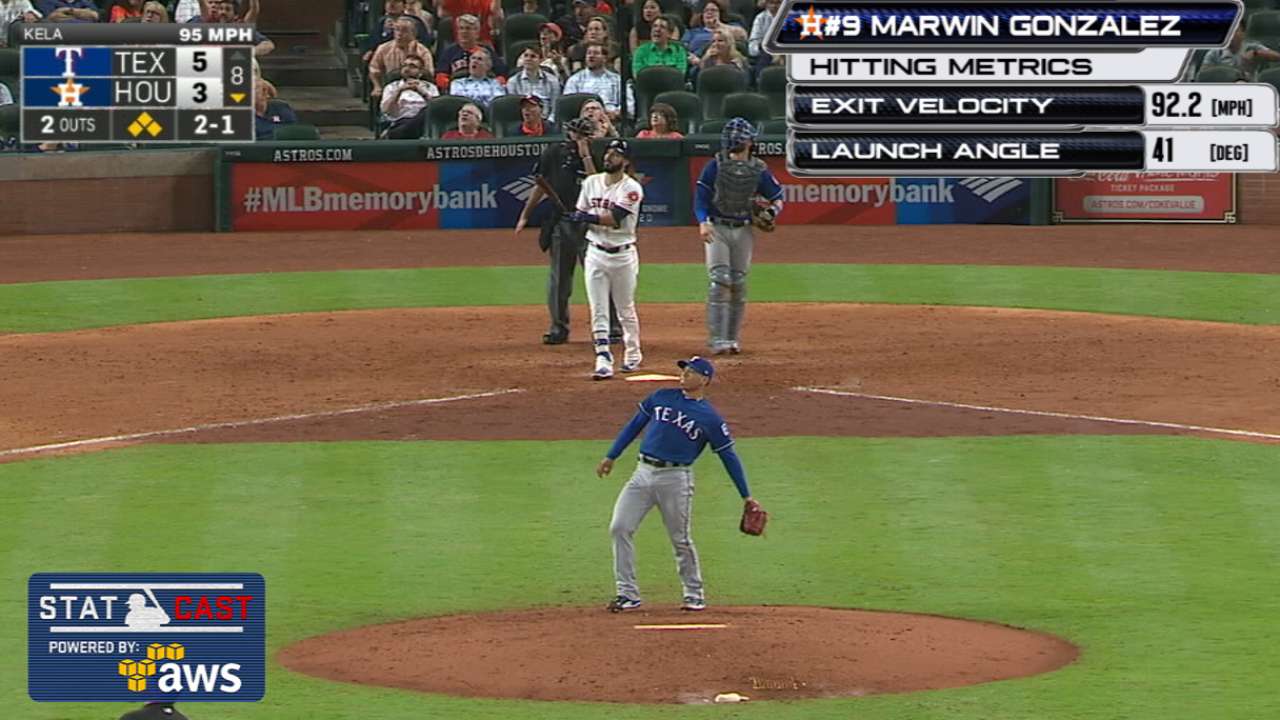 Gonzalez's slam had an exit velocity of 92.2 mph at a launch angle of 41 degrees; similar batted balls in the Statcast™ era have a hit probability of only four percent, and a home run probability of five percent.
Behind Minute Maid Park and Yankee Stadium, the next three parks in order of highest non-barrel/solid-contact home run percentage are Great American Ball Park (9.2 percent), Guaranteed Rate Field (8.7 percent) and Fenway Park (8.1 percent).
The parks in which it is toughest to homer without either barreling the ball or making solid contact are Nationals Park (3.2 percent), AT&T Park (3.1 percent), Angel Stadium (2.9 percent), Dodger Stadium (2.6 percent) and Busch Stadium (2.0 percent).
Manny Randhawa is a reporter for MLB.com. Follow him on Twitter at @MannyOnMLB. This story was not subject to the approval of Major League Baseball or its clubs.
1 Houston
Houston News & Search
1 News - 1 eMovies - 1 eMusic - 1 eBooks - 1 Search