1
Houston
Houston News & Search
1 News - 1 eMovies - 1 eMusic - 1 eBooks - 1 Search
Musgrove threw a season-high 102 pitches in seven scoreless innings Friday against Baltimore, but he hasn't been able to pinpoint the cause of the discomfort. No MRI has been scheduled yet.
"I felt really good at the end of the outing and the following day," Musgrove said. "I took a day of no-throw to rest and recover and played toss [Sunday] and threw off flat ground and felt good. [I] woke up [Monday] and felt really limited in my arm motion and what I could really do. I came out to play catch for my bullpen and ended up shutting down like 10 throws in."
Musgrove received some treatment and came in Tuesday and felt the discomfort again, which he described as grabbing and pulling with limited arm motion. Musgrove said he doesn't feel like it's anything too serious.
"I've thrown through a lot of pain throughout my career and stuff, and I've been able to manage it pretty well, but I feel like this is something a couple of days of rest could really do a lot for it," he said. "I could do more harm to myself and the team by going out tomorrow and trying to gut through it. If I go out and end up getting an inning in and being in too much pain to go on, that leaves a lot of work for the bullpen and puts us in a tougher spot.
"After talking, we decided to just skip this start. With the off-day [Thursday] it lines me up to miss one and stay in rotation and stay on schedule."
The Astros will make another move prior to Wednesday's game to call up a pitcher after reliever Jordan Jankowski was sent down following Monday's game.
Musgrove is the third Astros starting pitcher to go on the disabled list in the last 10 days, joining Dallas Keuchel (pinched nerve in neck) and Charlie Morton (right lat strain). Keuchel returned Saturday after missing one start, but Morton has been shut down from throwing.
"I even think under different circumstances you try to push through this," Hinch said. "There's some cautiousness that's important for us to take care of him as a young pitcher and where we are in the season. The state of our rotation, we need to make sure we don't push him deeper into more soreness or potential injuries. When he reported more soreness, it became a very easy decision, quite frankly."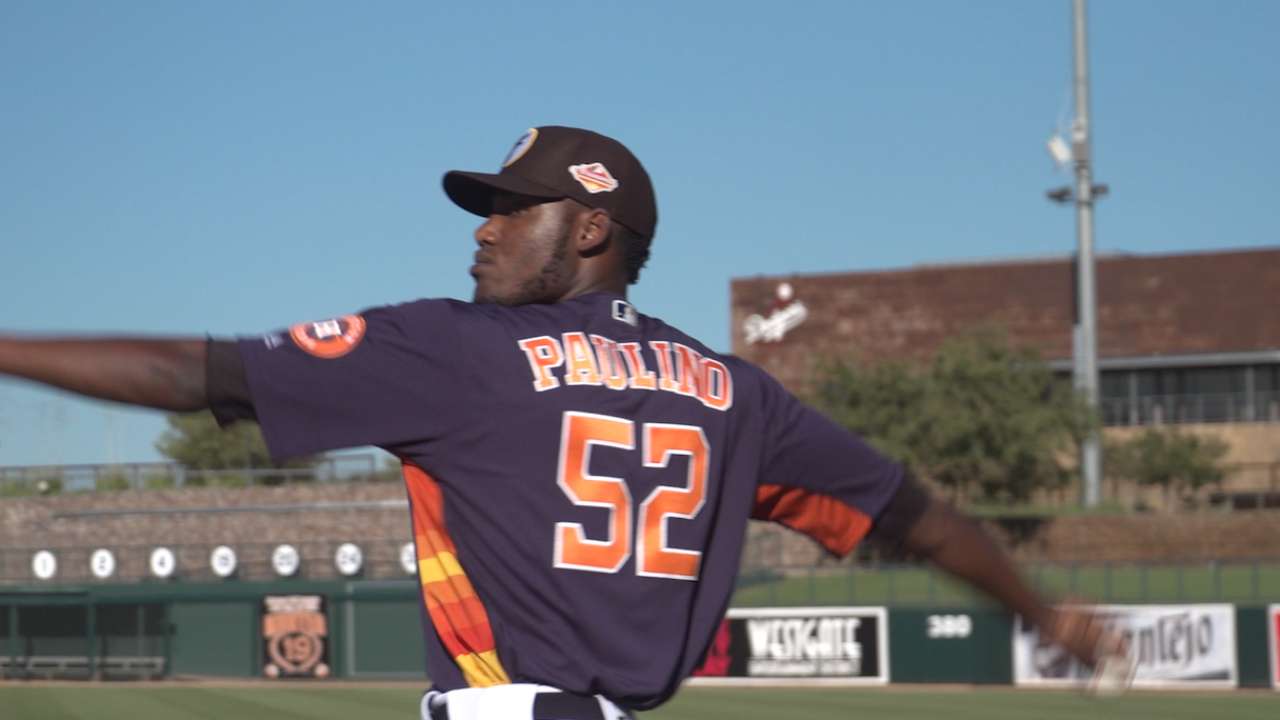 The 6-foot-7 Paulino went on the DL with a bone bruise in his elbow at the end of Spring Training and was activated on May 12. He made three starts at Fresno, allowing 11 hits and nine walks while striking out 13 batters in 14 innings (0-1, 4.50 ERA). Paulino appeared in three games last September in his Major League debut, making one start, going 0-1 with a 5.14 ERA.
Brian McTaggart has covered the Astros since 2004, and for M/LB.com since 2009. Follow @brianmctaggart on Twitter and listen to his podcast. This story was not subject to the approval of Major League Baseball or its clubs.
1 Houston
Houston News & Search
1 News - 1 eMovies - 1 eMusic - 1 eBooks - 1 Search