1
Houston
Houston News & Search
1 News - 1 eMovies - 1 eMusic - 1 eBooks - 1 Search
Reddick went 0-for-5, but the Astros beat the A's, 7-2.
The A's honored Reddick with a short video tribute on the big screen before the game, announcing his arrival as he took the field for warmups and tipped his hat to the crowd. Reddick also delivered the lineup card for the Astros and shared a nice moment with A's manager Bob Melvin at home plate. But perhaps the crowning touch came when Reddick approached the plate as the second batter of the game, his classic walkup music — George Michael's saxophone-heavy "Careless Whisper" — blaring over the PA system.
After building up a special relationship with Oakland's diehard fans over the years, Reddick said he's expecting a lot of banter during the weekend series.
"I'm sure that it'll be positive when I get in the box the first time," Reddick said before the game. "As soon as I step out there for the bottom of the first, I'm sure I'm going to be getting heckled like any other right fielder. Because, like everybody else coming in here, I am wearing gray pants and a gray uniform. I wouldn't expect anything less from those guys."
Reddick said he spent Thursday night with a few of his friends from the Oakland bleacher crew. Friday afternoon he stopped by the office of A's clubhouse manager Steve Vucinich and caught up with old friends and teammates.
"Times here were fun," Reddick said. "Played with some great guys. Had some very memorable games and it was always fun to play here."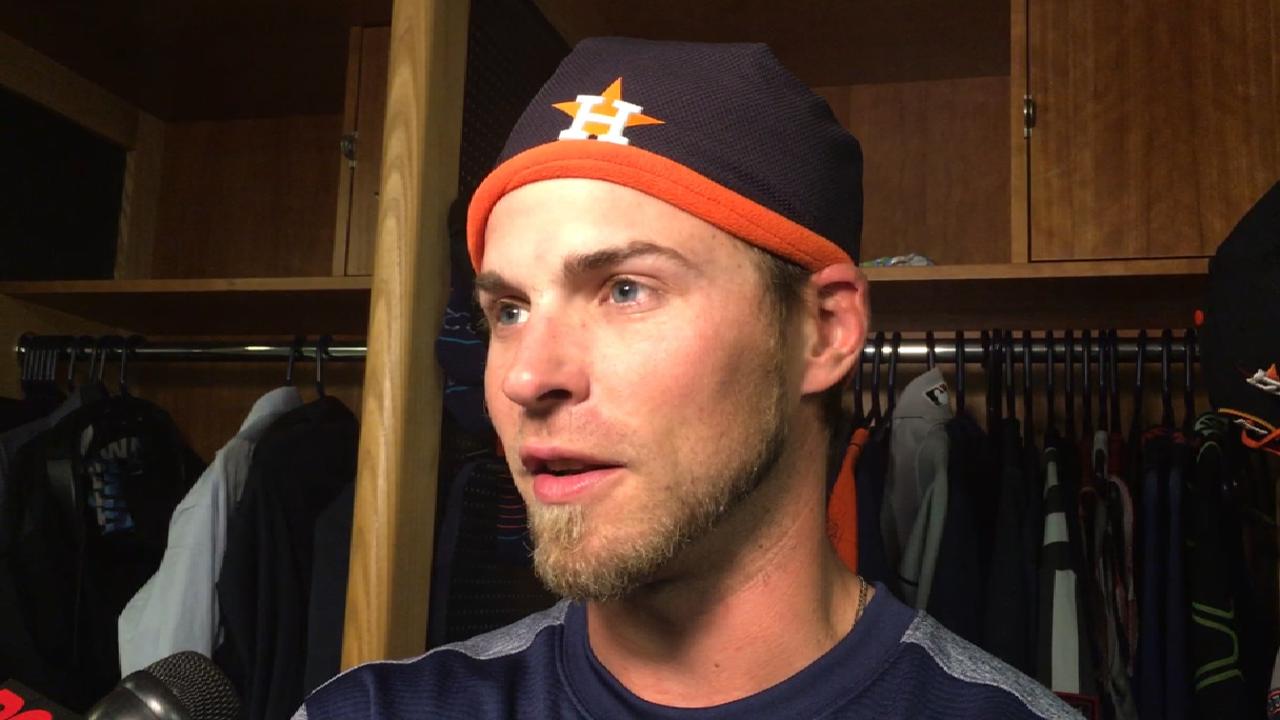 The 30-year-old earned his first everyday MLB gig as a right fielder for Melvin during the 2012 season, when he burst on to the scene and racked up a career-high 32 homers. Reddick fondly remembered that 2012 season as he sat in the visitor's dugout Friday, reminiscing about the team's American League West-clinching win during Game 162.
But after signing a four-year, $52 million contract this offseason, Reddick has returned to the division. He admitted it's been a transition being moved around Houston's stacked lineup after being a fixture in the middle of the A's order for years, but said he has no complaints.
"It's a special team," Reddick said. "A really good group of guys. Great lineup."
Reddick also made a point to praise Melvin for helping him develop as a young big leaguer, before the two shared a quick chat behind the cage during batting practice.
"It's the first time I've looked at the lineup card that's come over from the other side and seen his name in it," Melvin said. "He played hard. He played the game the right way. The fans loved him here."
Worth noting
• Friday marked the first time the A's played at the Coliseum since removing tarps from the third deck of their stadium last week. The move opened up 12,103 additional seats, bringing the capacity to 47,170.
"I used to run those [stairs], so that might have to become part of our routine here at some point," Melvin said with a smile. "I forget how to get up there, but I'll figure it out."
• Right-hander Chris Bassitt (Tommy John surgery recovery) threw 1 2/3 innings in a simulated game in Arizona on Friday without setbacks, according to Melvin. Bassitt's next step will be to throw a bullpen session in Oakland before being evaluated. Reliever John Axford (shoulder strain) is still strengthening his arm and will start playing catch "fairly soon," per Melvin. Infielder Joey Wendle was scheduled to swing a bat Friday for the first time since injuring his shoulder during Spring Training.
1
Houston
Houston News & Search
1 News - 1 eMovies - 1 eMusic - 1 eBooks - 1 Search