1
Houston
Houston News & Search
1 News - 1 eMovies - 1 eMusic - 1 eBooks - 1 Search
Patiently.
"Even the Bible said good things come to those who wait," said Lindor, who homered in the Indians' 4-3 victory Thursday. "So why not wait?"
Five years away from free agency, Lindor reportedly turned down an Indians extension offer worth around $100 million just before the start of the 2017 season. Correa said he hasn't received any official offers yet, though there have been mixed signals from the player and his agent, Greg Genske, as to whether he would even consider signing a deal that eats up any of his free-agent years, which also begin in 2022.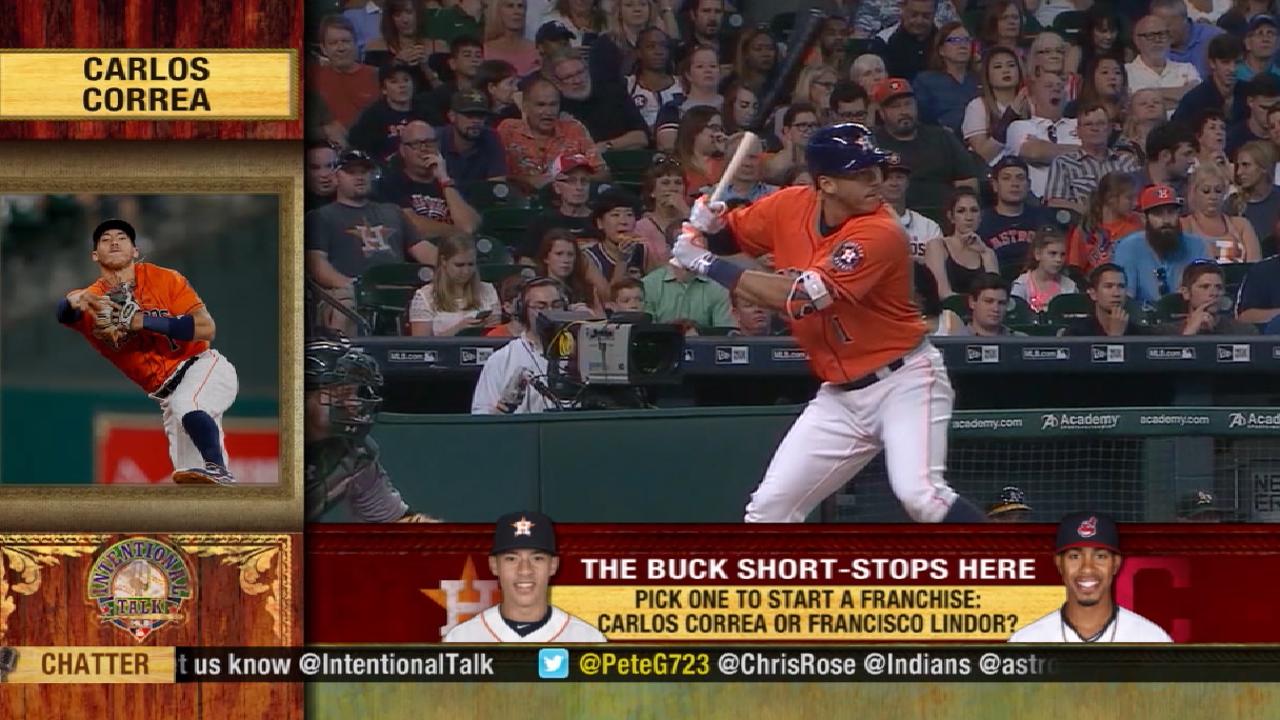 Correa is 22; Lindor is 23. These are special talents who are in a special position to command an extraordinary amount of money at an absurdly young age.
But they're also mindful of the monetary matters that lie ahead in this industry.
"After 2018," Correa said, "the market's going to go higher with Bryce Harper and Manny Machado available and Clayton Kershaw opting out. Every now and then, a guy like A-Rod changes the market. Now Bryce and Machado and Kershaw are going to change it again. And then Mike Trout [after 2020]."
The upside here is obvious. What if Harper, Machado and Kershaw continue the industry escalation and command something in the neighborhood of $40 million per year? It's not a totally outlandish proposal after Trout surrendered three free-agent years to the Angels for an average of $34 million, and it's a possibility that makes even the Lindor offer look paltry, by comparison. For a long while, in-house extensions eroded baseball's free-agent market, but, in recent years, we've seen a reduction in the percentage of pre-arb players who sign away free-agent years.
Of course, the risk is obvious, too. Correa and Lindor play a demanding defensive position that can wear down the body and erode offensive impact. Last year both saw declines in OPS+ from their rousing rookie runs in 2015, and, while Lindor has looked like an early MVP candidate here in '17, Correa has had limited impact, to date.
It takes quite a bit of confidence and chutzpah to turn down long-term security. But Lindor and Correa are especially well-insured to bet on themselves.
Lindor received a $2.9 million signing bonus after the Indians took him eighth overall in the 2011 MLB Draft. Correa got $4.8 million in bonus money when he went No. 1 overall the following year.
In the time since, both Lindor and Correa have signed lucrative endorsement deals.
"I'm open to sitting down and listening to what [the Astros] have to offer," Correa said. "But I'm not in any rush to sign any kind of deal. It's all about business in this sport, at the end of the day. The team, if they need you, they're going to try to keep you. If they don't, they won't. It's a decision the team has to make, and it depends on your performance on the field. So that's what I'm focused on — my performance."
Lindor agreed.
"I want to play for Cleveland a long time, I want to be here and these are people I love, but it wasn't the right time," he said. "And I didn't think my teammates deserved all the distraction with that contract. The attention should be on how good they're doing, not what Lindor said no to."
When the Sports Illustrated report about Lindor's rejection of the Indians' advances came out last Friday, his teammates kept him honest. Lindor began that night's game with three strikeouts. When he singled in his last at-bat, his teammates yelled from the visiting dugout at Guaranteed Rate Field, "Oh, $100 million, huh?" They jokingly asked to keep the ball as a memento of a non-momentous hit, but, deep down, they know he's right.
"He's not stupid," second baseman Jason Kipnis said. "The outside fan thinks it's greedy, but really it's just smart business."
It's a business strategy two of the game's young, stud shortstops are applying simultaneously. There are already so many common threads in the Francisco Lindor and Carlos Correa stories. Maybe they'll venture into free agency at the same time, too.
Anthony Castrovince has been a reporter for MLB.com since 2004. Read his columns and follow him on Twitter at @Castrovince. This story was not subject to the approval of Major League Baseball or its clubs.
1
Houston
Houston News & Search
1 News - 1 eMovies - 1 eMusic - 1 eBooks - 1 Search