1
Houston
Houston News & Search
1 News - 1 eMovies - 1 eMusic - 1 eBooks - 1 Search
Keuchel has been playing catch at up to 120 feet for quite some time, and he is just waiting for clearance from the doctors to take the next step. He said he hopes to pitch next week in Toronto, but manager A.J. Hinch said last week the lefty likely won't be activated until after the All-Star break. He'll need to make at least one Minor League rehab start before rejoining the Astros.
"Until [team doctors] go through their battery of tests and their expertise, they'll let us know when they feel like it's safe for him to ramp it up a little bit more," Hinch said.
Keuchel came off the disabled list May 27 and made two starts before having a recurrence of symptoms while warming up in the bullpen before a June 7 game in Kansas City. He was 9-0 with a 1.67 ERA in his first 11 starts.
"I obviously came back too soon the first time," Keuchel said. "I can deal with a lot, but at the same time, it's kind of detrimental to the team. I put the team in a bad spot in Kansas City, and I'm still paying off debts to the bullpen for that one.
"It's a matter of getting back to full health. If I'm 90 percent, there's still a chance that I could do something more. We'd like to get it cleared and pain-free, and then we'll go from there. It's almost there. This last month has definitely been a lot longer feeling than a month."
Keuchel could be selected to the All-Star team for a second time — teams are announced Sunday on ESPN at 6 p.m. CT — but he wouldn't be able to pitch. He started for the American League in 2015.
"It would truly be an honor to be an All-Star again," Keuchel said.
Worth noting
• There's a 50-50 chance right-hander Charlie Morton could return to the Astros' rotation on Sunday against the Yankees. Morton threw 47 pitches in four innings on Tuesday for Triple-A Fresno (and he threw 15 more in a bullpen session), and has made two rehab starts after missing four weeks.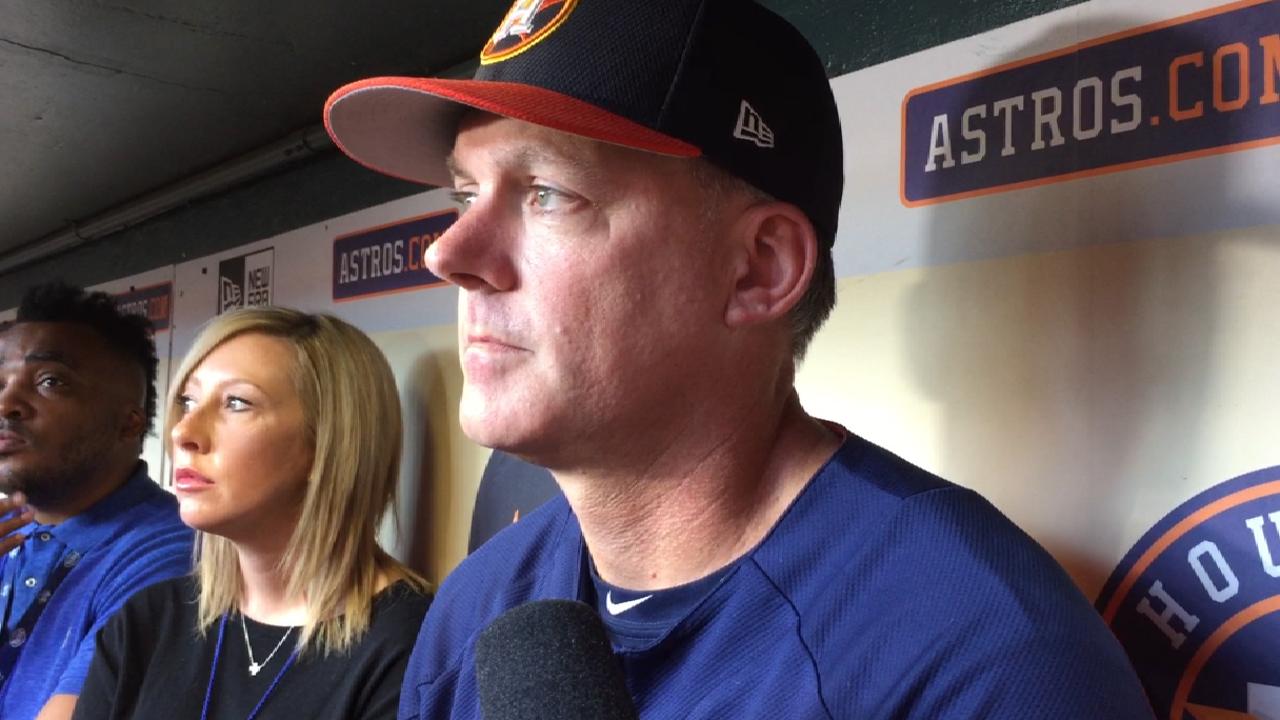 Morton, on the disabled list since May 25 with a right lat strain, threw in the bullpen Thursday at Minute Maid Park and will either start for the Astros on Sunday or make a third rehab start.
"I feel good," Morton said. "I feel like I can make pitches for the most part. I haven't thrown more than 50 pitches in four weeks, so I completely understand if they don't want to have me go out and throw in the big leagues."
Brian McTaggart has covered the Astros since 2004, and for MLB.com since 2009. Follow @brianmctaggart on Twitter and listen to his podcast. This story was not subject to the approval of Major League Baseball or its clubs.
1 Houston
Houston News & Search
1 News - 1 eMovies - 1 eMusic - 1 eBooks - 1 Search