1
Houston
Houston News & Search
1 News - 1 eMovies - 1 eMusic - 1 eBooks - 1 Search
The city was reeling from the attacks, changing life forever not only for those living in New York, but also Washington D.C., rural Pennsylvania and the rest of the country. It was difficult to imagine that anything would ever be the same again.
Playing baseball, in Williams' mind and the minds of many of his teammates, was insignificant.
Yet one week later, the Yankees found themselves in Chicago to resume their season, still shaken from what had happened.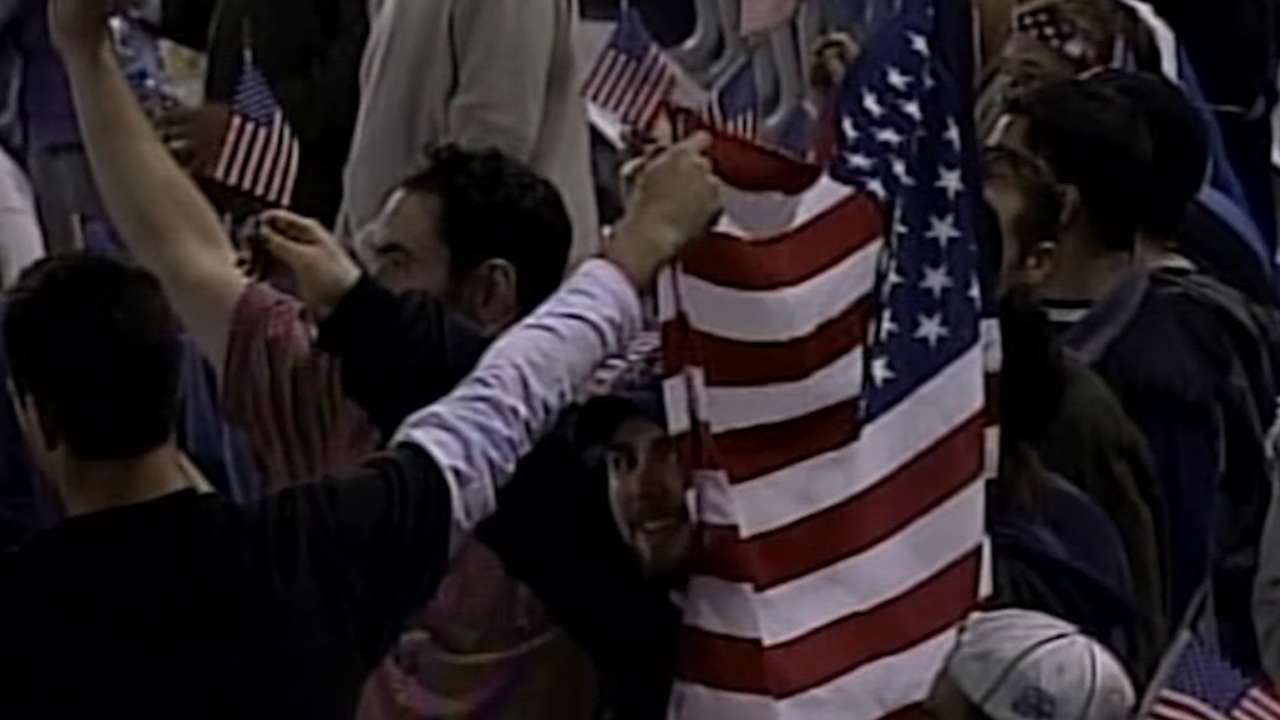 "I couldn't really find a reason to play the games," Williams said. "The country had more important things to do than watch baseball."
When the Astros return to Minute Maid Park on Saturday — less than a week after Hurricane Harvey ripped through Houston — though dissimilar, the Astros could experience a number of the emotions the Yankees did nearly 16 years ago, as did the Red Sox in the wake of the Boston Marathon bombing in 2013.
Why are they playing baseball in downtown Houston while so many people in such close proximity are struggling to put the pieces of their lives back together?
"There were probably a couple weeks after 9/11 where people didn't smile at all, didn't laugh at all," said Mike Stanton, a reliever on that 2001 Yankees team who hails from Houston, still lives in the area, and currently does pregame and postgame TV for the Astros. "You're going to have the same thing going on down here with the mass devastation that happened — and not just here in Houston. We focus on Houston because that's where we live, but it's really the whole Gulf Coast area."
In no way is anybody comparing a hurricane to a terrorist attack, but like New York in the fall of 2001, Houston is a community reeling from a tragic incident that will affect people and their families for years to come. Houstonians face the same task New Yorkers were confronted with in the aftermath of 9/11: rebuilding the damage.
Baseball won't accomplish those goals, but there's another purpose the game can serve for its fans dealing with the aftershock of the storm.
"They need the distraction," Stanton said. "With all the real-life issues that are happening, sometimes it's just nice to not think about it. Even if you've lost everything, it's nice to give your brain and your emotions a little bit of a break to watch a baseball game."
Those 2001 Yankees gave their fans an extended diversion, making it all the way to Game 7 of the World Series before a D-backs comeback in the ninth inning prevented New York from winning it fourth consecutive World Series crown. The Astros, who lead the AL West by 11 1/2 games and just added Justin Verlander, are well positioned to make a similar October run that fans hope will culminate with the franchise's first ever World Series title.
Bouncing back
The Yankees arrived at Comiskey Park on Sept. 18, 2001, trying to go about their business in as normal a fashion as they possibly could. There was an uneasiness in the clubhouse as the group wondered why they were preparing to play a game that, in the grand scheme of things, meant very little.
They would soon find out just how much it actually meant.
"The energy that started from basically the time the gates opened," Stanton said. "We didn't know how solemn the crowd was going to be. As soon as the gates opened that very first day in Chicago, the fan reaction was just tremendous. It gave the fans an outlet, and that's where the entertainment part of baseball kicked in."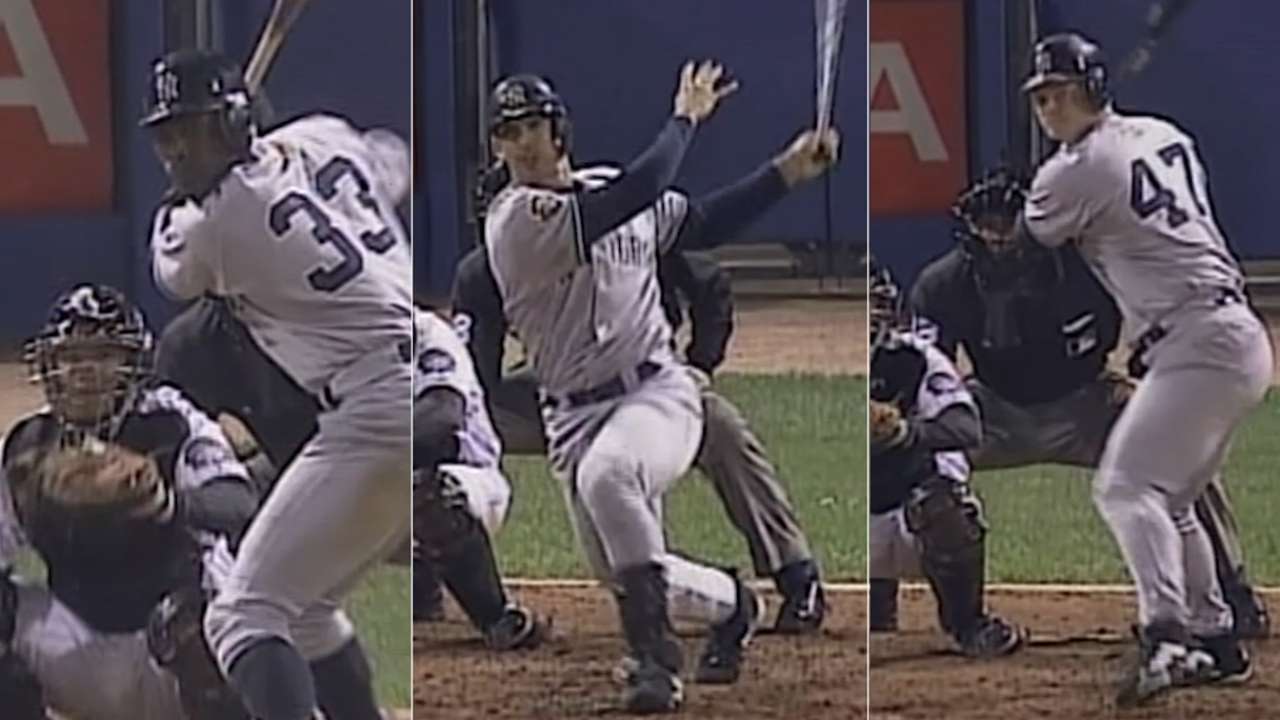 When the Yankees returned home a week later for their first post-9/11 game in the Bronx, they got a firsthand look at the impact their presence on the field would have on a fan base that badly needed something to smile about.
"We were cognizant of the fact that we were playing for something bigger than ourselves," Williams said. "It transcended the game, and the fact that we were able to create this distraction, we were in a very privileged position. It was very emotional for us as a team, but feeding off the energy of the city — the firemen, the emergency and medical people, the police officers — we were able to transform it into something that we could utilize to be our motivation to play these games with all our hearts and minds."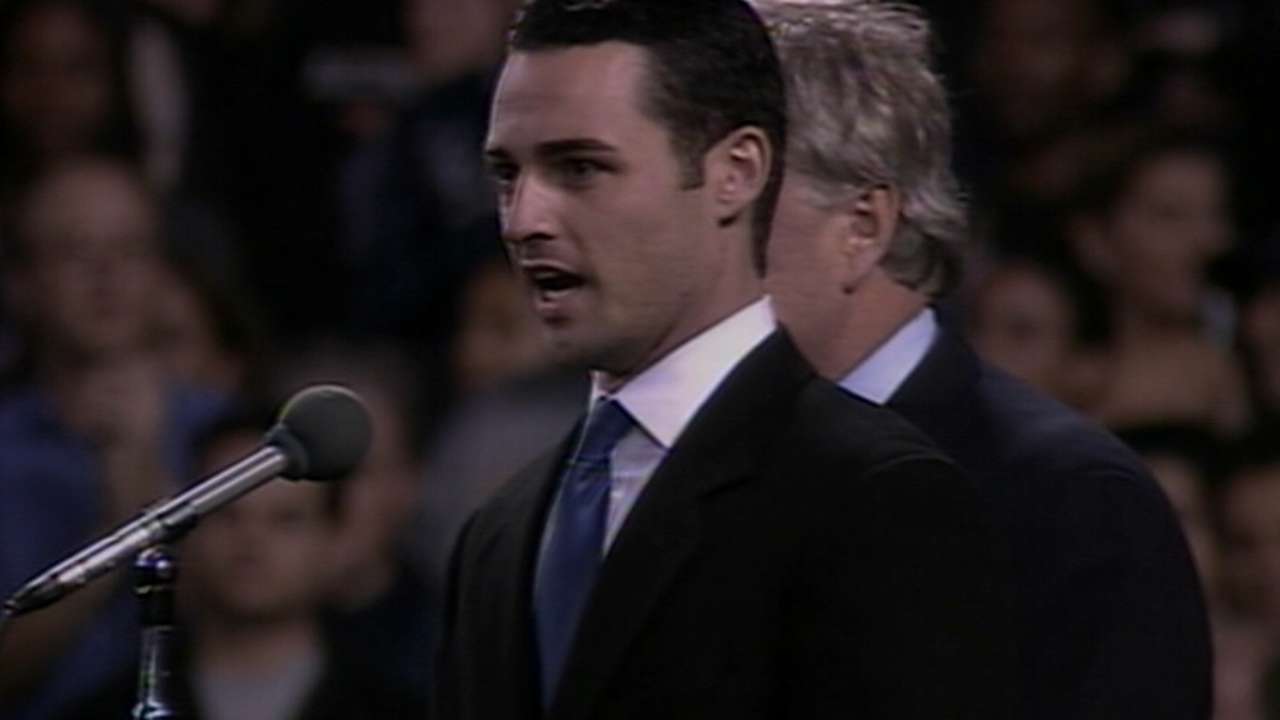 Staying strong
On April 15, 2013, Boston experienced a terrorist attack of its own when a pair of bombs went off near the finish line of the Boston Marathon, killing three people and injuring more than 260 others.
Following a three-game series in Cleveland, the Red Sox returned to Fenway Park on April 20 for their first home game since the bombings. The packed house at Fenway Park was aching for something to cheer about, to take it mind off the horror that had enveloped the city since the sickening attack.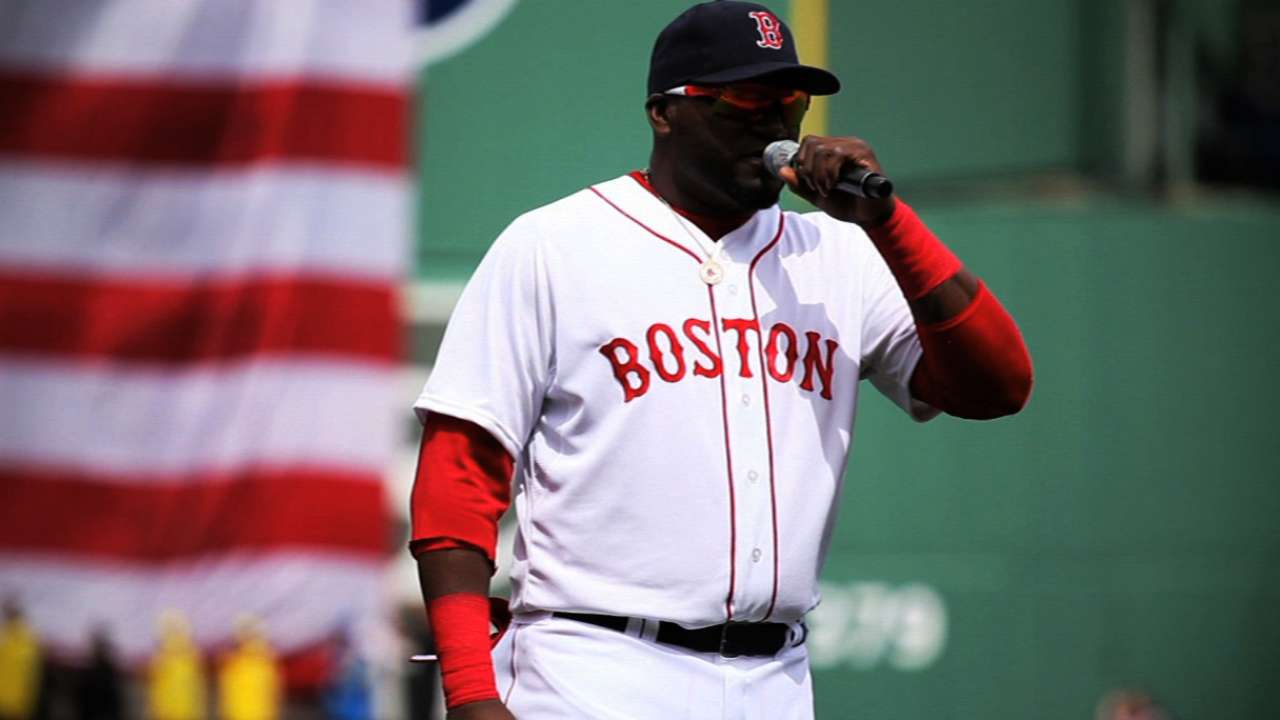 Like the Yankees a dozen years earlier, Boston's players felt uneasy about playing a game only a mile or so from the site of the finish line.
"You don't know what you're supposed to do," said Mike Napoli, who was part of that Red Sox club. "You don't know if it's OK to be playing or if you shouldn't be playing. You just want to do the right thing."
The fans, accompanied by seemingly thousands of "Boston Strong" signs, made it clear that watching their baseball team was the perfect — albeit temporary — tonic for the fear that remained in their souls only days after the marathon.
"Seeing how everyone came together and rallied around each other — not just for us, but for what happened — it was amazing," Napoli said. "It was a three- or four-hour period where you could go to the stadium and not forget about it, but it could take your mind off of what went on and just watch a ballgame. We wanted to do everything in our power to win and help out the people in the city, but it was hard not to think about it whether you were playing or not playing. It was there. It's reality. It's real life."
Houston homecoming
A natural disaster unlike the tragic events in New York and Boston, Harvey tore a hole in the heart of Houston, leaving more than 40 people dead and thousands without homes. The recovery process promises to be a lengthy and painful one, but the Astros are hopeful that their return home this weekend can help serve as a much-needed diversion at a time when many Houstonians are in desperate need of one.
"A catastrophic thing like that — whether it's caused by humans or nature — tends to bring people together," Williams said. "That sense of us people taking care of each other supersedes any rivalry, any animosity or anything petty. We find our humanity in situations like this."
George Springer was a seventh-grader in New Britain, Conn., a week shy of his 12th birthday when the 9/11 attacks shook New York only 110 miles to the southwest. He didn't understand the gravity of what had happened at the time, and he certainly didn't appreciate the role the Yankees may have played in helping the city get back on its feet with its inspirational run to the World Series, but with his adopted hometown of Houston facing a crisis of its own, he now recognizes the impact he and his teammates can have in the coming weeks and months.
"To do what that team did at that time, you couldn't write a better story," Springer said. "We're going to go play and attempt to make the city proud."
Astros manager A.J. Hinch attended one of those 2001 World Series games between the Yankees and D-backs in Arizona, recalling the chills he felt during the pregame ceremonies.
"I sat there when they put the flag out and I cried like everybody else at what an emotional moment it was for the whole country," Hinch said. "I was lucky to have been a part of it during a time of repair in the country. That attack, a natural disaster, anything that happens, it all puts in perspective what's important."
Hinch has fielded questions from one player after another in recent days as the Astros seek to provide assistance anywhere they can in Houston. Modern-day athletes are often considered to be rich, spoiled and self-absorbed, but the reaction of his players has left Hinch feeling like a proud father.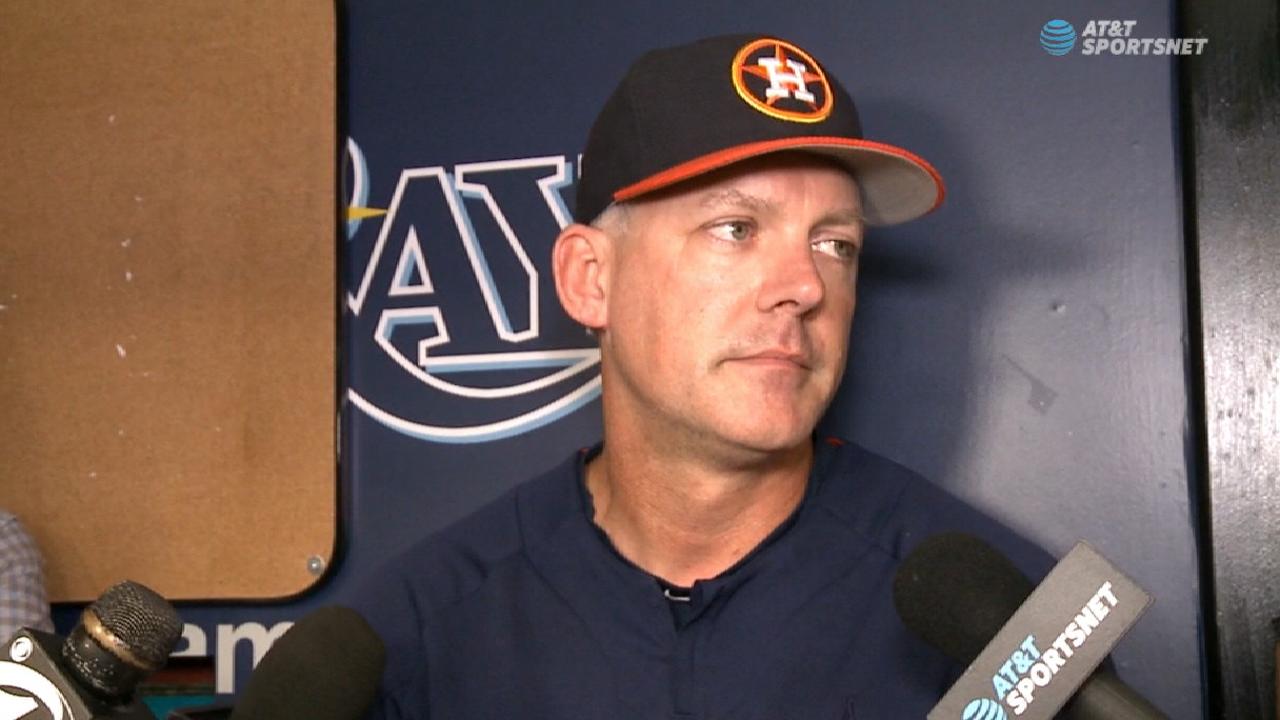 "We will do our part," Hinch said. "Everything that we can, the time off that we have, we'll try to put in time, energy, money, resources — everything we can to help anybody that's in need. We're not happy that we have the opportunity because of what's happened, but we feel responsible as the Astros to bring some joy to a really distraught place.
"We wear the 'H' for Houston across our chests. It meant a lot before. But it will mean even more given all the attention that this has brought our city."
Just as Williams, Stanton and the rest of the Yankees spent countless hours visiting shelters, hospitals and firehouses in the aftermath of 9/11, the Astros will do the same in the days and weeks ahead. But Williams believes that while those deeds will help the healing process, the Astros can provide something to Houston between the white lines, as well.
"To be able to win and give that gift to the city would probably be the best thing they can do," Williams said. "Concentrate on winning some games and give the city the satisfaction of having something to look forward to and the excitement of having a winning team. Besides, you're sticking to what you do best, which is playing the game. If they play with their hearts, souls and minds, they're going to give the people of Houston a lot of joy in a tragic time."
Mark Feinsand is an executive reporter for MLB.com. This story was not subject to the approval of Major League Baseball or its clubs.
1
Houston
Houston News & Search
1 News - 1 eMovies - 1 eMusic - 1 eBooks - 1 Search