1
Houston
Houston News & Search
1 News - 1 eMovies - 1 eMusic - 1 eBooks - 1 Search
"So you picked my name?" Bregman asked.
Sort of.
"I picked [shortstop Carlos Correa]," Hinch said. "But I put it back in there and drew again."
Both men laugh. That's that.
If Hinch's relationship with this one player can reveal the ways he has changed in his second stint as a Major League manager, this might be it.
And maybe this explains — at least a teensy bit — why Hinch has gone from being one of baseball's least successful managers to one of its most.
Last weekend, Hinch did something that once seemed unlikely. He became a winning manager.
It only took him 375 games with the Astros to get there. And as they open a three-game weekend series in Arlington against the Rangers on Friday, Hinch's record as a big league skipper sits at 297-293.
Here's the breakdown:
Arizona Diamondbacks (2009-10): 89-123
Houston Astros (2015-present): 208-170
Hinch is flying high these days, a manager pushing nearly all the right buttons for a team with baseball's best record (38-16) and largest division lead (11 games).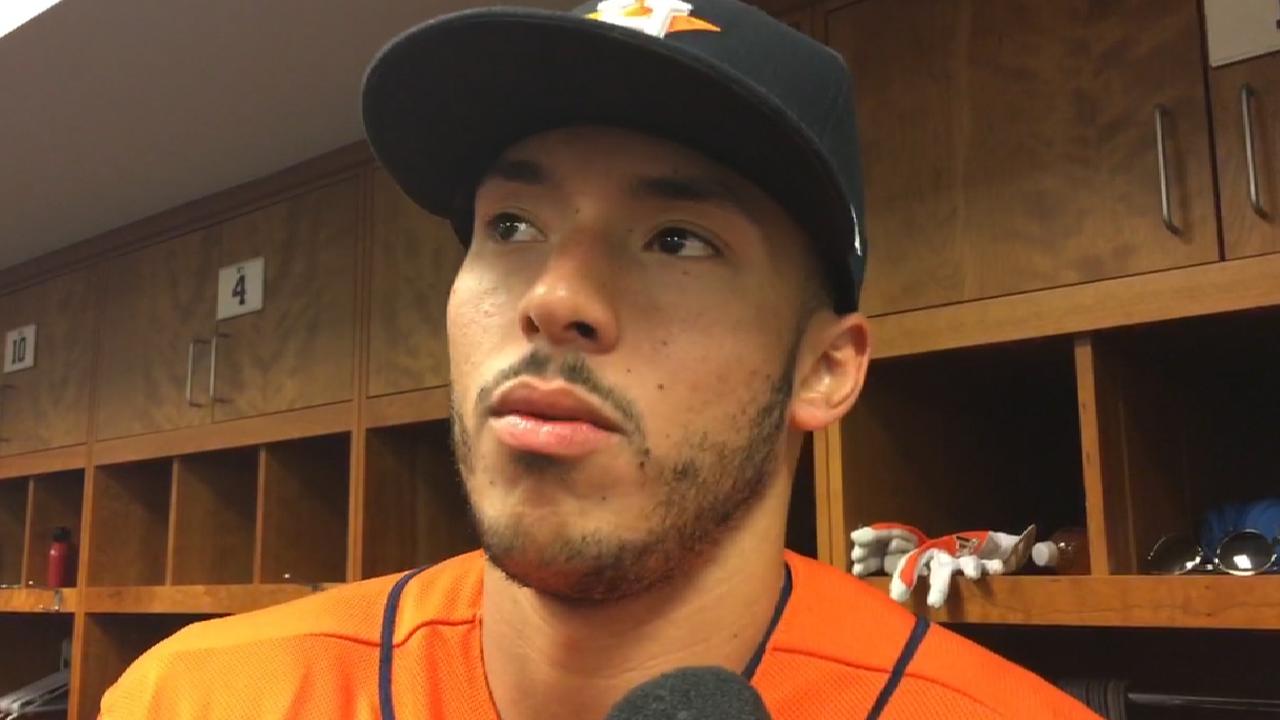 "He's been nothing short of great for us in a lot of aspects," said Hinch's ace, left-hander Dallas Keuchel.
But has Hinch really changed that much since those tough days with the D-backs? Well, for one thing, he has better players, which almost always makes for better managing.
"Obviously, it means in the last two-plus seasons we've had a great run here in Houston," Hinch said. "I always thought I was good at the job. I think getting opportunities like this will energize you more than records do. Records are a byproduct, to me, of the connection between the players and the ability to get the most out of players.
"In a backward way, it means I feel like I'm doing something right with the players. It's not about me or my record. It's about these guys and me getting the most out of them, by either putting them in position, challenging them, hiring the right coaches to make 'em better. It's a more encompassing topic than a record."
Translation: "Yes, I've changed." On the other hand, managing the Astros in 2017 is nothing like managing the D-backs in '09.
Back to his relationship with Bregman. If Bregman could accept not being in the lineup that one day, if he could laugh at Hinch's joke about drawing names from a hat, it may be that he knew his manager had his back.
The depth of their relationship — and the bond of trust — was forged last summer after Bregman made his Major League debut. He was one of baseball's most highly regarded prospects when Hinch wrote the infielder's name on Houston's lineup card for the first time on July 25.
Bregman then did what a lot of young players do. He struggled mightily, starting out 0-for-18 and 2-for-32.
Early in that slump, Hinch did something odd. He summoned Bregman to his office and told him he was being moved from sixth in the batting order to second.
So to combat a slump, the manager is putting a young guy in an even more prominent spot?
"This move reflects what the organization thinks of you," Hinch told Bregman.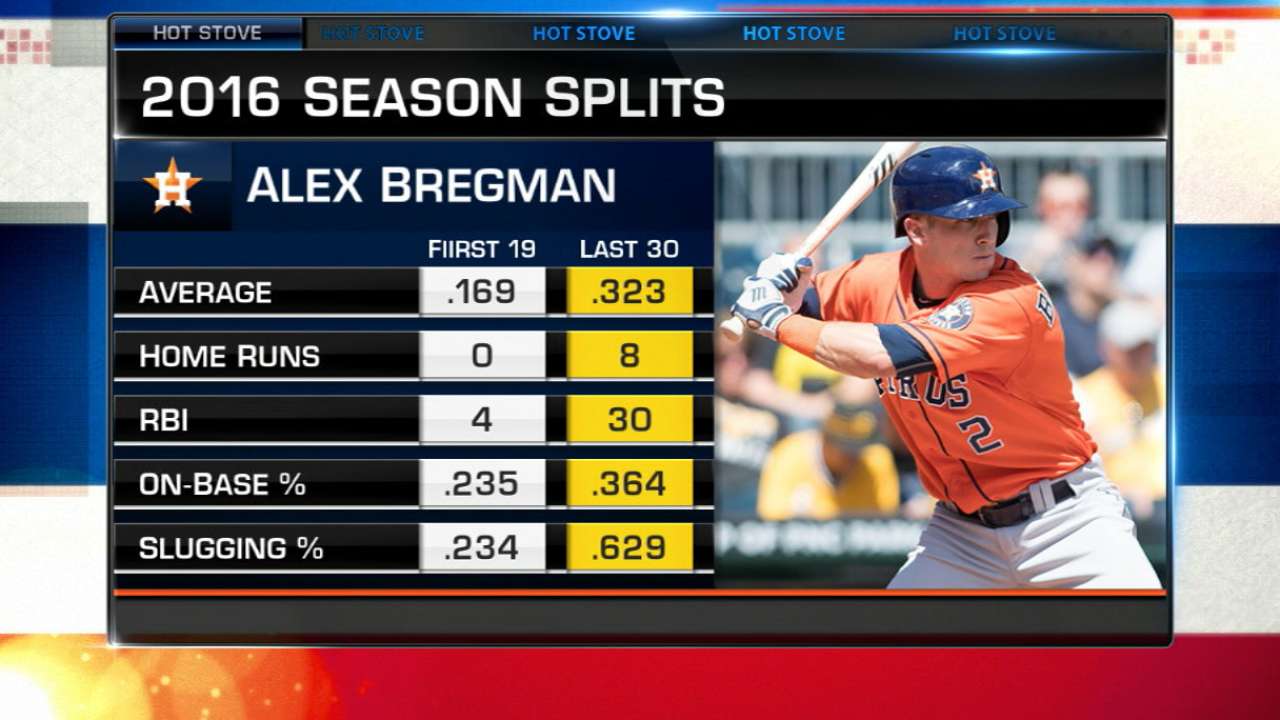 A few days later, when the slump continued, Hinch and Bregman met again.
"Listen, you've got to be kind of lucky to be 2-for-30," Hinch said. "Someday, you'll be able to tell young players about this. It'll be a great lesson."
Hinch's message was unmistakable: We haven't lost an ounce of confidence in you, and we hope you haven't lost confidence in yourself.
Bregman collected three hits a couple of days after that, and in the 11 months since, he has been exactly what the Astros hoped he would be: 23 doubles, 14 home runs, 54 RBIs and an .836 OPS in 90 games.
Hinch might not have used that tactic when he was with the D-backs. Instead, he might have felt his authority was being challenged. As a result, he might have said something that would have damaged his relationship with one of his young stars.
If he'd known then what he knows now …
"I think I now understand the importance of connecting with players," Hinch said. "I think as a player, you have an opinion on what managers and coaches do. As a manager, you have a completely different appreciation of what it actually is and how much of the unknown you didn't know as a player.
"There's a lot about the game as a manager you need to govern that pales in comparison to the relationships and the connections you need with players. You don't learn that until you get in this job.
"Maybe that was my naive side of having not managed or coached in the Minor Leagues. Or maybe everybody just has to learn that at this level. The X's and O's are important. The connecting with the front office is important. But the No. 1 priority, if you want to be good in this job, is you've got to connect with your players and get the most out of them."
Hinch's troubles in Arizona began with the firing of a popular manager, Bob Melvin. Hinch was 35 years old, with no background in managing. The D-backs weren't very good.
"I felt it was obviously a rough path," Hinch said. "Record notwithstanding, I wasn't a train wreck in Arizona. It just didn't work. There's a difference between not being capable and not being successful. People wouldn't have interviewed me if they thought I was a mess. I got quite a few calls."
Hinch was interviewed by both the Astros and Cubs, though he and didn't get either job at that time. He spent three years in the Padres' front office.
Hinch burned for another chance to manage, but he was hesitant to say it publicly in case it didn't happen.
"In my heart, in my soul, I wanted to do it again," he said. "In my own sort of self-protection mode, I didn't want a lot of people to know it, in case I didn't get the opportunity."
Astros general manager Jeff Luhnow interviewed Hinch two years later, after the 2014 season, and subsequently hired him.
Hinch played for Art Howe and Gene Lamont, for Charlie Manuel and others. He surely took a little bit from all of them. But when he reflected on the things he did and didn't do with Arizona, he remembers what part made Manuel special with the Phillies.
"I don't have the good old boy in me that he does," Hinch said. "But his way of connecting with people was really good."
Said Keuchel about his manager: "We go back and forth. It's a unique relationship. I don't want to come out of a game. He wants me to come out. We almost come to blows. And then it's forgotten. I know he has what he sees as the best interests of the team at heart. That's all you can ask for."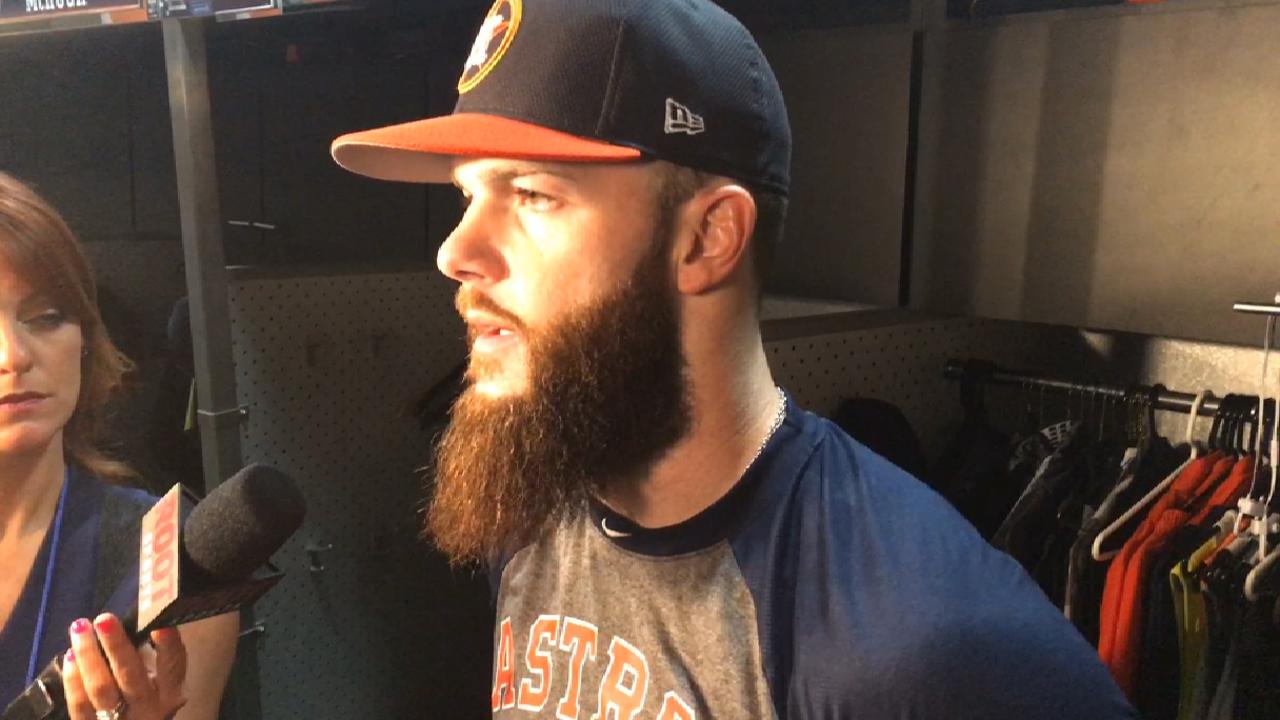 Hinch's players appreciate his consistency and his poise, along with his ability — and willingness — to communicate.
"I don't slam my door on them," Hinch said. "I don't turn my back on them. I don't talk to them when they're good and not to talk to them when they're bad. That's appreciated more than the unknown. When our players show up, they know what to expect from me."
Maybe Hinch's biggest lesson is that all of it matters, the X's and O's, the personality, all of it.
That everything matters is one of the things Hinch constantly tells his players. When he was tossed from a game two years ago, for arguing a seemingly small point with an umpire, he returned to the dugout in a huff.
"You're not kidding when you say everything matters," one of his players told him.
Richard Justice has been a reporter for MLB.com since 2011. Read his columns and follow him on Twitter at @RichardJustice. This story was not subject to the approval of Major League Baseball or its clubs.
1
Houston
Houston News & Search
1 News - 1 eMovies - 1 eMusic - 1 eBooks - 1 Search