1
Houston
Houston News & Search
1 News - 1 eMovies - 1 eMusic - 1 eBooks - 1 Search
So regardless of whether they end up with 101 or 107 or 109 wins (or more), these are two teams that are not only all but guaranteed to be playing October baseball, but are likely to add even more talent before the July 31 non-waiver Trade Deadline. They're the class of baseball in 2017, led by analytically minded front offices and young, respected managers. But which one is better?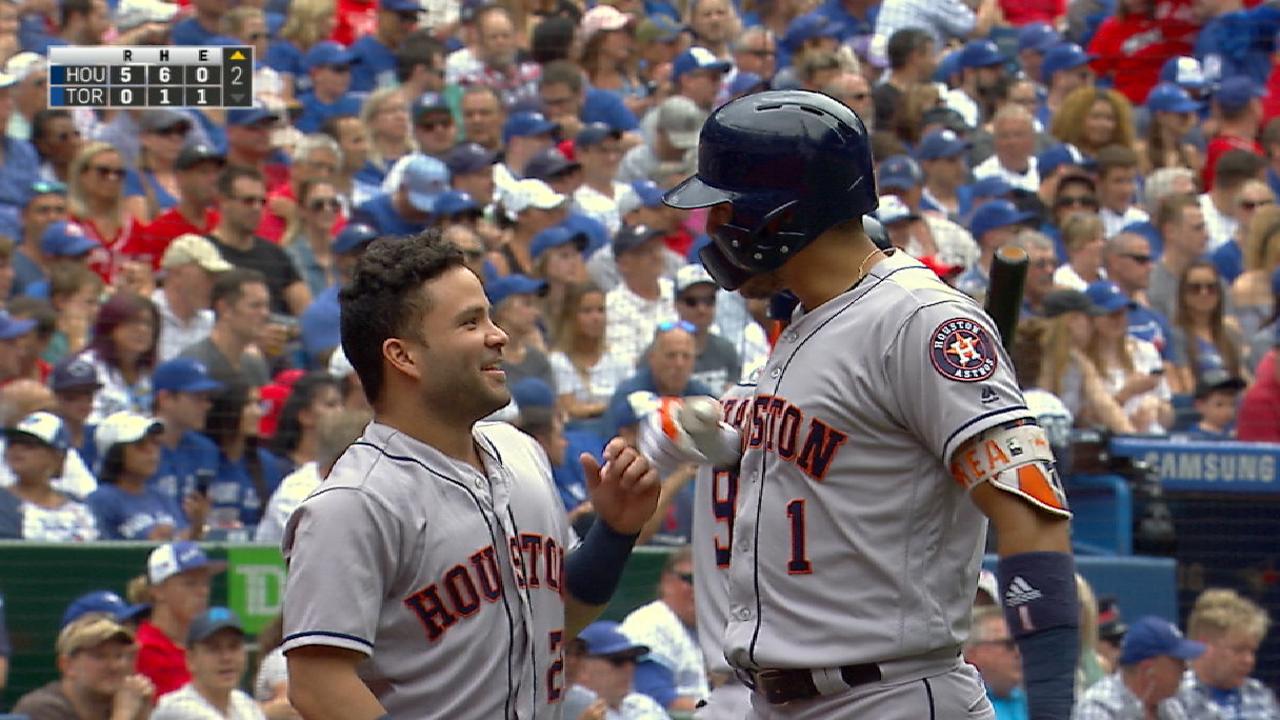 It's the kind of question many of us would like to see answered on the field in late October. For now, the best we can do is to compare each roster and make some judgment calls. Spoiler: They're both really, really good.
(For ease of comparison, we'll use Weighted Runs Created Plus, or wRC+, a park-adjusted hitting stat that sets "100" as league-average. A 120 wRC+, for example, can be read as "20 points above league average.")
Catcher
Dodger catchers Yasmani Grandal and Austin Barnes have combined to hit .272/.343/.489 (121 wRC+). Astros catchers Brian McCann and Evan Gattis have combined to hit .271/.340/.475 (117 wRC+), and that's about as close to being even as you can get. Grandal and Barnes each rate more highly at pitch framing than McCann and Gattis do, but even so, these are two similarly talented backstop duos. We'll call this one a draw.
 First base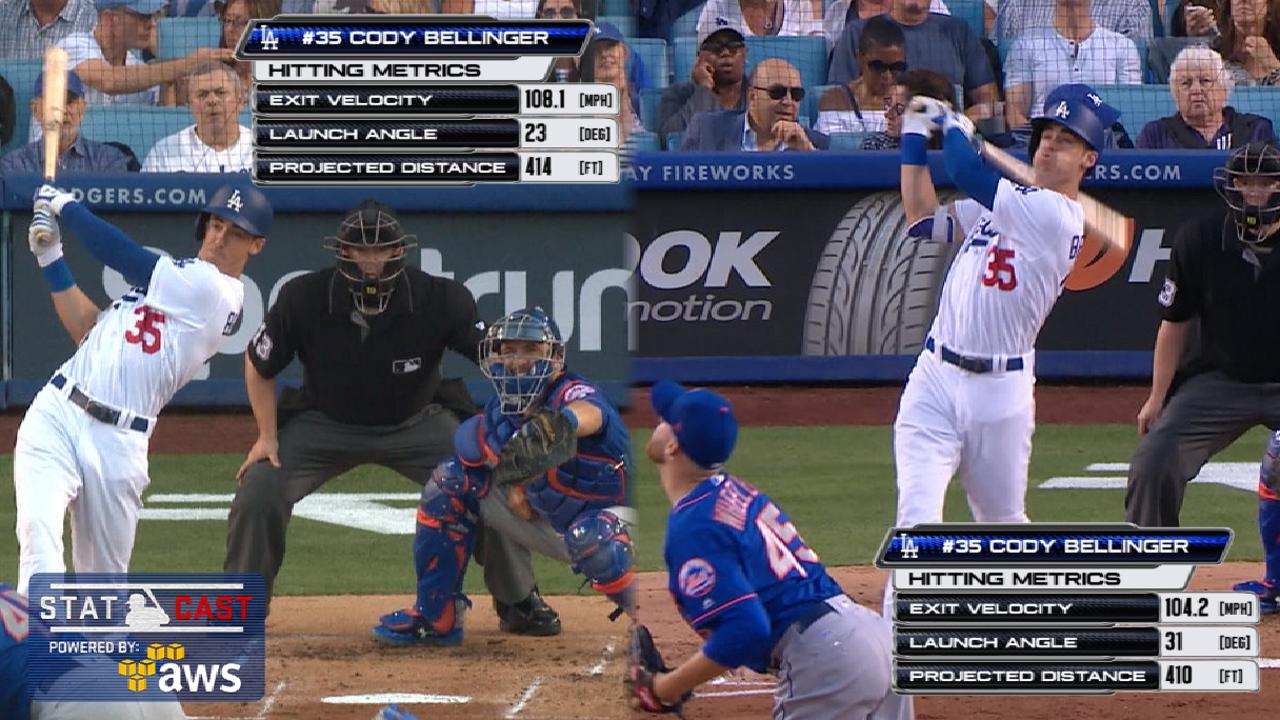 Although Cody Bellinger (.261/.342/.619, 145 wRC+) has started more games in the outfield, we'll count him at first, because he's been almost exclusively starting there since Adrian Gonzalez hurt his back, and he'll probably stay there for the foreseeable future since Gonzalez may not return until September, and even then perhaps only as a pinch-hitter. Even if Bellinger doesn't quite maintain this pace, he's got a sizable edge on both sides of the ball over Yuli Gurriel (.297/.321/.491, 115 wRC+).
 Second base
Some of these are going to be extremely close, and some — all due respect to Logan Forsythe, who is better than he's shown — are not. After a poor start to the year, Forsythe (.249/.369/.345, 101 wRC+) has clawed back to league average, and that's something. Of course, Houston doesn't just have baseball's best all-around second baseman in Jose Altuve (.347/.417/.551, 161 wRC+), it also has a superstar who may be one of the game's five best players. It's an easy call here.
Shortstop
In the world of extremely talented young shortstops, Carlos Correa (23 in September) and Corey Seager (who turned 23 in April) shine the brightest. Correa (.325/.402/.577, 161 wRC+) is outslugging Seager (.298/.395/.502, 139 wRC+) this year, but Seager was on top last year, and advanced metrics prefer him on defense. Pick either one you like; there's no wrong answer here.
 Third base
If he weren't just a handful of at-bats short of qualifying, Justin Turner (.377/.473/.583, 183 wRC+) would have the second-best line in baseball behind only Judge, and he adds value with the glove as well. Meanwhile, the future remains bright for young Alex Bregman (.256/.338/.419, 104 wRC+) but he hasn't quite put it all together just yet.
 Left field
If we're considering Bellinger a first baseman, we're left with a position that seems very likely to be upgraded by the Deadline for the Dodgers, given that both Andrew Toles and Andre Ethier have had their seasons destroyed by injury. Chris Taylor (.285/.365/.480, 127 wRC+) has been one of baseball's best out-of-nowhere stories, but he has little track record and may function best off the bench (he's started at second, third, short, left and center). That said, Houston's primary left fielder has been Norichika Aoki (.264/.316/.331, 75 wRC+), in the midst of his worst season. Both teams could make moves here.
Center field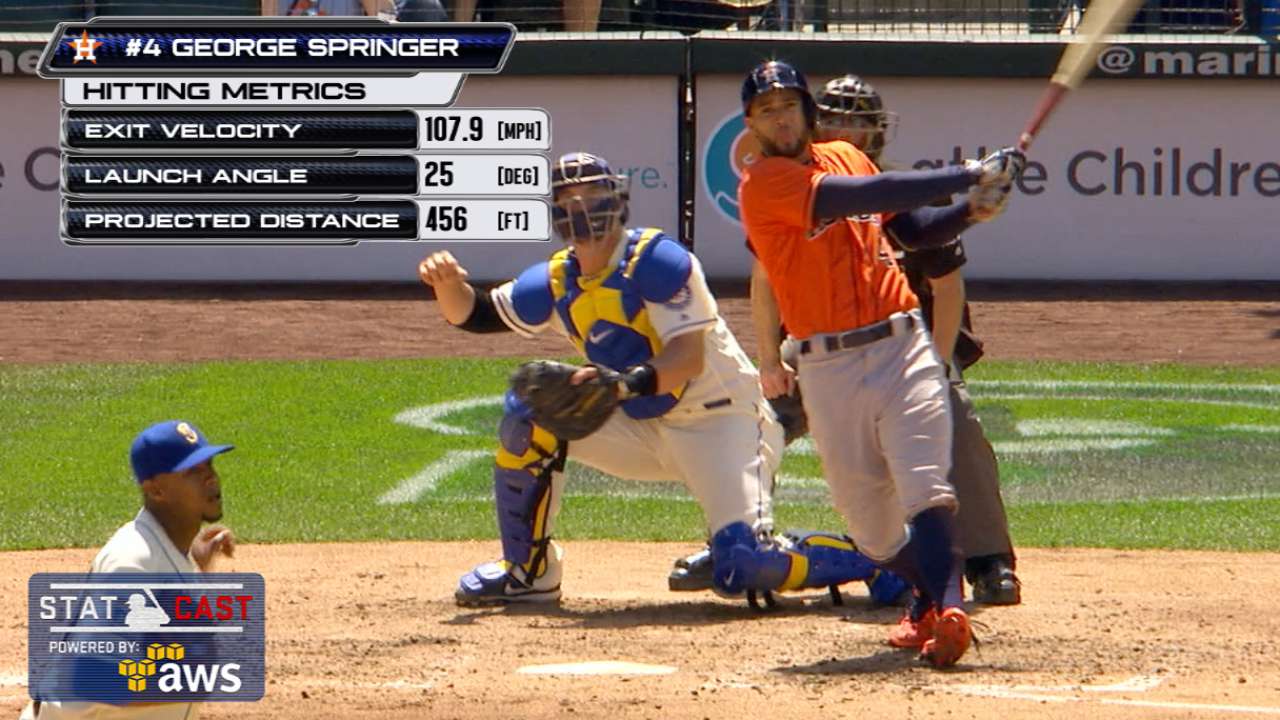 George Springer (.310/.380/.613, 164 wRC+) complicates this a bit by splitting his time between center and right, but since he's made 52 starts in center as opposed to only 29 in right, we'll keep him here. And like Altuve, he's become one of the game's best players. Joc Pederson (.241/.361/.466, 122 wRC+, with some questionable defensive metrics) has been more "good" than "great," and while he's not the only face you'll see out here, we'll get back to that in the "Bench" section.
 Right field
With Springer in center, former Dodger Josh Reddick is in right, and his first half (.313/.365/.515, 134 wRC+) puts him on track for the best season of his career. (He's hit like Anthony Rizzo and Miguel Sano so far this year.) Yasiel Puig (.251/.324/.453, 104 wRC+), who was briefly demoted to the Minors last year when Reddick arrived in Los Angeles, remains a valuable defender, but as a league-average hitter, his overall value is limited.
Bench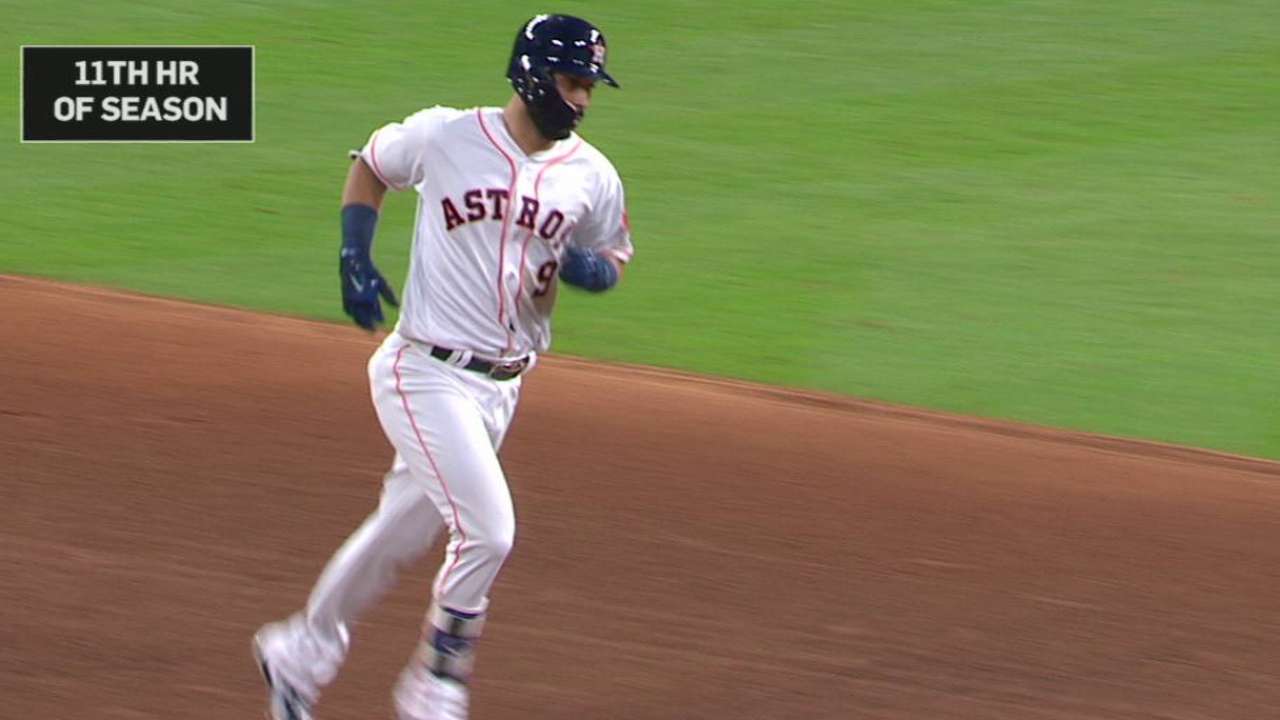 Perhaps more than any other teams in the game, these rosters are built around depth. While both have stars, both clubs could survive without them, because there's just so much talent here. For example, we've talked about Barnes, Gattis, and Taylor, but haven't yet mentioned Marwin Gonzalez, having an out-of-nowhere great season (.308/.391/.576, 158 wRC+) while starting at five spots. Or Jake Marisnick, having a similarly impressive year (.248/.320/.504, 119 wRC+) while adding defensive value in the outfield. Or Enrique Hernandez, who exists to crush lefties (.250/.344/.607, 144 wRC+, against southpaws) while starting at seven spots.
Need "veteran presence?" Neither 38-year-old Chase Utley (.226/.326/.390, 95 wRC+) nor 40-year-old Carlos Beltran (.227/.284/.406, 82 wRC+, mostly as Houston's DH) hit anymore like they did in their youth, but both teams swear by them in the clubhouse. Any changes here would be on the fringes; both clubs are so deep. This one is a push.
 Starting pitching
So far, none of these calls is all that controversial. Let's go ahead and change that right now, by giving the edge to the Dodgers, despite how talented the Astros' rotation is. That's in large part due to Clayton Kershaw, who remains baseball's best pitcher despite the attempts of others to take the throne. While Dallas Keuchel is a stud and was off to a great start, he's also coming off a poor 2016 and has been out of action with a neck issue for more than a month, so it's hard to argue he's quite there with Kershaw.
Beyond their aces, the Dodgers' rotation has a better ERA (3.24 to 3.82), has baseball's second-highest whiff rate (25.4 percent), and has induced the weakest quality contact of anyone. But for both of these teams, it comes down to health. Can you really rely on Wood, Rich Hill and Brandon McCarthy being there in three months? Or Keuchel, Lance McCullers Jr. or Charlie Morton? Or Brad Peacock (who's been great) to last all year in the rotation? One of these teams is going to get a Jose Quintana, Sonny Gray or Marco Estrada — perhaps both.
Bullpen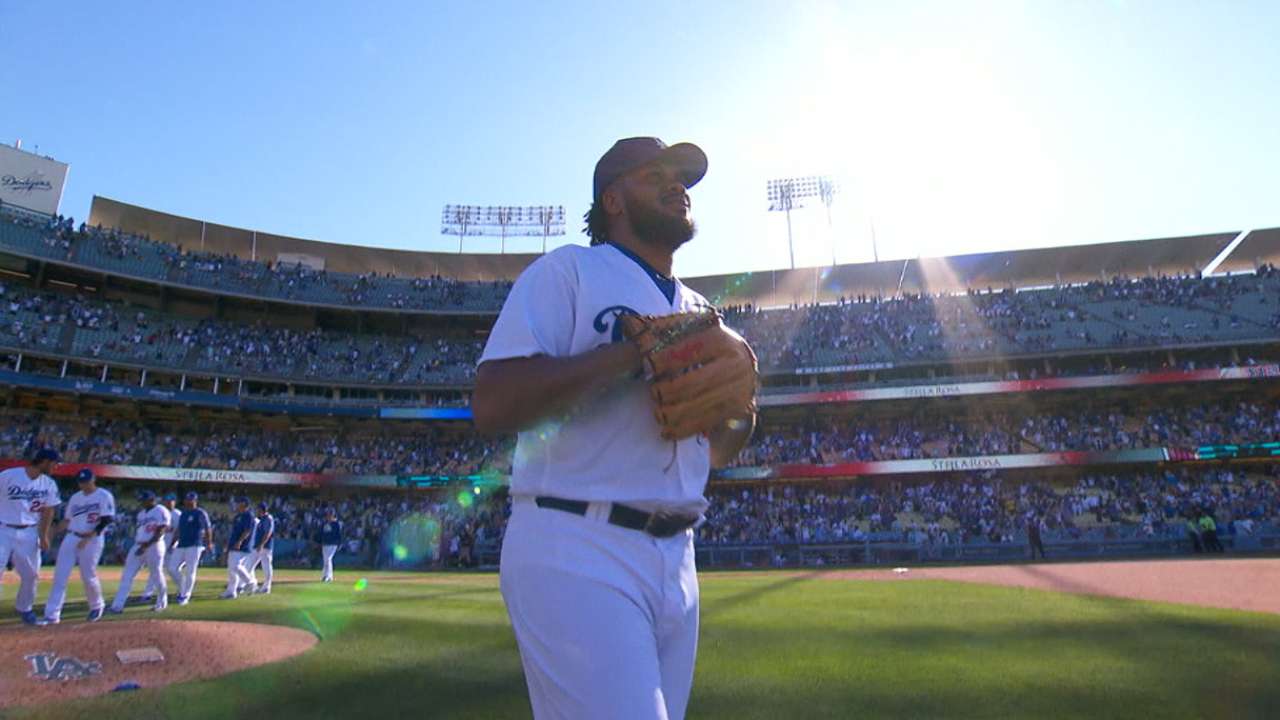 At first glance, this might not seem so close, given that Houston's bullpen has a 4.09 ERA and Los Angeles has a 2.99 mark, the second best in baseball, but we know that ERA is a very imperfect way to measure relievers. Beyond that, we know that the depth relievers you need to get through a season aren't likely to impact the club so much in October, so it may not matter that someone like Sergio Romo has a 6.12 ERA right now. As we've noted before, the Astros' 'pen can be great.
Knowing that additions are likely to come, let's take six top Dodgers relievers (Kenley Jansen, Pedro Baez, Brandon Morrow, Luis Avilan, Ross Stripling and Josh Fields) and six top Astros relievers (Ken Giles, Chris Devenski, Peacock, Will Harris, Luke Gregerson and Michael Feliz) and compare what they've done. The six Dodgers have a 2.82 FIP; the six Astros have a 2.90 FIP. The six Dodgers have a .261 xwOBA, which measures quality of contact (exit velocity plus launch angle), along with strikeouts; the six Astros have a .262 xwOBA. Close enough for you?
Los Angeles doesn't have a multi-inning weapon like Devenski, but Houston doesn't have a shutdown closer like Jansen. These are both strong units, and neither has a clear edge.
So, overall, which team is the best? They're both great, of course, and this could potentially be one of the most interesting World Series matchups in years if we get that far, though you'll note that the 2001 Mariners and the 1969 Cubs did not reach the Fall Classic. But as things stand today, no team is in better position than the Dodgers, who have to be considered the favorites to end what's nearly a three-decade title drought.
Mike Petriello is an analyst for MLB.com and the host of the Statcast podcast. He has previously written for ESPN Insider and FanGraphs. This story was not subject to the approval of Major League Baseball or its clubs.
1
Houston
Houston News & Search
1 News - 1 eMovies - 1 eMusic - 1 eBooks - 1 Search