1
Houston
Houston News & Search
1 News - 1 eMovies - 1 eMusic - 1 eBooks - 1 Search
Maybe that's what the Astros revealed about themselves Saturday afternoon in a 3-1 victory over the Angels at Minute Maid Park. When they most needed a great start, right-hander Mike Fiers delivered it, allowing one run and two hits in 7 1/3 dominant innings.
This is why it was important despite the fact that the Astros are 44-19 and leading the American League West by 12 1/2 games. For the first time in a season that has had a magical feel, they're being tested.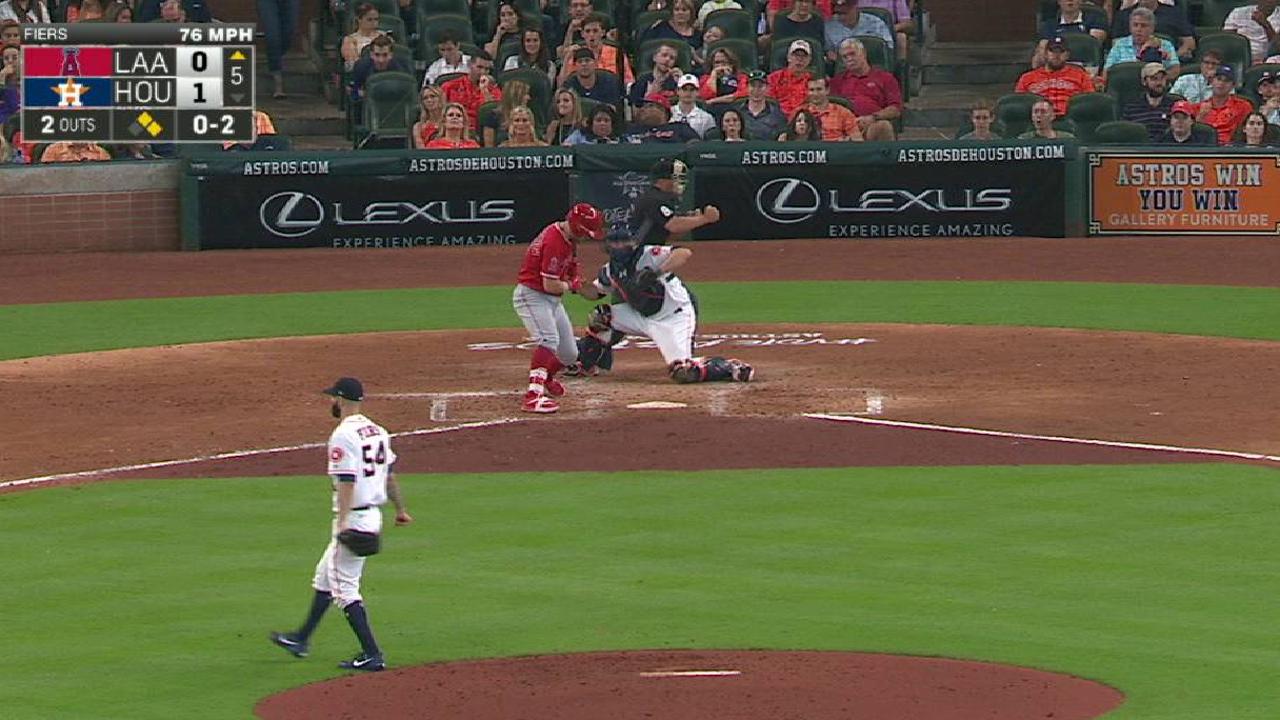 They have four starting pitchers on the disabled list, including left-hander Dallas Keuchel, probably their single most indispensable player.
He has been the AL's best in 2017: 9-0 with an AL-leading 1.67 ERA and 0.872 WHIP. He's on the 10-day DL for the second time with a pinched nerve in his neck
He won't pick up a baseball for a week and seems certain to miss at least two starts. That's just a guess since there's no reliable timetable for how long it takes an inflamed nerve to calm down.
"I wanted to do something now and not revisit later in the season, when we're getting ready for the playoffs and hopefully playing in October," Keuchel said.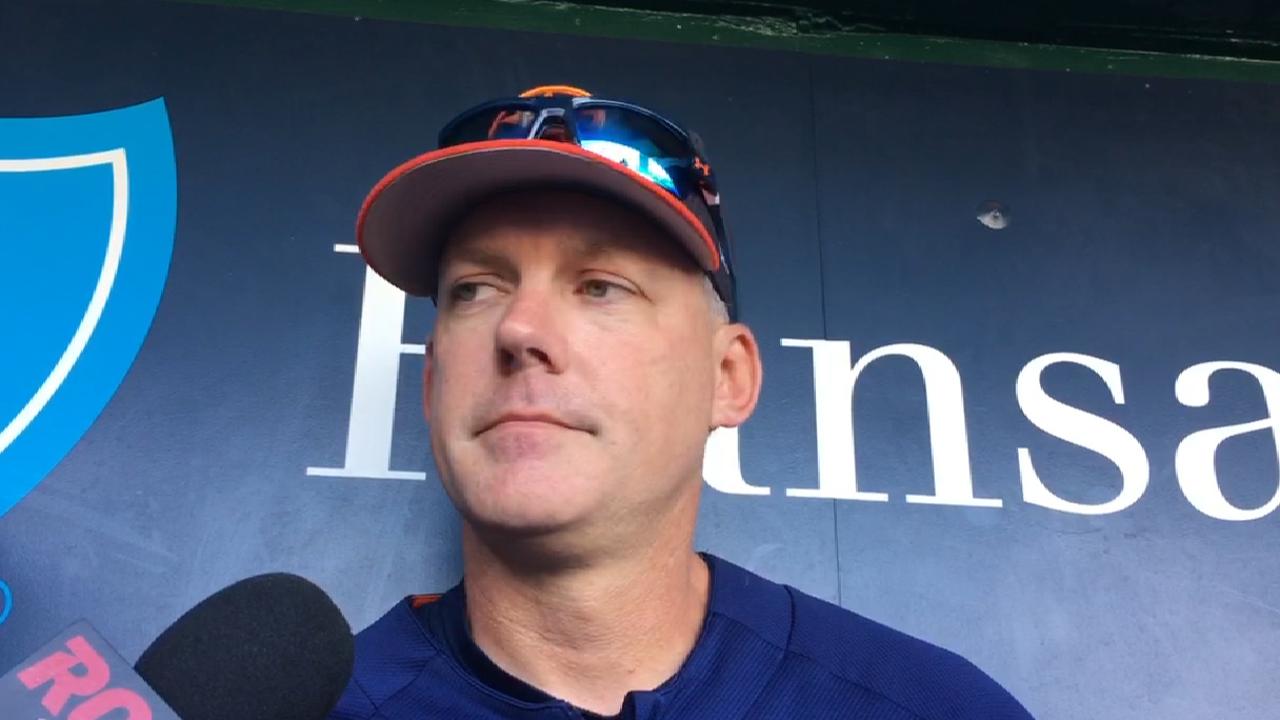 The Astros are hoping another starter on the DL, right-hander Joe Musgrove, will return Monday from a sore shoulder and pitch against the Rangers. As for right-handers Collin McHugh (shoulder) and Charlie Morton (lat muscle), they both seem to be at least a month away from pitching in a Major League game.
As Hinch says, next man up.
"It's that time of the year where your roster gets challenged a lot because of the nature and physicality of the sport-playing every single day, the travel, some of the sorenesses that come up," he said.
"There's probably not a team right now that feels perfectly healthy. We're one of 'em. The schedule doesn't stop, and the challenge to win doesn't stop. We continue to have winning homestands, winning road trips, winning series. Those are still going to be our goals."
Two weeks ago Fiers was going so badly (5.21 ERA) that Hinch informed him he was being removed from the rotation. Twenty-four hours after that, Fiers was summoned back to the manager's office as injuries mounted and told: "What I said yesterday? Never mind."
And then something fortunate happened. Fiers rediscovered his curveball, which made his other stuff, especially his 90-mph fastball, more effective.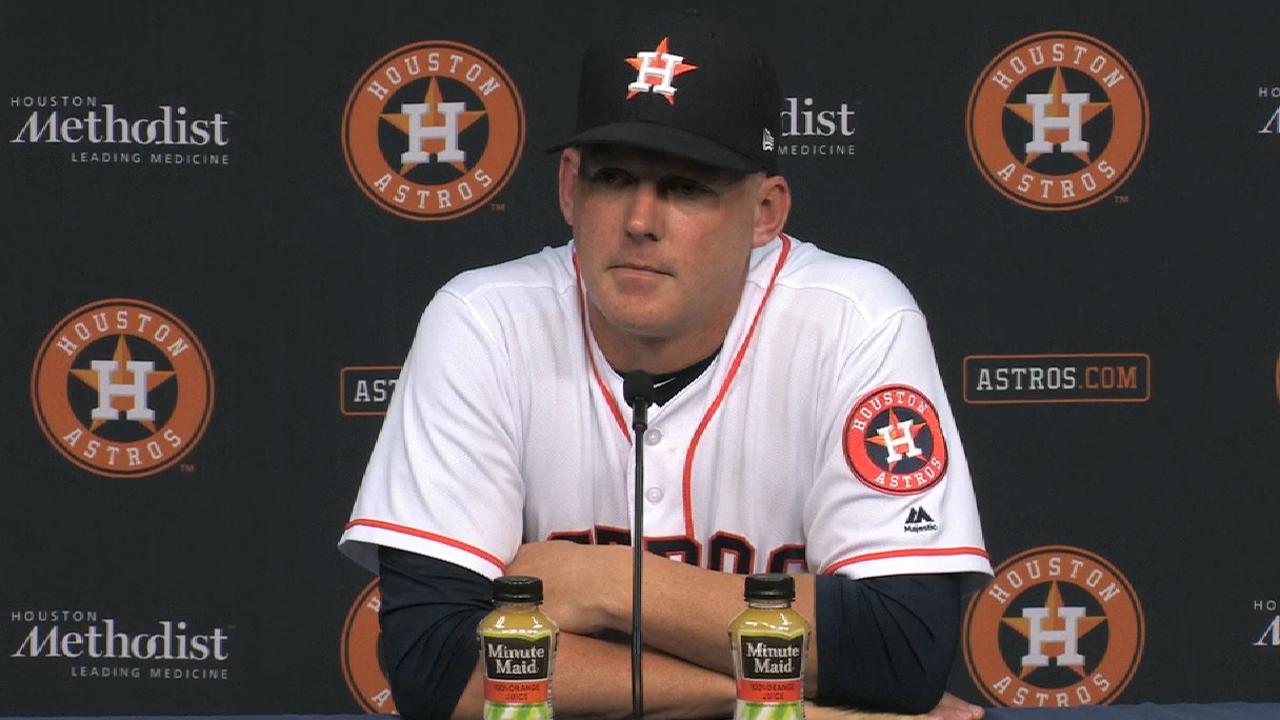 He has won three straight starts since, allowing five earned runs in 18 1/3 innings. Saturday's was the best of those. Statcast™ research reveals both his changeup and curve were much more effective. The Angels averaged 76.3 mph exit velocity on his curve, 84.4 mph on his changeup.
Before Saturday, opponent slugging percentage was the fifth-highest in the Majors on his offspeed stuff.
"It's just a different game when you have your control and are throwing everything you want and where you want," Fiers said. "I'm throwing my curveball like I used to. This is how I pitch. This is the pitcher I am. When I feel like that, I feel I'm one of the best pitchers in the league."
Everything is connected to every other. He struck out Kole Calhoun in the first inning with a curveball-fastball combo. An inning later, he finished off C.J. Cron with a curve-change combination. And an inning after that, the third, he got Eric Young Jr. was a fastball-change setup.
Because he had everything going, he was able to keep the Angels off balance, gauge bat speeds and do the kinds of thing that, well, Keuchel, does.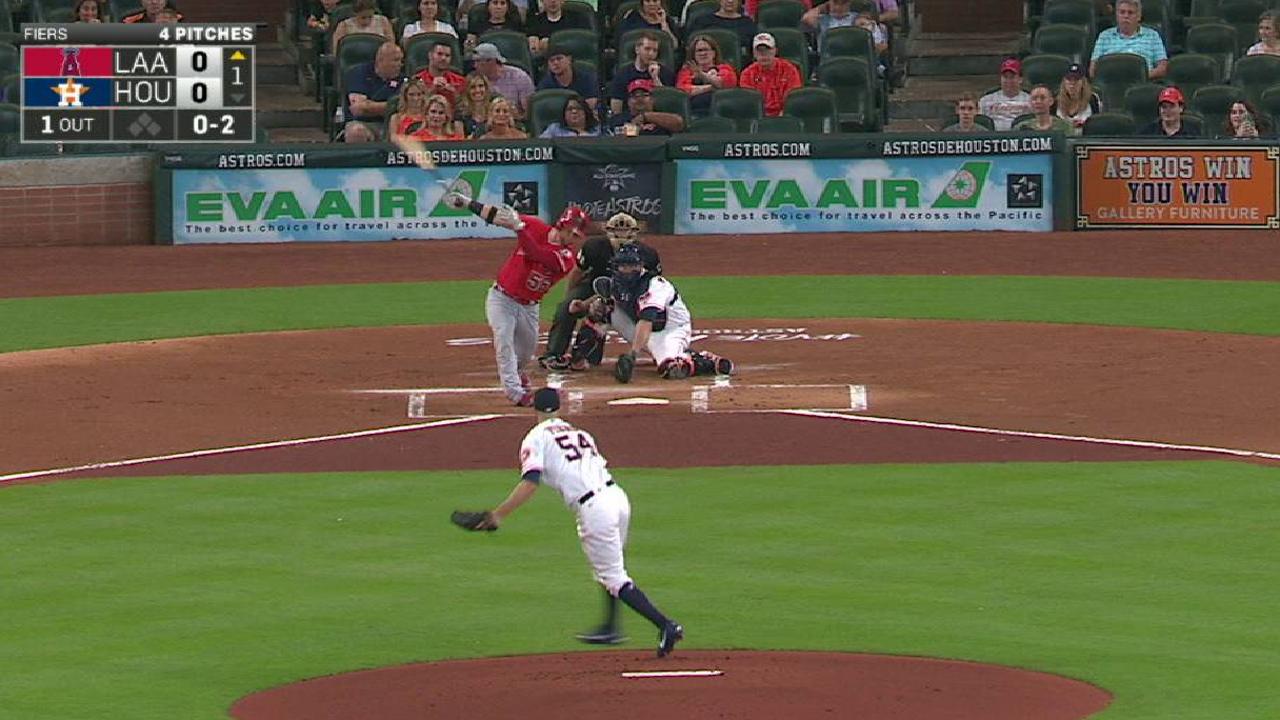 "I just figured it out at the right time," Fiers said. "My team needed me to come up with some big starts, and I have."
That's the mantra for a 44-19 team.
"We'll be all right," Hinch said. "We've got a pretty strong psyche. It's tough to see some of your better guys on the shelf, but it's a reality. We can dwell on it, pout about it, be angry about it, be frustrated about it, be worried about it. We'll wake up the next day and have the same challenge."
Richard Justice has been a reporter for MLB.com since 2011. Read his columns and follow him on Twitter at @RichardJustice This story was not subject to the approval of Major League Baseball or its clubs.
1
Houston
Houston News & Search
1 News - 1 eMovies - 1 eMusic - 1 eBooks - 1 Search