1
Houston
Houston News & Search
1 News - 1 eMovies - 1 eMusic - 1 eBooks - 1 Search
"Six double plays — I mean, that helps," said starting pitcher Collin McHugh, who had a hand in one of three double plays turned while he was on the mound. "That will end a rally pretty quickly. I was fortunate to get a couple of those. The infield played great behind me. It was a pretty solid outing overall."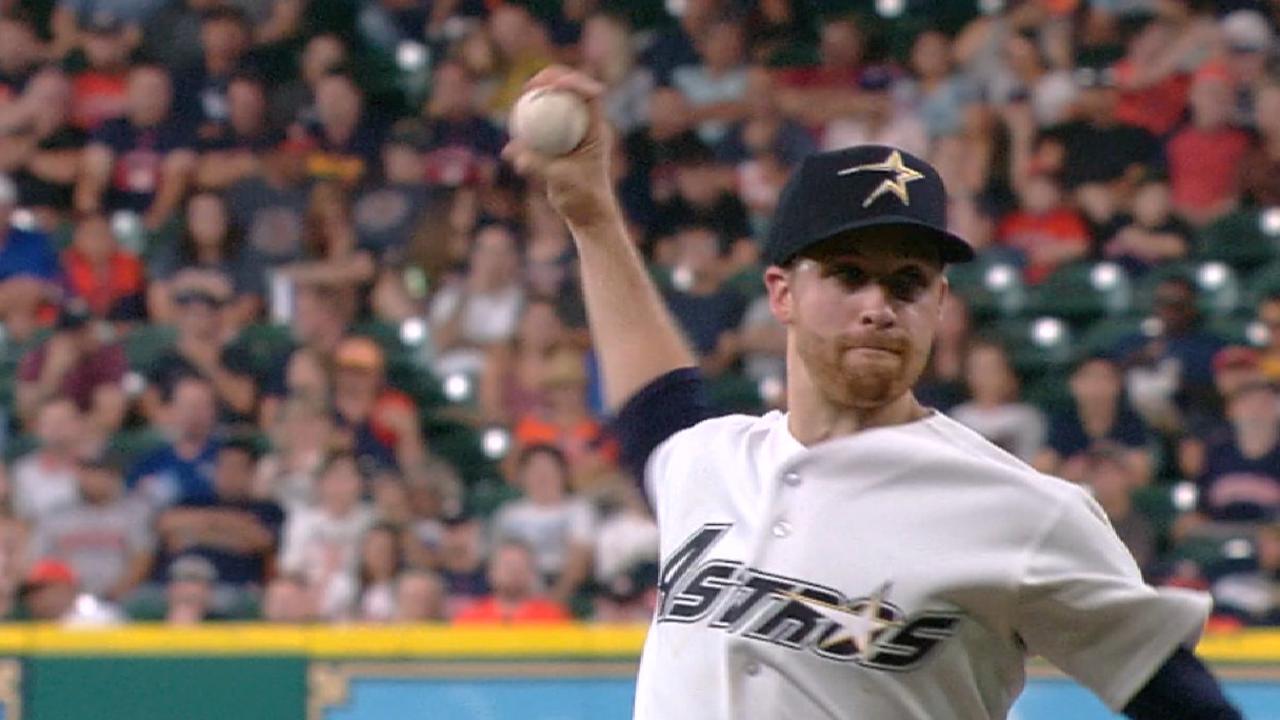 Oakland's Ryon Healy grounded into a 5-4-3 double play to end the game, but not before manager A.J. Hinch asked for a crew-chief review after Healy was initially called safe at first base. The call was overturned, giving the Astros a fitting end to their fourth win in five games.
"The rules are, late in the game, the last two innings, I can ask for a crew-chief review, and generally if it's a play of that magnitude and that close, they're going to review it," Hinch said.
Hinch said the Astros have been stressing defense and the double play lately with coaches Alex Cora and Rich Dauer, after not being as efficient turning double plays earlier in the season.
On Saturday, one of the most difficult double plays was the first one the Astros turned. With three infielders on the right side and the leadoff man on first base in the third inning, Matt Joyce hit a grounder to second baseman Jose Altuve, who had to dart to his right to get the ball. Third baseman Alex Bregman — positioned where the shortstop would normally play — was able to make the turn at second with a strong throw to first.
"The 4-5-3 double play is just a weird one to write down on a scorecard," Hinch said. "You don't see it. We arguably have an extra shortstop on the field with Bregman, so he's used to making that play more so than most third basemen in the league.
"That type of distance — where Altuve is all the way over in the hole and he's got to make a long flip or a long throw — there's got to be a quick turn with some velocity behind it. We've seen [injured shortstop Carlos] Correa do it a lot, and now we've seen Marwin [Gonzalez] and Bregman both do it. It takes perfect execution to turn those length of double plays."
Bregman praised Altuve, who was involved in three of the double plays.
"Altuve was unbelievable," Bregman said. "The way he's turning the double play lately is the best I've ever seen him do it, and it's fun to watch. It gets you excited to play defense. He's a superstar on defense. Not only with the bat — everybody knows he can hit — but the way he's been turning the double play lately is unbelievable."
Brian McTaggart has covered the Astros since 2004, and for MLB.com since 2009. Follow @brianmctaggart on Twitter. This story was not subject to the approval of Major League Baseball or its clubs.
1 Houston
Houston News & Search
1 News - 1 eMovies - 1 eMusic - 1 eBooks - 1 Search