1
Houston
Houston News & Search
1 News - 1 eMovies - 1 eMusic - 1 eBooks - 1 Search
These challenges bring out the best in people. But there has never been anything like the terrifying floodwaters and churning bayous that have brought Houston to a standstill as Hurricane Harvey rumbles inland.
•  Astros thoughts with Houston
Homes have been ripped apart, hospitals flooded and emergency services overwhelmed as a great American city flirts with its breaking point.
"It's catastrophic, unprecedented, epic — whatever adjective you want to use," said Patrick Blood, a National Weather Service meteorologist. "It's pretty horrible right now."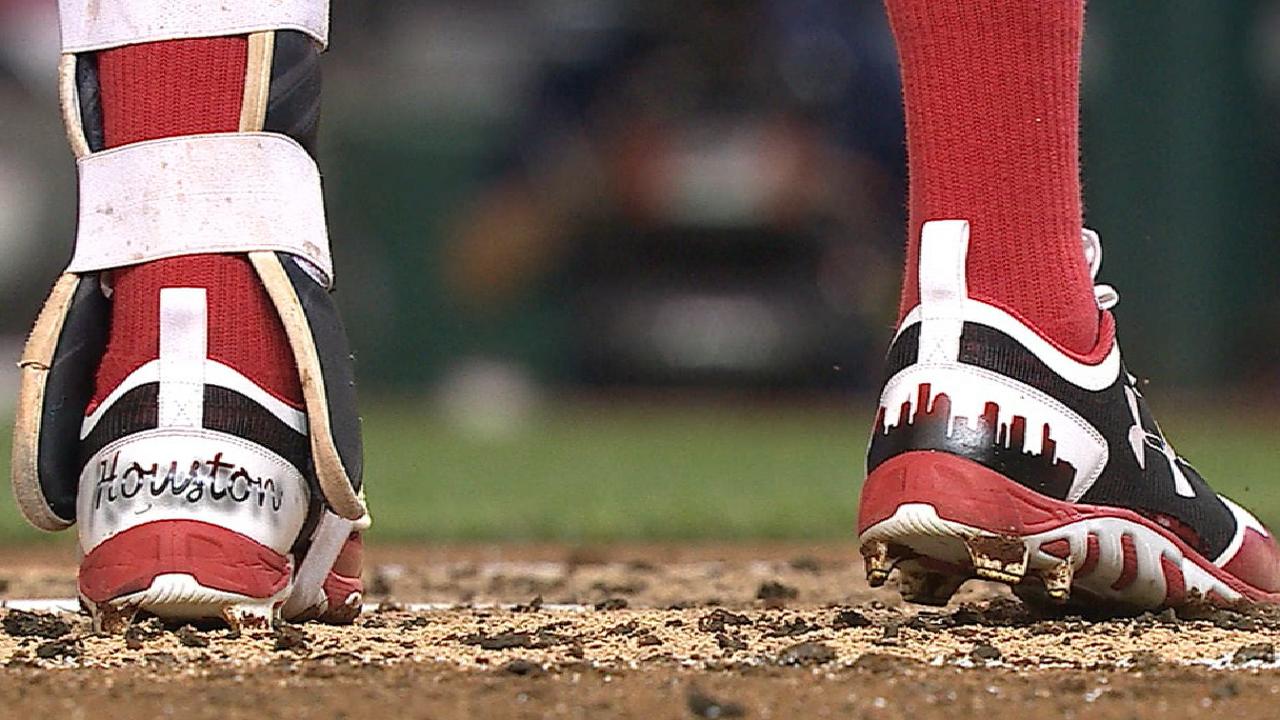 Here's the worst of it: There's no way to assess just how much damage is being done because the rains are expected to continue until mid-week or so, according to Houston Mayor Sylvester Turner.
Only then can real drainage begin, and people start the tortuous process of understanding how much they've lost and how they figure out how to put their lives back together.
Baseball?
Yes, there's baseball against this backdrop.
I hope today's game brought a smile to someone's face in Houston. Know that every one of us has the city on our hearts & in our prayers.

— Collin McHugh (@Collin_McHugh) August 28, 2017
Historically, the sport has provided a bit of escape in times like these. FDR recommended that the baseball season continue even as the United States fought in World War II. Baseball also provided some escape for the country in the wake of the Sept. 11, 2001, attacks.
Baseball eventually will do that for Texas, too. First, though, the rains must stop and the recovery must commence. Amid terrifying flooding all over the Houston area, heavy rains continue to pound the area.
Dozens of Major League players — Arizona's Paul Goldschmidt, Washington's Anthony Rendon, Boston's Chris Young, Texas' Andrew Cashner and many others — are from the Houston area. On Sunday, their thoughts and prayers were with friends and families hundreds of miles away.
"I got a text from my sister today showing me some pictures," said Pirates pitcher Jameson Taillon, who grew up in Houston. "Right before I went out [to pitch], she said they're not flooding but a tornado's supposed to hit soon. It's scary."
"A tornado went through two of my cousins' neighborhoods," Rendon said. "They live in the same neighborhood. A tree fell on one of their houses. I'm not too sure how large the tree was, but it's an old neighborhood and it's an older house and the trees aren't small so I'm sure there's a good amount of damage. My fiancee's family, there's five feet of water in one of her cousin's houses and six feet of water in her grandpa's sister's house. It's not good, but we just rally together and help each other out. It's nothing we haven't been through before."
Meanwhile, the Astros and Rangers prepared a decision on how to handle a three-game series scheduled to begin Tuesday at Minute Maid Park. With rains expected to continue until mid-week and then a massive cleanup to follow, both teams flew from California to the Dallas-Fort Worth area to await a decision on where and when to play.
Update on our travel and a word from Mr. Reid Ryan: pic.twitter.com/yJ6oNZyGC8

— Houston Astros (@astros) August 27, 2017
Astros president Reid Ryan said an update on the series will come Monday.
"At this point, our focus is on the safety of our fans, our players and their families, and our front office staff and their families," he said. "Our thoughts and prayers are with everyone dealing with the effects of this terrible storm. We want everyone to be safe."
His team said the same thing 1,500 miles away before a game against the Angels.
"Talking about game situations is so hollow with people down the street from Minute Maid losing their cars, losing their lives — their homes are in jeopardy," Astros manager A.J. Hinch said.
Baseball was impacted on other levels. Corpus Christi, where the Astros Double-A affiliate plays, was hit hard when Harvey came ashore Friday. The Corpus Christi Hooks next home game is Saturday.
Harvey's projected path was to take it near Lufkin, Texas, the home of the Little League World Series team that lost Sunday's championship game to Japan in Williamsport, Pa.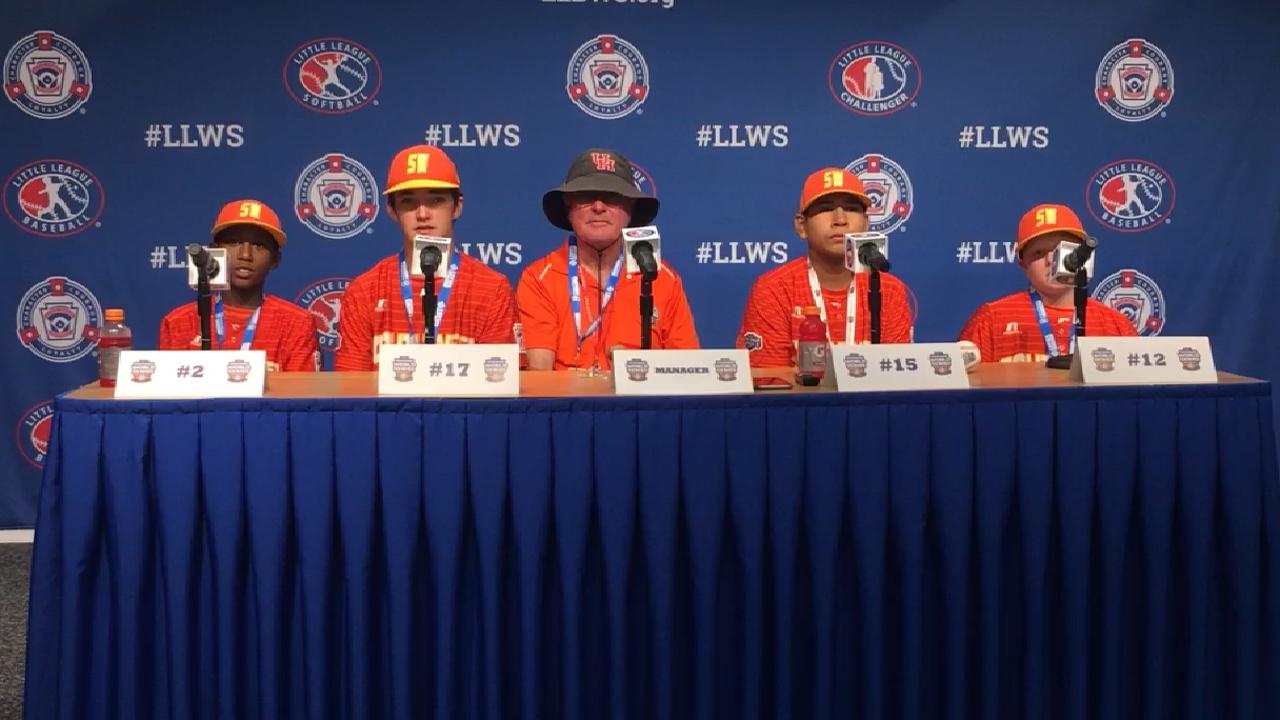 In the wake of a heartbreaking loss and the end of a tremendous season, Lufkin coach Bud Maddux's thoughts were with those back home dealing with Harvey and its aftermath.
"I just hope the rain back there lets up enough to let some of it run off," he said.
For players across the sport, the first concern was for friends, loved ones and property.
"It's bad," Rendon said. "I mean, they know they're in a flood zone. [His fiancee's] uncle was on the news. He actually got a boat and went to go rescue his kids from his ex-wife's house. He's big time."
"Everything's holding up all right," Taillon said. "I got a text from my sister today showing me some pictures. It's scary. Right when it was about to hit, I said I'm not worried about the hurricane itself, I'm worried about the flooding afterward and the rain.
"I'm seeing pictures of the bike trail I ride in the offseason, running trails and stuff. And it's just totally under water, up to the top of the trees, over bridges and stuff."
For Rangers manager Jeff Banister, the storm is personal. He grew up in the Houston suburb of La Marque, played at the University of Houston and lived for years in nearby League City.
"It breaks your heart to see the video of what lies in front of these people," he said. "We are praying for them. Think about these people, their families and what they are going through."
Tigers reliever Alex Wilson makes his offseason home in College Station, 95 miles north of Houston. His home is on higher ground and safe enough that he has offered it to friends, family and neighbors.
"The road to get to my neighborhood is washed out, so it's going to be a while before anybody can do anything," he said. "Luckily enough, my neighbors do have boats if need be, and we'll help each other out."
Richard Justice has been a reporter for MLB.com since 2011. Read his columns and follow him on Twitter at @RichardJustice This story was not subject to the approval of Major League Baseball or its clubs. This story was not subject to the approval of Major League Baseball or its clubs.
1
Houston
Houston News & Search
1 News - 1 eMovies - 1 eMusic - 1 eBooks - 1 Search