1
Houston
Houston News & Search
1 News - 1 eMovies - 1 eMusic - 1 eBooks - 1 Search
That's what Fisher had done in a five-game stint with the Houston Astros in June. Later on Sunday, after Tucker stranded Fisher on third base by flying out to right field, Fisher approached him.
"Dude, I thought that was a homer," he said. "I was on third base jogging home. You should have gotten breakfast this morning. That would have been a homer."
These two young outfielders are two of baseball's best prospects — Tucker is the club's No. 2-ranked prospect and Fisher is No. 4 — and two of the many reasons the Houston Astros are so optimistic about this year and the years ahead.
Fisher started in left field, Tucker in right, and both showed off a glimpse of their talent. Fisher doubled in two runs and collected a walk and a stolen base in Team USA's 7-6 victory over the World Team.
Tucker, meanwhile, also had a good day with an RBI double in the third inning and a solid afternoon in the outfield.
Afterward, both of them said the experience had been everything they'd hoped.
"This is something you don't really realize how big it is until you're here," Fisher said. "This is the first time I've played with USA across my chest. Being able to do that was a proud thing for me."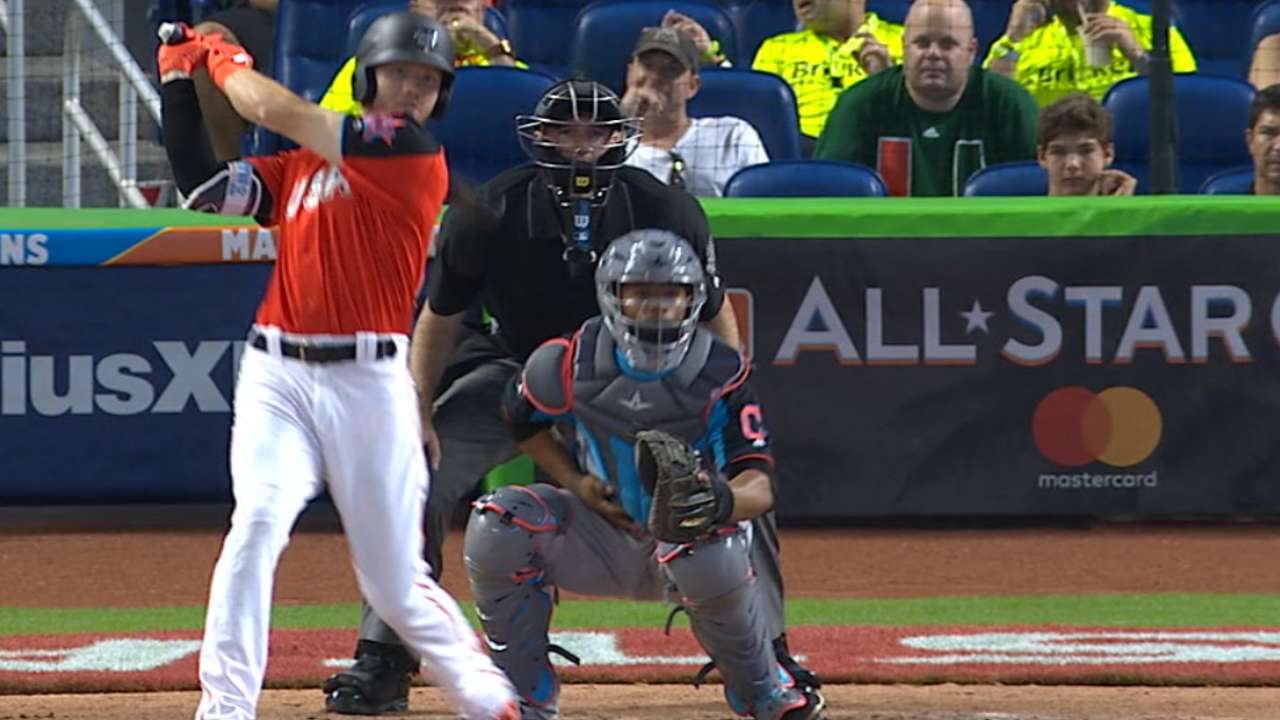 Tucker said, "I took a moment in the outfield to look around and soak it in. Today was one of the best experiences I've had."
They may end up being the toughest call Astros general manager Jeff Luhnow makes as the July 31 non-waiver Trade Deadline approaches.
Luhnow would like to shore up his pitching staff, especially if there's still uncertainty about ace Dallas Keuchel's recovery from a pinched nerve in his neck.
This is the kind of decision every general manager both hates and loves to have to make. The Astros fly into the All-Star break with a 60-29 record and a whopping 16 1/2-game lead in the American League West.
As a result, they may have the kind of opportunity franchises do not have very often, and Luhnow has constructed a farm system good enough to acquire almost anyone — from, say, Padres reliever Brad Hand to Athletics starter Sonny Gray.
Does he trade Fisher or Tucker? So far, he has steadfastly refused to do so. Both Tucker and Fisher accept their place in the organization and understand the lay of the land.
"It just shows how good the organization is," Fisher said. "It's just not something I have any control over."
Tucker is all of 20 years old and one of the youngest players in Double-A. The outfielder has been projected as a future star since the Astros made him the fifth overall pick of the 2015 Draft.
Fisher, 23, is also a former first-round Draft pick and a big-time prospect. As Tucker pointed out, Fisher has already gotten a taste of the Major Leagues, playing five games with the Astros in June and doing just what they had hoped: .278 batting average, two home runs, .992 OPS.
He got a chance to play when veteran outfielder Josh Reddick was placed on the seven-day concussion disabled list. When Reddick returned, Fisher was sent back to Triple-A Fresno.
Both say they're only vaguely aware of trade rumors that have speculated one or both of them could be used to acquire a pitcher.
"I'll see it every now and then," Tucker said. "I don't pay too much attention to it, because it's out of my hands. All I can do is go out and play. I don't have any say whether I get traded or who I'm going to."
Fisher is in a different place — two years older at 23 — and as Luhnow said, "He's in Triple-A, but he's ready for the big leagues."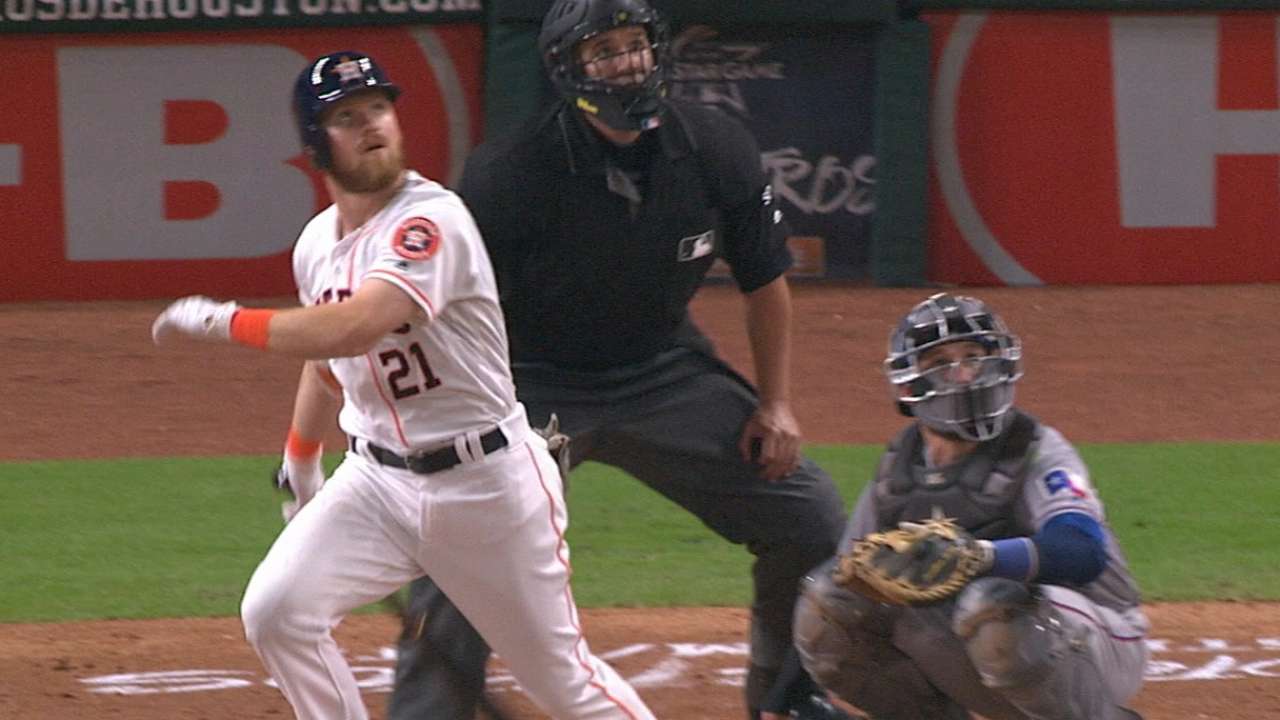 Fisher said the Futures Game was a learning experience, just as his five games with the Astros were.
"I think the biggest thing is you slow the game down," Fisher said. "When you get there, you have to figure out that it's the same game. Just being able to understand that there's a third deck and the lights are a little brighter."
Fisher said being part of a first-place team made it a different kind of transition to other highly touted prospects who have the pressure of single-handedly turning a franchise around.
"There wasn't individual pressure because the team is playing so well and playing the way they do, I just wanted to do something every day to help the team win a game," he said. "You really care less about your individual success or statistics. It's 'what did I do today to help the team win?' That's the way I took it."
He knows the next call could come at any moment. What he can't know is where that call might send him. 
Richard Justice has been a reporter for MLB.com since 2011. Read his columns and follow him on Twitter at @RichardJustice. This story was not subject to the approval of Major League Baseball or its clubs.
1
Houston
Houston News & Search
1 News - 1 eMovies - 1 eMusic - 1 eBooks - 1 Search