1
Houston
Houston News & Search
1 News - 1 eMovies - 1 eMusic - 1 eBooks - 1 Search
"His body's in great shape," Hinch said. "This isn't a hamstring or groin or any issue like that. It's really just going to be the pounding on his hand. We have a program in place that's mapped out for at least a week. Whether that's shorter or longer, that can be altered by what we see and what he feels and what's in the best interest of everybody. Right now, we want him to get into a game."
• Buy an official 'Showrrea' jersey for Players Weekend
All-Star right-hander Lance McCullers Jr. (back) will start Friday's game for the Grizzlies, with relievers Will Harris (shoulder), Tony Sipp (calf) and Michael Feliz (shoulder) also appearing in that game.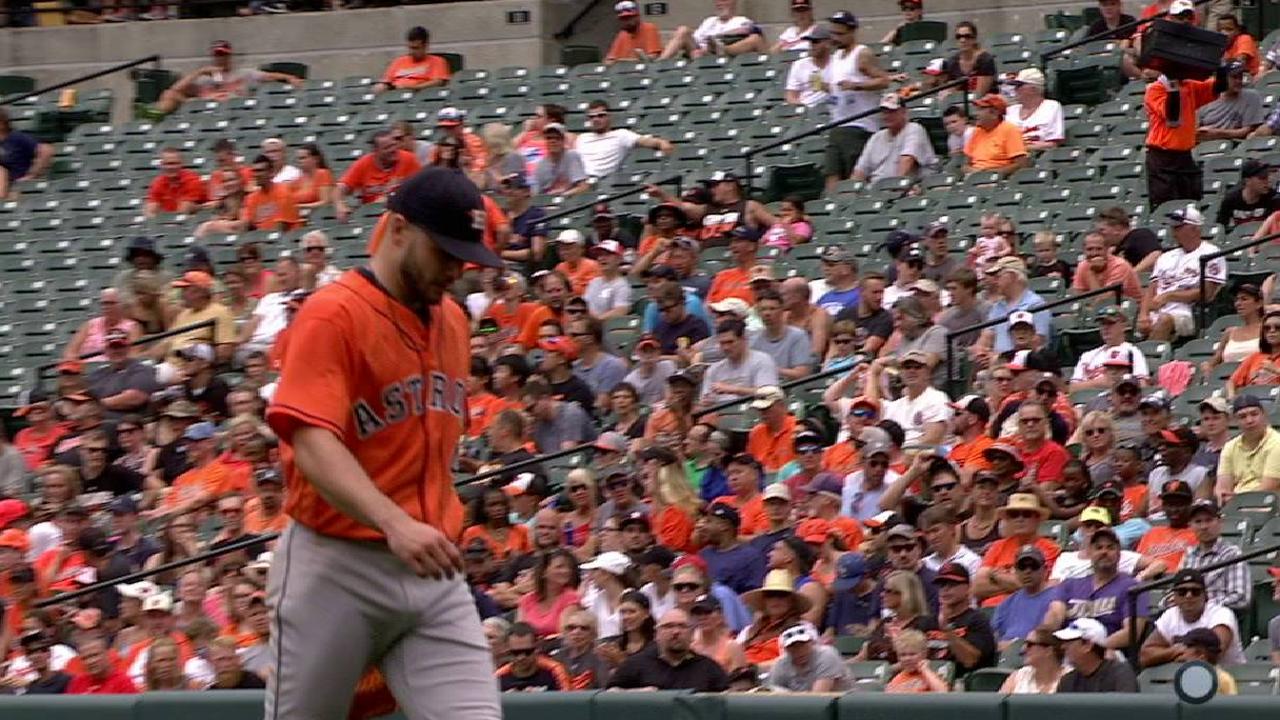 McCullers will pitch four or five innings on Friday, depending on how efficient he is, Hinch said. He'll make at least two rehab starts before being activated. McCullers last pitched in a game July 30.
"He's ready," Hinch said on Wednesday. "He threw a really good bullpen yesterday and felt great coming back today and for the first time has cleared sort of the mental and physical hurdles it takes to get back into competition. He wanted to make sure he could execute some pitches in a high intensity mode, in a bullpen session and a live session. He's ready to go."
Harris, who along with Feliz and Sipp threw one scoreless inning Tuesday at Double-A Corpus Christi, is expected to rejoin the Astros on Saturday in Anaheim, assuming his outing Friday goes well. Harris was activated from the DL in July after one rehab outing, but wound up back on the DL. The Astros want to make sure he's ready this time.
"We've done the one rehab outing before with guys," Hinch said. "I've seen guys come off the DL without a rehab the way [George] Springer did or the way [Brian] McCann is going to do. Maybe it's going to be great. I've also seen guys have a little bit of a ramp and need a little bit of time. This is a tough league and we want our guys to be ready to perform the day they walk back in."
The Astros had planned to complete all the players' rehab assignments at Corpus Christi, but with heavy rains forecast for Corpus Christi and San Antonio, where the Hooks play this weekend, the assignments will take place in Northern California instead.
"The tropical depression or hurricane has shifted our focus to the Grizzlies out west," Astros manager A.J. Hinch said.
Meanwhile, catcher/designated hitter Evan Gattis (concussion) will play his second consecutive game for Corpus Christi on Wednesday. Hinch said Gattis could have his rehab stint cut short and return to Houston on Thursday because of the weather, though he wouldn't be activated. Catcher McCann (knee) will be activated Thursday, though.
The Grizzlies open a four-game series at home against Tacoma on Thursday before ending their regular season with four games at El Paso (Aug. 28-31) and Salt Lake (Sept. 1-4).
Brian McTaggart has covered the Astros since 2004, and for MLB.com since 2009. Follow @brianmctaggart on Twitter. This story was not subject to the approval of Major League Baseball or its clubs.
1
Houston
Houston News & Search
1 News - 1 eMovies - 1 eMusic - 1 eBooks - 1 Search