1
Houston
Houston News & Search
1 News - 1 eMovies - 1 eMusic - 1 eBooks - 1 Search
Major League Baseball announced the annual list of club representatives on Thursday, and as usual, it is a star-studded gathering from the past that will man the phones and help welcome the future on the first night of selections. As usual, Commissioner Rob Manfred will announce the first-round selections, and then the club reps will do the honors the remainder of the evening.
In addition to Brett, former All-Stars on the Draft floor will include Felipe Alou, Bob Boone, Ron Cey, Cuddyer, Foulke, Ralph Garr, Jeffrey Hammonds, Joel Hanrahan, Corey Hart, Orlando Hudson, Randy Jones, Ruppert Jones, Kittle, Matthews, Lloyd Moseby, Mike Sweeney and Nick Swisher. There will be a lot of story-telling and a lot of phone calls to team war rooms.
Tommy Lasorda, the 89-year-old Hall of Famer who has been a club-rep fixture at this event each year for the Dodgers, will not be able to attend following surgery last Thursday to replace a pacemaker. But in his place at the club's table will be Cey, one of his on-field fixtures at third base in the '70s and '80s.
The MLB Draft has a rich tradition of family legacies being selected, and famous MLB families will be well-represented on the floor. Boone, the catcher on the Phillies' 1980 World Series champions and a former manager for Kansas City and Cincinnati, is the son of All-Star Ray Boone and the father of former All-Stars Aaron and Bret Boone. Alou is the eldest of the three Alou brothers from the Dominican Republic who each spent at least 15 years in the Majors, and the father of six-time All-Star Moises Alou. Jose Molina, representing the Angels, is one of the Molina brothers from Puerto Rico, including Yadier and Bengie, who became catching fixtures and regulars in the postseason.
MLB Network and MLB.com will have live coverage of Day 1 of the Draft at 7 p.m. ET on June 12. MLB Network will broadcast the first 36 picks (Round 1 and Competitive Balance Round A), while MLB.com will stream all 75 picks. MLB.com will also provide live pick-by-pick coverage of Rounds 3-10 on Day 2, starting at 1 p.m. ET. Then, rounds 11-40 can be heard live on MLB.com on June 14, beginning at noon ET.
Prior to the start of the Draft, MLB Network and MLB.com will air a Draft preview show, starting at 6 p.m. ET. Of course, the previewing already is well underway. Go to MLB.com/draft to see the Top 100 Prospects list, projected top picks from MLBPipeline.com analysts Jim Callis and Jonathan Mayo, the complete order of selection and more. And follow @MLBDraft on Twitter to see what Draft hopefuls, clubs and experts are saying.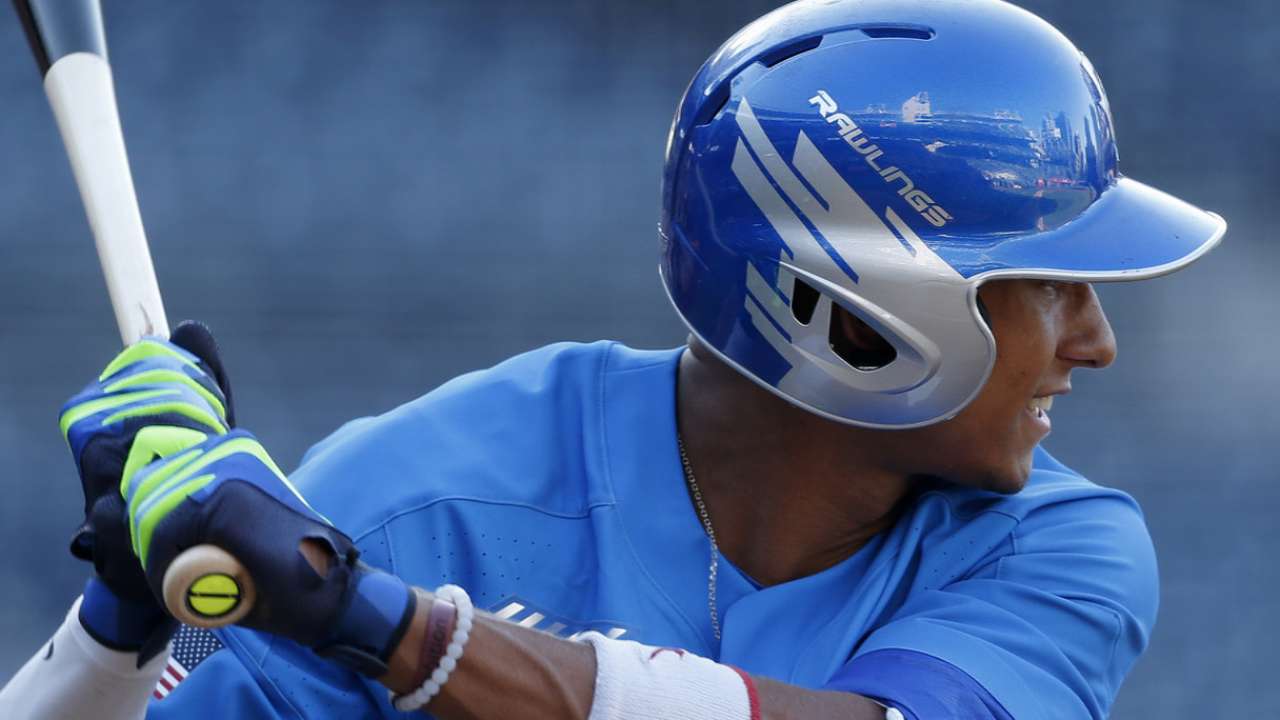 Amateur players who will attend the Draft will be announced at a later date.
The full list of Draft reps:
Angels: Molina, Brian Tripp
A's: Braden
Astros: Enos Cabell, Mike Wickham
Blue Jays: Moseby, Mike Tidick
Braves: Jeff Francoeur, Garr
Brewers: Hart, Gord Ash
Cardinals: Ankiel
Cubs: Sean Marshall, Zach Zielinski
D-backs: Hudson, Rick Matsko
Dodgers: Cey, Lon Joyce
Giants: Alou, John DiCarlo
Indians: Mike Jackson
Mariners: Jones, Rob Mummau
Marlins: Juan Pierre, Bill Beck
Mets: Todd Zeile, Claude Pelletier
Nationals: Boone, Johnny DiPuglia
Orioles: Jeffrey Hammonds, Tripp Norton
Padres: Jones
Phillies: Del Unser, Matthews
Pirates: Joel Hanrahan
Rangers: David Murphy
Rays: Fernando Perez, Lou Wieben
Reds: Austin Kearns, Larry Barton Jr.
Red Sox: Foulke, John Pyle
Rockies: Clint Barmes, Jesse Stender
Royals: Brett, Sweeney
Tigers: Jim Leyland, Murray Cook
Twins: Cuddyer, John Wilson
White Sox: Kittle, Kevin Coe
Yankees: Swisher, Denis Boucher
Mark Newman is enterprise editor of MLB.com. Read and join other baseball fans on his MLB.com community blog. This story was not subject to the approval of Major League Baseball or its clubs.
1
Houston
Houston News & Search
1 News - 1 eMovies - 1 eMusic - 1 eBooks - 1 Search