1
Houston
Houston News & Search
1 News - 1 eMovies - 1 eMusic - 1 eBooks - 1 Search
The focus then shifted from the Astros' current star second baseman to a Hall of Famer who occupied that territory for two decades.
Craig Biggio, inducted into the Hall of Fame two years ago, walked onto the field with former first baseman Jeff Bagwell, who will be inducted this summer. Biggio threw the ceremonial first pitch to Bagwell and jokingly boasted about the quality of his throw.
"I didn't bounce it," Biggio said.
The "passing of the Hall of Fame torch" moment will mark one of several appearances the two former star infielders will make together this year. The most significant, of course, will be the weekend in late July when Bagwell takes the stage in Cooperstown as a member of the newest Hall of Fame class. Biggio will be sitting up on the stage with the other living Hall of Famers, sharing Bagwell's big induction day.
"It's very special," Bagwell said. "Craig and I played together for 15 years, we have our numbers retired here, we'll be in Cooperstown together. You can't take that away from us and it's really special."
Added Biggio: "Both of our names and numbers are hanging up there and now going to the Hall of Fame together and being together forever. … He's one of the best first baseman we've ever had and one of the greatest friends. Today was just an exciting and fun day and I'm glad we're here together."
The ceremony included a somber moment, when the Astros recognized two key baseball figures who have recently passed. Katy Feeney, former MLB senior vice president for scheduling and club relations, passed away Saturday, and Jamie Hildreth, the Astros' longest tenured employee and senior vice president of broadcasting and alumni relations, passed in late February during a visit to Astros Spring Training in Florida.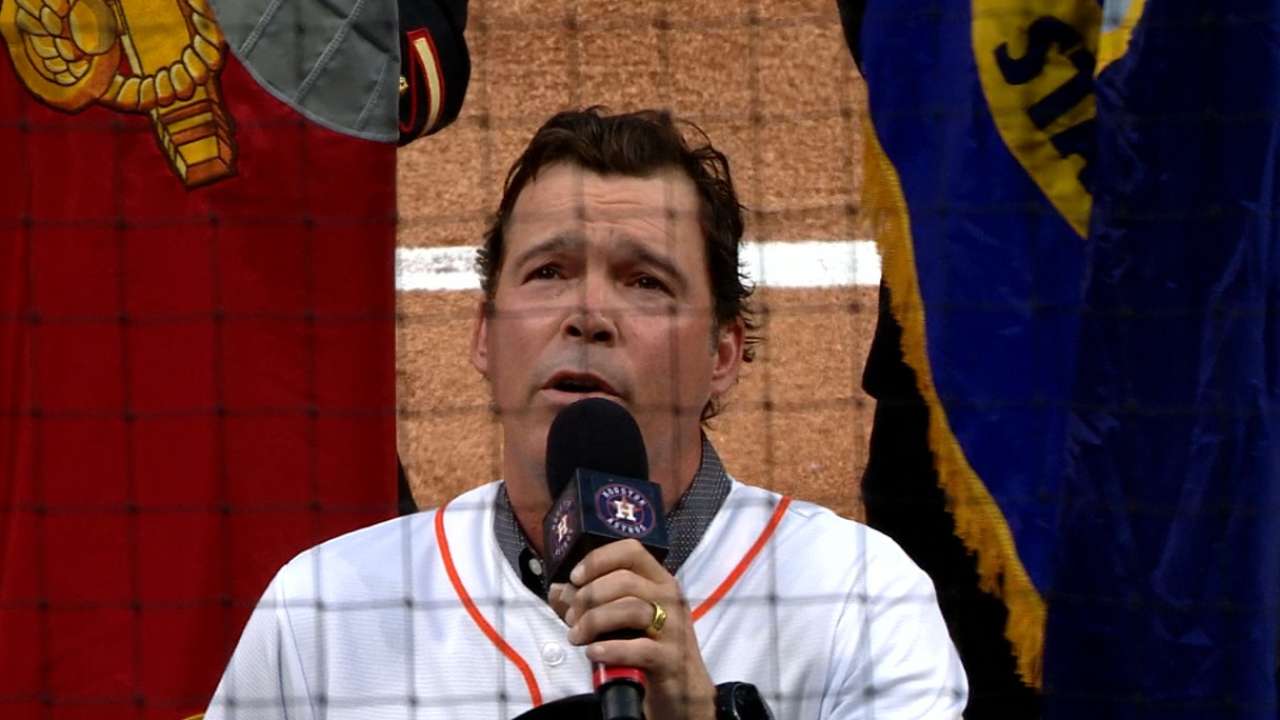 The national anthem was performed by country music star and Texas native Clay Walker, who was flanked by a Joint Forces Color Guard, composed of soldiers from all five military branches. Between them, they have more than 14 combat-related deployments.
During the anthem, Astros season ticket holders and members of the United States military unfurled a large American flag in center field. A flyover by the 301st Fighter Wing and 475th Fighter Squadron from Fort Worth completed the pregame ceremony.
Alyson Footer is a national correspondent for MLB.com. Follow her on Twitter @alysonfooter. This story was not subject to the approval of Major League Baseball or its clubs.
1
Houston
Houston News & Search
1 News - 1 eMovies - 1 eMusic - 1 eBooks - 1 Search