1
Houston
Houston News & Search
1 News - 1 eMovies - 1 eMusic - 1 eBooks - 1 Search
"I wanted to see him get into the fifth- and sixth-inning mode and make sure he recovers fine, make sure his volume is good, make sure he feels good, and he wasn't going to need extra days here and there," Hinch said. "It's a simple decision for me, but it's nice he went five innings in his last outing, and I can officially name him the Opening Day guy. Like I said, it was a foregone conclusion if he answered all the questions we had coming into camp, and he did that."
Keuchel, 29, will have one more start in Florida before taking the ball against the Mariners and Felix Hernandez at Minute Maid Park. The Astros have won four consecutive Opening Day games, with Keuchel throwing seven scoreless innings to beat the Indians in 2015 and going seven innings to beat the Yankees last year.
The lefty is the first Astros pitcher to start three consecutive Opening Day games since Roy Oswalt started eight in a row from 2003-2010. Brett Myers (2011), Wandy Rodriguez (2012), Bud Norris (2013), and Scott Feldman (2014) started on the mound Opening Day prior to Keuchel.
Hinch said either Charlie Morton or Lance McCullers Jr. would start the second and third games of the season, but the order has yet to be determined.
"We have those days off in Houston before our exhibition games (next Thursday and Friday against the Cubs) so they're both going to get extra rest," he said. "I'm considering starting McCullers on regular rest in the second game of the year or Morton third, or we may flip-flop it. I'm not that consumed by that decision other than eventually we have to decide."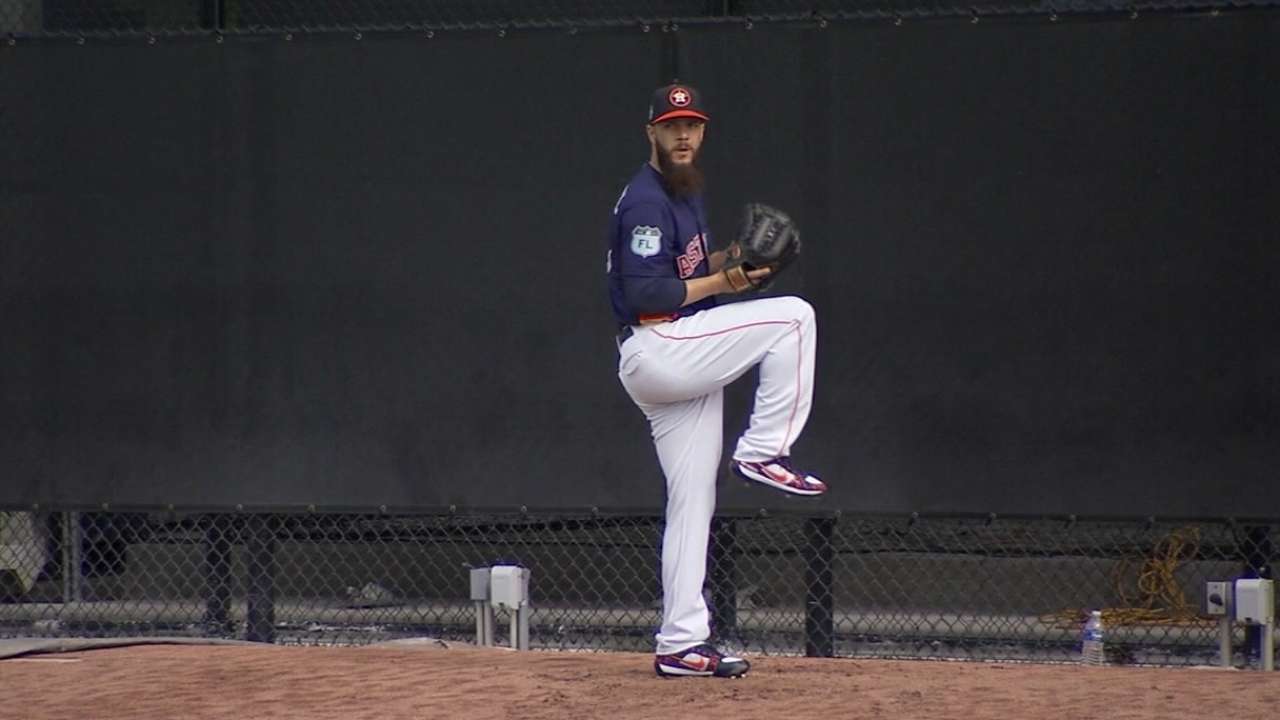 One starter who likely won't be ready for the regular season is Collin McHugh, who threw 41 pitches in three innings in a Minor League game on Wednesday as he works his way back from "dead arm." McHugh would likely miss one or two starts if he continues to progress.
"It's looking more and more likely he may be late to the season," Hinch said. "He had a nice outing and is going to pitch again in a few days. We're optimistic he's starting to build up arm strength and be ready soon into the season. I'm not officially saying that because I'm not 100 percent committed to that plan, but we're getting close to have to plan for maybe a late start for him."
Brian McTaggart has covered the Astros since 2004, and for MLB.com since 2009. Follow @brianmctaggart on Twitter and listen to his podcast. This story was not subject to the approval of Major League Baseball or its clubs.
1 Houston
Houston News & Search
1 News - 1 eMovies - 1 eMusic - 1 eBooks - 1 Search