1
Houston
Houston News & Search
1 News - 1 eMovies - 1 eMusic - 1 eBooks - 1 Search
That's why it was so important for the Astros and Mets to play on Saturday in Houston, a city in need of little levity and a lot of hope.
"I don't want it out of their minds," said Hinch. "I want them to think about it for this week, I want them to think about it next week, I want them to think about it next month or six months [from now] — or whenever people need something. We have time and energy and money — and whatever we can do to help, I want them to think about it."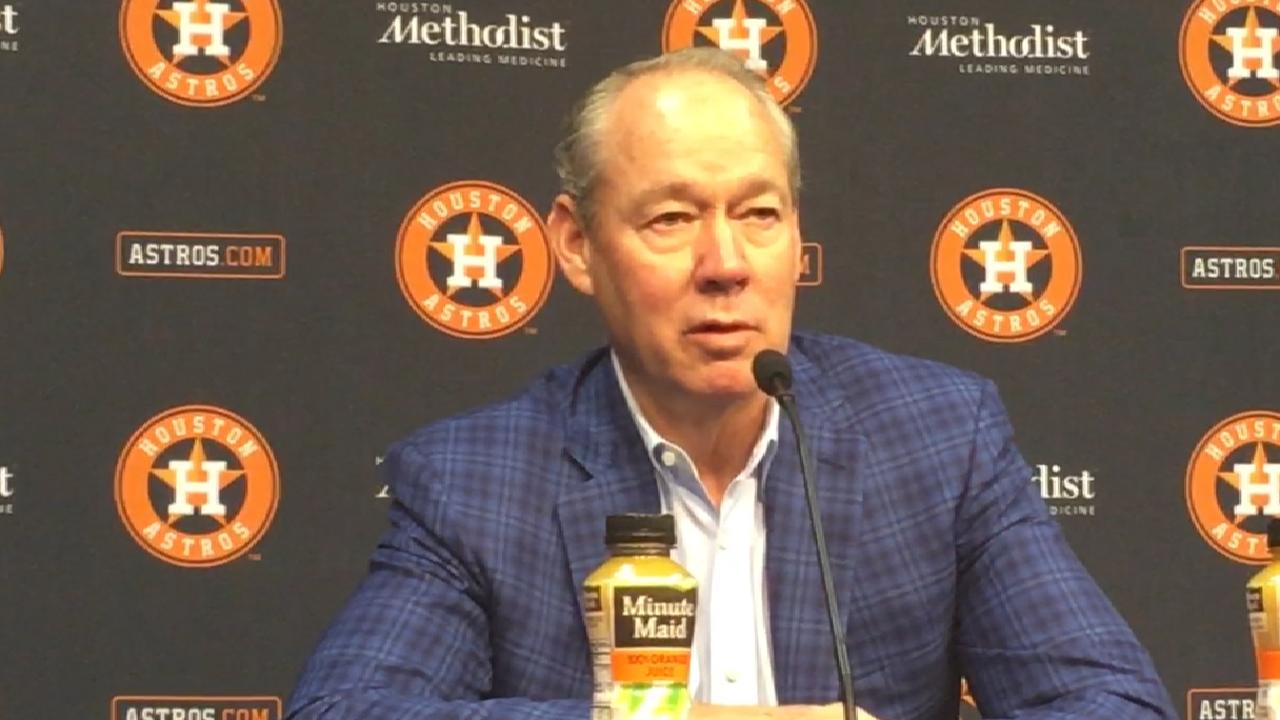 The Astros, forced to relocate a three-game series against the Rangers to St. Petersburg, Fla., earlier this week, returned home late Thursday and spent hours Friday assisting at an evacuation shelter downtown, just blocks from Minute Maid Park. Many of those evacuees were scheduled to be in the ballpark for Saturday's doubleheader against New York.
The city needs the Astros as much as the Astros need the city.
"Happy to be here," Astros outfielder Josh Reddick said. "It's going to be good to get back out there in front of these fans — not only for them, but for us, as well. We've been wanting to get back here so bad, and play back here before we have to go back on the road so soon. Three weeks without baseball in Houston would have been a pretty long road trip."
Today spikes are brought to you by the evacuee Children and volunteer workers at GRB in Houston. #Forhouston @adidas pic.twitter.com/5ezTC1H0ed

— Joe Musgrove (@musgrove23Stros) September 2, 2017
The fact the Astros were here didn't seem like a possibility only a few days ago. With much of the city still under water and rescue helicopters humming overhead constantly, it appeared Houston might not have baseball at home again until mid-September.
But Mayor Sylvester Turner wanted the Astros to return to Houston this weekend, even for a couple of days, before heading out on a nine-game road trip. It would be good for the city's soul, good for the players, too.
"First and foremost, it's good to be home," Hinch said. "It's good to see Houston, it's good to interact with our families, with our friends, with our fans and just start the rebuild process. Our last week has been chaotic, but nothing compared to what the city of Houston and the surrounding area has gone through. For us to get home and do a little bit of reconnection yesterday was much needed."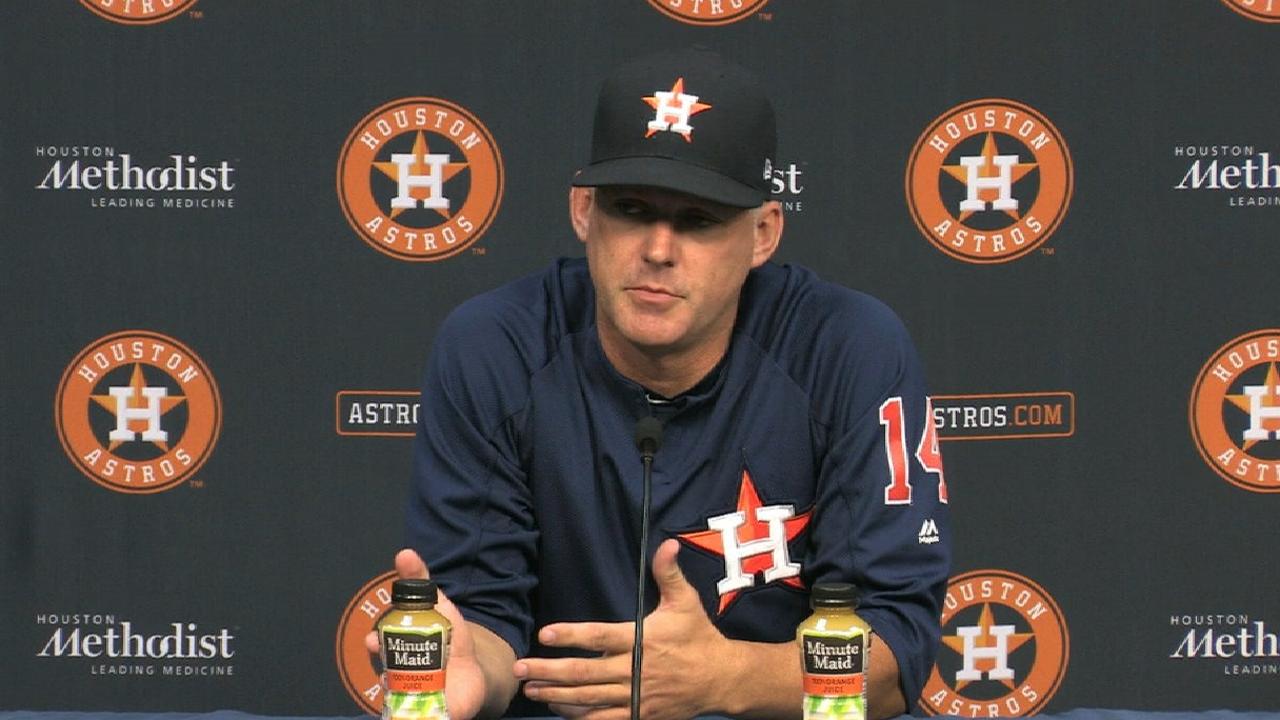 Veteran catcher Brian McCann said it "feels right" to be back in Houston.
"We went to the [George R. Brown] Convention Center the other day, and you just see kids running around that lost their homes and lost everything," said McCann. "It's been a devastating week. To be able to come back here and play in front of them in the position we're in, we're excited."
Even the Mets got involved. Mets players fanned out across the Houston area on Friday, helping out in shelters and unloading supplies. One group went to the Houston Police Officers Union, meeting with Mayor Turner.
"We did what we thought was right," Mets catcher d'Arnaud said. "The bigger helpers were the people in that community."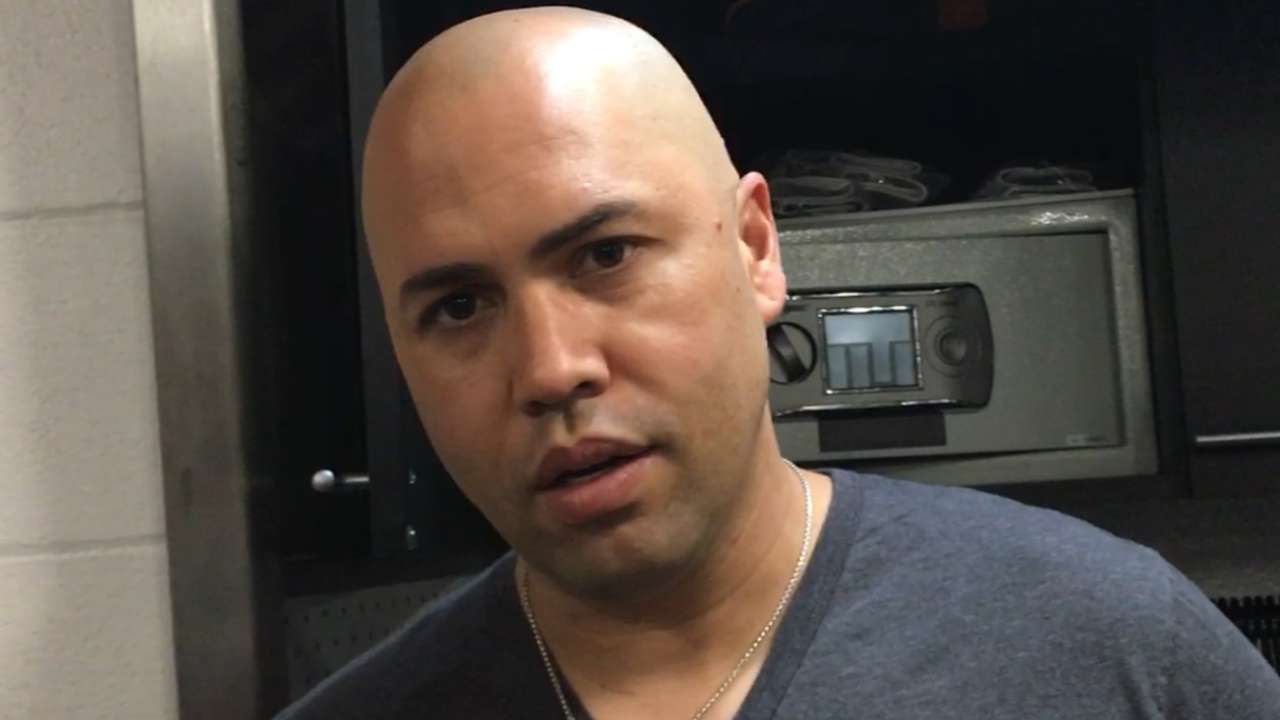 Astros relief pitcher Will Harris, a New Orleans-area native who was at LSU when Hurricane Katrina devastated the area 12 years ago, said sports can serve a purpose in the wake of a disaster.
"I think that people turn to sports a little bit because it's part of their routine," said Harris. "Every day the Astros are playing at 7 o'clock — and before the storm happened, their routine was to come to a game. So with all the tragedy that's happened, if these people can get a little bit of [their] routine back to what it was before the storm, we're glad to provide that."
The players weren't immune from the storm. George Springer had trouble reaching his home when the Astros returned from Florida on Thursday, after playing their series against the Rangers while the water in Houston in receded. He was taken aback at the destruction he saw throughout the city. It will be a long road back to normalcy, but he knows the city will respond.
"[It was jarring to see] the debris on the side of the road — the furniture stacked up, the water in places you know [there] is not supposed to be water," said Springer. "It's scary, it's sad. [There are] thousands of people who don't have homes to go back to or their homes are still under water. For us, that's a tough reality to see in person for the first time after being fortunate enough to be [away from the danger] and have all our families and stuff be safe. It's sad to see, but this is a place [where] a lot of people will bounce back."
Brian McTaggart has covered the Astros since 2004, and for MLB.com since 2009. Follow @brianmctaggart on Twitter. This story was not subject to the approval of Major League Baseball or its clubs.
1
Houston
Houston News & Search
1 News - 1 eMovies - 1 eMusic - 1 eBooks - 1 Search