1
Houston
Houston News & Search
1 News - 1 eMovies - 1 eMusic - 1 eBooks - 1 Search
After starting the season 4-for-25 with eight strikeouts and no walks, the reigning American League batting champion is 10-for-18 in his past five games, with only one strikeout and seven walks. In that span, he's raised his batting average from .160 to .326 and his on-base percentage from .160 to .420.
"It's going to happen," Astros manager A.J. Hinch said. "This is one of the most dynamic offensive players in the [Major Leagues]. He's pretty exciting to watch. When he's in the strike zone and putting the ball in play, he obviously creates havoc. It's fun to watch."
When asked about his streak, Altuve played coy.
"I don't know what you're talking about," he said with a smile.
Both of Altuve's doubles — one in the fifth and one in the seventh — went to right field, continuing his trend of going to the opposite field.
"I threw a ball four feet off the plate and he gets a double. That's one reason," A's starter Kendall Graveman said. "Another reason, he has a good eye in the zone. We had a 3-2 pitch and we made a very good pitch away, barely off the plate, and he takes it for a walk. Then he goes 0-0 swing on a sinker and he hits a ball through the 6-hole. He can get on in so many ways. It's not just one way he can beat you. You also have to honor his power. You've got to make quality pitches. Heck, I can't make a better pitch than a cutter away — nobody else in the league gets a hit on that except him. That's one of the reasons why he's able to do that."
According to Statcast™, 41.2 percent of Altuve's batted balls are going to right field/second base/first base, including 64.3 percent (9 of 14) of his hits. Last year, 24.5 percent of Altuve's batted balls went to right field/second base/first base, including 18.7 percent of his hits.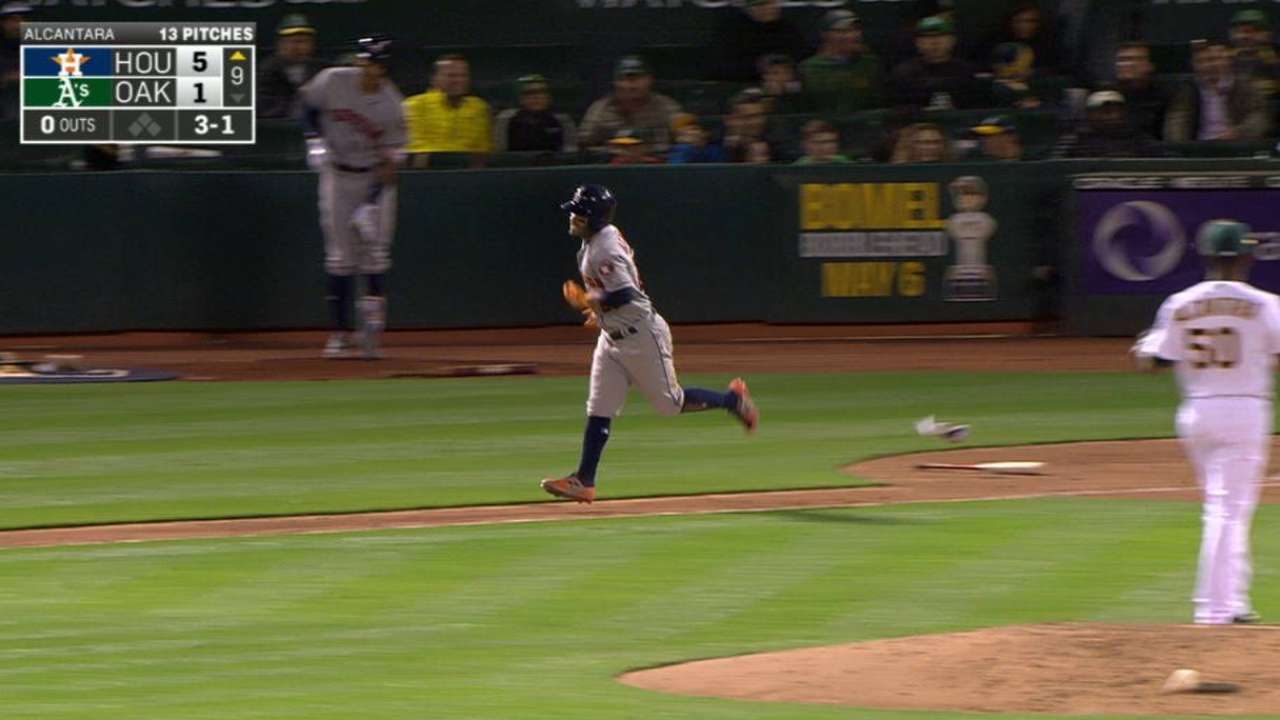 "I feel good," Altuve said. "Like I said a couple of days ago, I wasn't doing really good, but I felt like I was getting close. It's hard to believe that you are getting better when you're striking out, hitting .150, but that was the way I felt. It's a long season and that's not the only slump I'm going to get in this season because, obviously, you want to play 150 games plus.
"You're not going to get hits every day, you're not going to hit .300 every single day, but I'm just trying to be consistent. If I go 0-for-4 one day, I just try to work hard and make a play for the team. At the end of the day, that's what matters, how the team plays."
Meanwhile, Altuve stole his 202nd career base in the fourth inning, tying him with Jeff Bagwell for the sixth-most in franchise history.
Brian McTaggart has covered the Astros since 2004, and for MLB.com since 2009. Follow @brianmctaggart on Twitter and listen to his podcast. This story was not subject to the approval of Major League Baseball or its clubs.
1
Houston
Houston News & Search
1 News - 1 eMovies - 1 eMusic - 1 eBooks - 1 Search