1
Houston
Houston News & Search
1 News - 1 eMovies - 1 eMusic - 1 eBooks - 1 Search
That may be what the newest member of the Astros, Justin Verlander, takes away from this day. The Astros aren't just really good. Their energy and passion are part of what makes them so appealing.
Video: NYM@HOU: Altuve dodges tag to score the go-ahead run
On this day, it was that and more. Others felt it, up and down the dugout, George Springer and manager A.J. Hinch and others. Sometimes, a singular moment says so much. This is why the Astros wanted to be back home. This is why their city wanted them here.
The Astros reminded us why this stuff matters and why we love it. Go ahead and stand and cheer. How could you not?
This is what the Astros hoped for. This also is pretty much how they hoped to do it. That is, to go out and play some of the baseball that has defined this team for the last five months.
Normal? No, not normal. No one expects that for a while. Instead, what the Astros delivered in sweeping a doubleheader from the Mets on Saturday — 12-8 in the first game, 4-1 in the second — was a step in that direction.
That's what Houston Mayor Sylvester Turner had in mind when he asked them to fly home and do something to change a battered city's narrative for a few hours.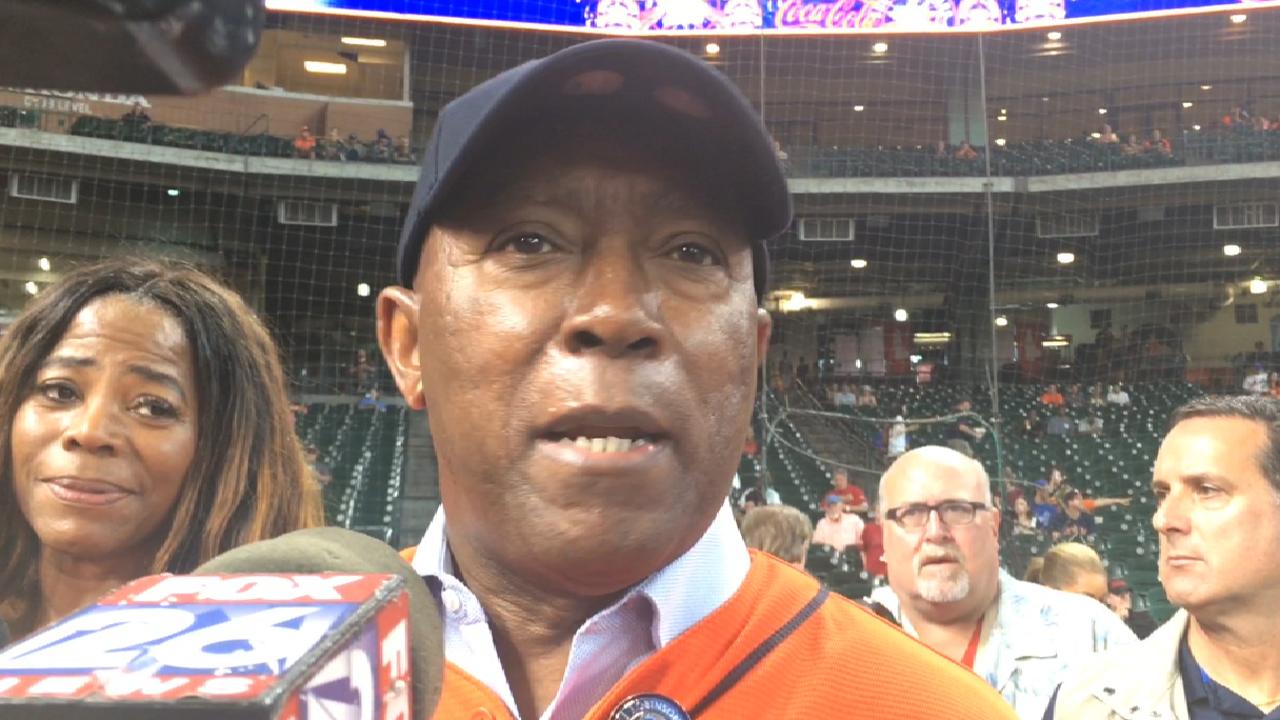 "I felt like we were carrying everybody in our hearts today," reliever Joe Musgrove said. "It was a really special day for everybody in here."
There was also a sense of relief, a happy familiarity with being home again, if only for three days. That was obvious in the home dugout at Minute Maid Park where there was laughter and smiles all around.
That was especially true when Verlander, showed up and spent the second game in uniform chatting up the players he's about to try to help win a World Series.
That was true in the stands as well. This battered city was ready for some baseball, and two nice crowds — announced at 30,319 and 34,904 — marked a day that was a dual celebration of a city and a sport that has occasionally played an important role in helping our nation heal.
"I think our club played with as much energy as we've played with in a while," Hinch said. "Couldn't really have scripted a better day."
#Astros 7, #Mets 0 | End 2 pic.twitter.com/qO2vJO27zV

— #AstrosHarvey (@astros) September 2, 2017
There was this sign in the stands at Minute Maid Park:
World Series bound,
Hell or High water.
"We're here to provide any distraction we can," outfielder Springer said. "Just provide people with something else to concentrate on for a little bit. This city deserves that."
This game was played against the backdrop of Hurricane Harvey's sledgehammer that killed at least 38 and left thousands of homes destroyed and people displaced.
The Astros wore "Houston Strong" patches, honored victims and first responders and invited those at a nearby shelter to come and enjoy a game.
There's also happier stuff going on. Verlander put on the uniform for the first time and threw a bullpen session.
Verlander in Astros gear, throwing in bullpen pic.twitter.com/sW1kXCkHqx

— Brian McTaggart (@brianmctaggart) September 2, 2017
And on Sunday, shortstop Carlos Correa will play for the first time since tearing a thumb ligament on July 17. The Astros have gone 20-23 during his absence.
But apart from that, these three games against the Mets were a chance for the Astros to return home and feel part of their community.
"I think it was important for us to be able to collect ourselves and settle things down," Hinch said. "We often forget that these athletes are humans first. We've got houses and homes and wives and kids.
"When any of that's disrupted, it impacts you coming to work, just like it would for any of you."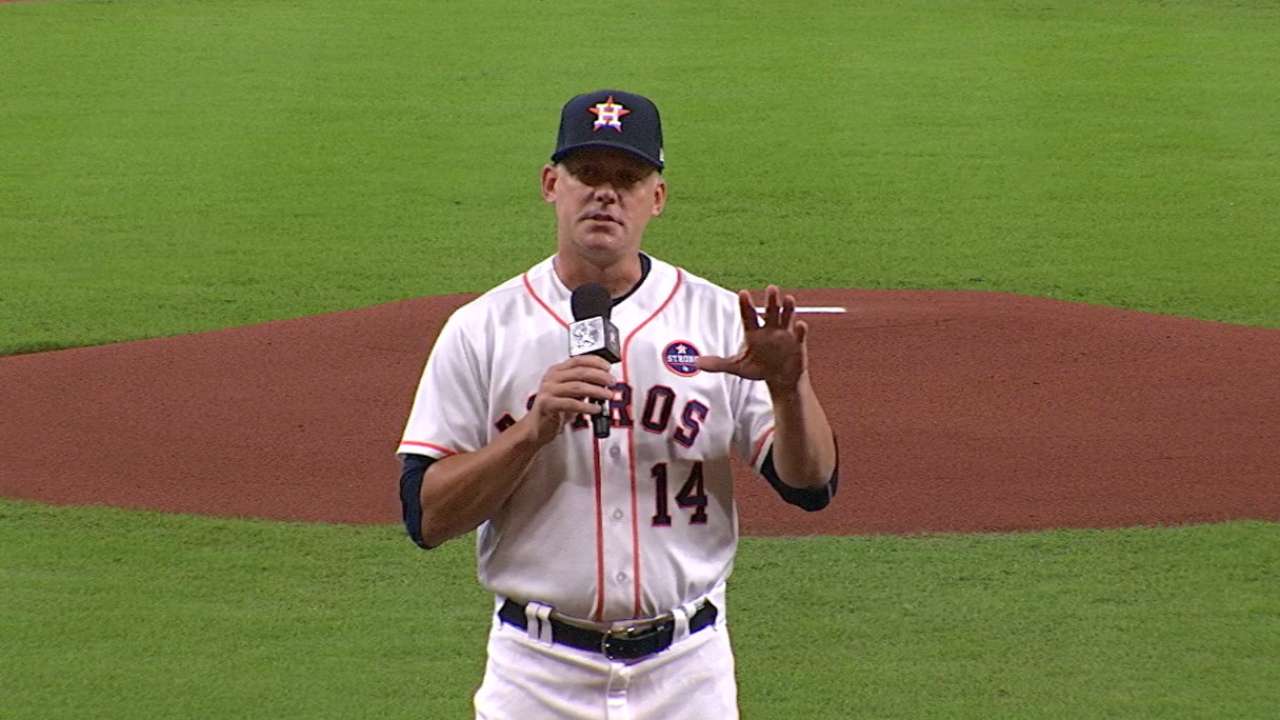 The Astros saw some of their city's pain firsthand on Friday when they visited a cavernous makeshift shelter three blocks from Minute Maid Park.
"Some of what we saw with people being displaced was devastating," outfielder Josh Reddick said.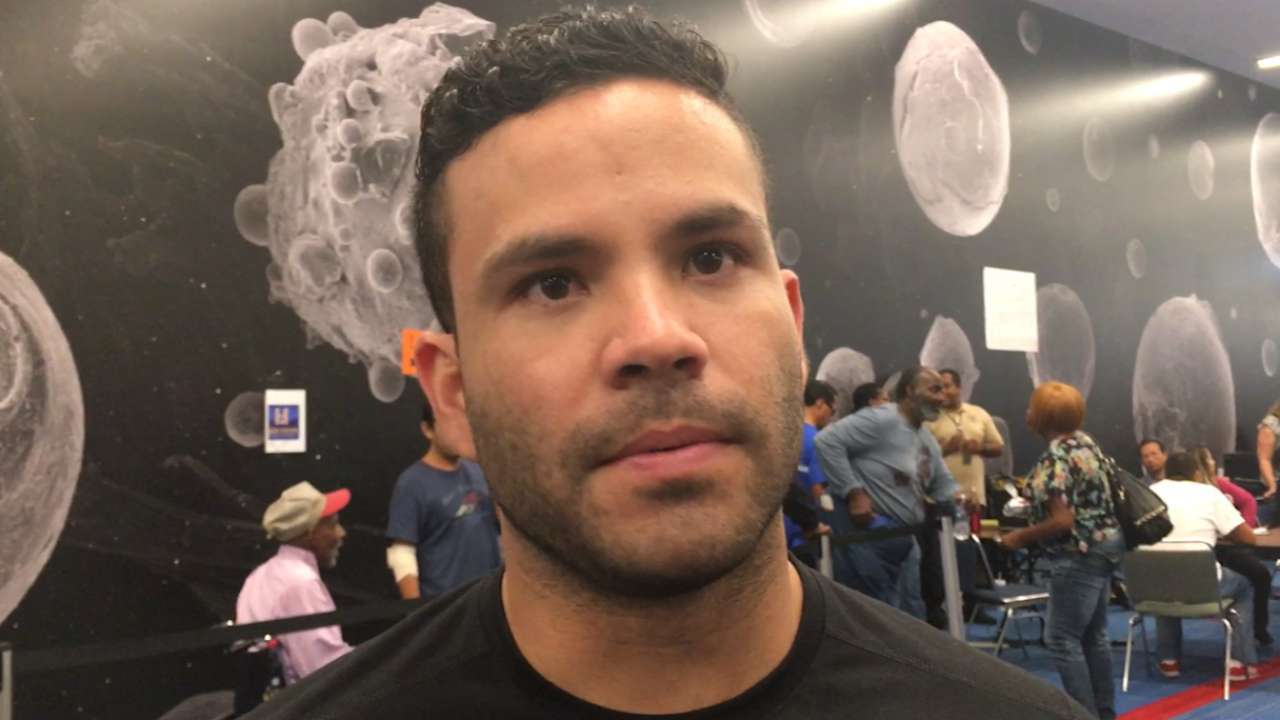 On the other hand, relievers Chris Devenski and Musgrove helped pack supplies at a staging area Friday morning.
"The whole concourse was stacked to the ceiling with clothes, food," Musgrove said. "It's cool to see how the city has come together. People have a passion to help, and that's a little extra motivation for us."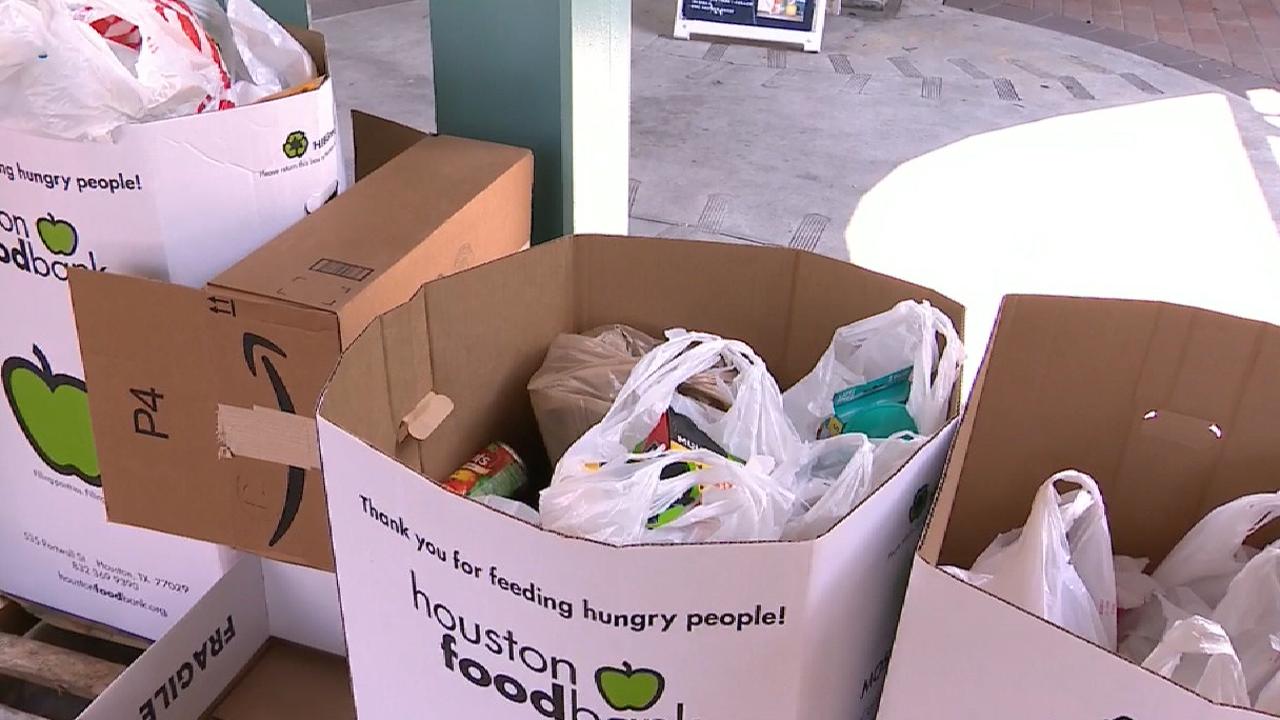 Astros owner Jim Crane said the club was prepared to play this series in St. Petersburg, Florida, where they'd played a scheduled home series against the Rangers earlier this week.
But Turner encouraged the Astros to come home and play, saying it would be a welcome distraction for people coping with so much.
"This is a city where regardless of our challenges, we play ball," Turner said.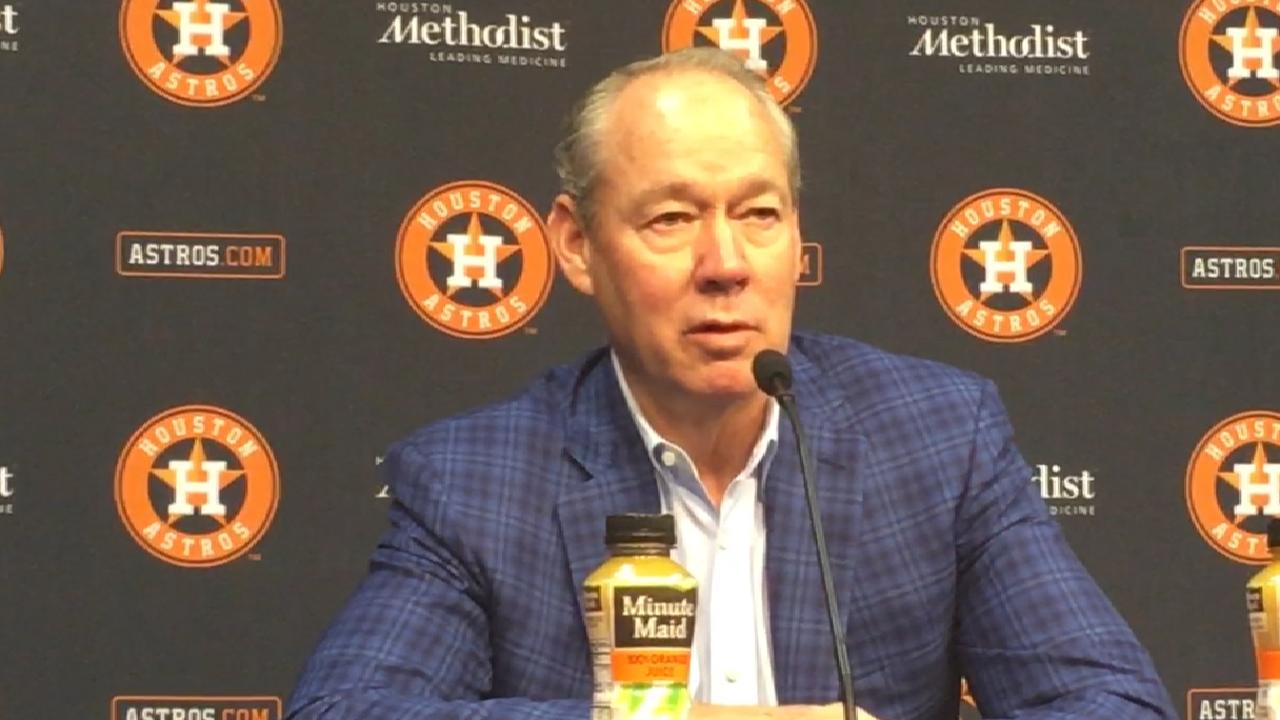 When Hinch was asked how his players would clear their minds of what's going on around them to go out and play baseball, he was emphatic.
"You know what, I don't want it out of their minds," he said. "I don't want them just to think about it this week. I want them to think about it next week, six months and whenever people need something and we have time and energy and money and whatever we can do to help. I want them to think about it.
"We're pros. We're baseball people. We'll be able to compete. The baseball will take care of itself. But I want our guys to stay connected to the rebuild and to getting this community get back on its feet and helping the people that are in the most need.
Before each game, the Astros held a moment of silence for the victims and paid tribute to the people who've done heroic work.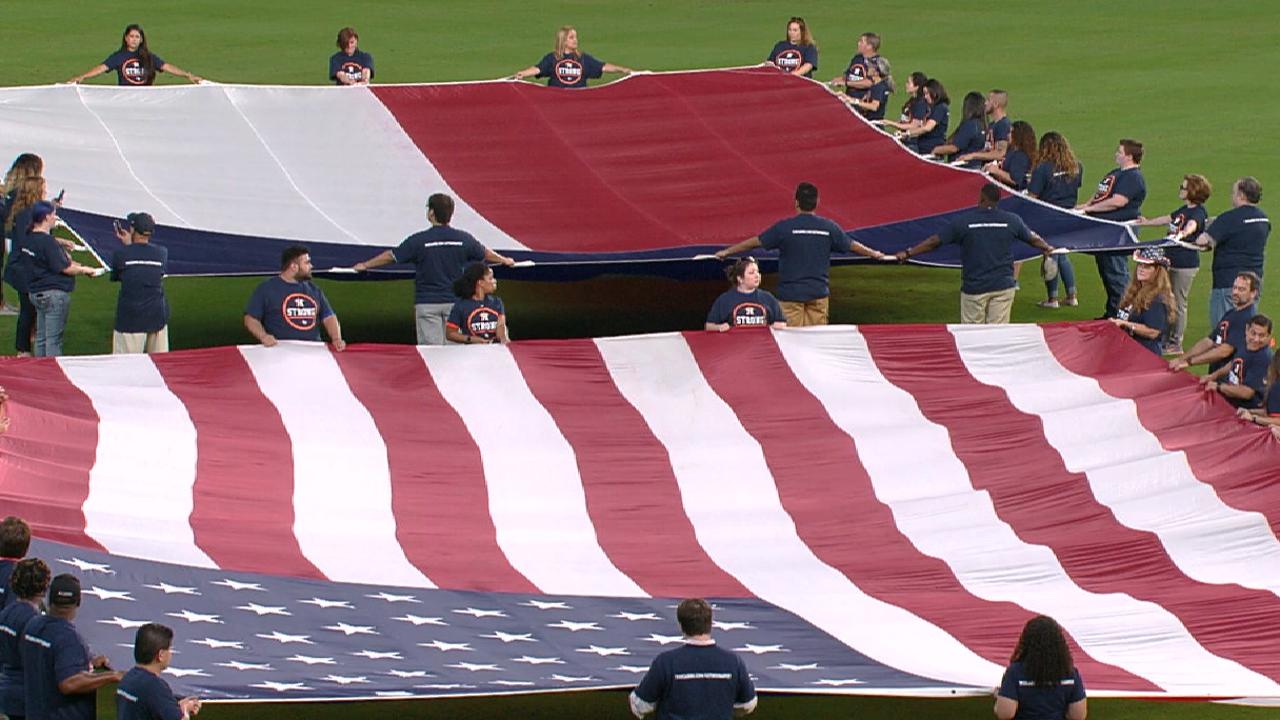 During the Game 1 National Anthem, the Astros and Mets stood on opposite baselines. Mixed among them were soldiers and cops and other first responders who've done heroic work.
There were kids, too, lots of them in the ballpark today as the Astros invited thousands to come over from the nearby shelter.
After the pre-game before Game 1 ceremony, Hinch took the public-address microphone and struck a perfectly appropriate tone.
His finishing words were: "We will wear this [Houston Strong] patch the rest of the year to represent you. Stay strong. Be strong."
Richard Justice has been a reporter for MLB.com since 2011. Read his columns and follow him on Twitter at @RichardJustice This story was not subject to the approval of Major League Baseball or its clubs. This story was not subject to the approval of Major League Baseball or its clubs.
1
Houston
Houston News & Search
1 News - 1 eMovies - 1 eMusic - 1 eBooks - 1 Search