1
Houston
Houston News & Search
1 News - 1 eMovies - 1 eMusic - 1 eBooks - 1 Search
1. Double barrel
Jose Altuve captured his second American League batting title in 2016, but he did so as a very different hitter than when he won his first two seasons before.
Altuve boosted the power in his swing last year by being more selective in the pitches he swung at and lifting his launch angle. The result? A significant uptick in average exit velocity and a barrel rate (batted balls whose combination of exit velocity and launch angle yield an expected batting average of at least .500 and an expected slugging percentage of at least 1.500) that nearly doubled in the span of one season.
One could see the power surge right on Altuve's stat sheet, as his OPS jumped 116 points from 2015 to '16.
2015
Chase percentage: 38.2 percent
Average exit velocity: 86.1 mph
Average launch angle: 9 degrees
Barrels/PA: 2.6 percent
2016
Chase percentage: 35.0 percent
Average exit velocity: 88.7 mph
Average launch angle: 11 degrees
Barrels/PA: 5.0 percent
2. Super sliders
Houston's bullpen contains not one, but two of the very best sliders in baseball. The tandem of Ken Giles and Luke Gregerson recorded the second- and third-highest swing-and-miss rates on sliders out of all pitchers who threw the pitch at least 250 times last season. Giles and Gregerson were also the very best at getting hitters to swing and miss at sliders out of the zone.
Highest whiff rate on sliders in 2016 (minimum 250 sliders thrown)
1. Edwin Diaz: 35.0 percent
2. Ken Giles: 34.2 percent
3. Luke Gregerson: 32.6 percent
4. Noah Syndergaard: 28.8 percent
5. Max Scherzer: 28.0 percent
Highest whiff rate on out-of-zone sliders (minimum 250 thrown)
1. Ken Giles: 41.1 percent
2. Luke Gregerson: 40.4 percent
3. Max Scherzer: 33.4 percent
4. Noah Syndergaard: 32.7 percent
5. Jon Gray: 31.8 percent
3. Not "short" on power
Shortstop is not a position at which power hitters have typically been found, but last season saw a slugging explosion from shortstops that was led in part by Carlos Correa. At age 21, Correa led all shortstops in average exit velocity on batted balls in 2016.
Highest average exit velocity for SS in 2016 (minimum 100 batted balls)
1. Carlos Correa: 91.8 mph
2. Brad Miller: 91.7 mph
3. Trevor Story: 91.5 mph
4. Corey Seager: 91.5 mph
5. J.J. Hardy: 91.0 mph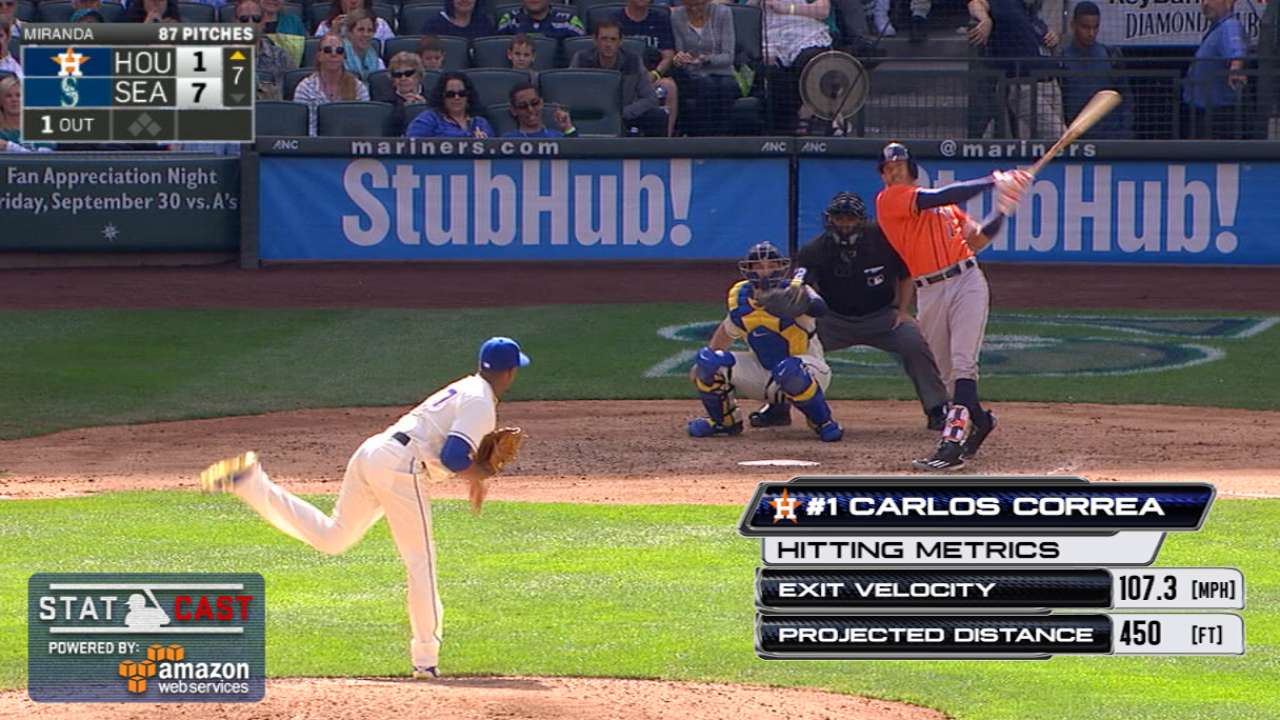 4. Shining star
Catch Probability shows how likely an outfielder is to make a particular catch based on how far he needs to travel and how much time he has to do so. The new Statcast™ metric showed off Jake Marisnick's talent in the outfield last season, when he snagged the fourth-most "5-Star" plays (Catch Probability of 0-25 percent) and recorded the fourth-best success rate on converting "4-Star" plays (Catch Probability of 26-50 percent).
Most successful 5-Star plays in 2016
1-T. Adam Eaton: 10
1-T. Ender Inciarte: 10
3. Billy Hamlton: 9
4. Jake Marisnick: 8
5-T. Peter Bourjos: 7
5-T. Lorenzo Cain: 7
5-T. Kevin Pillar: 7
Highest success rate on 4-Star plays in 2016
1. Steven Souza Jr.: 91.7 percent
2. Jarrod Dyson: 88.9 percent
3. Kevin Kiermaier: 87.5 percent
4. Jake Marisnick: 80.0 percent
5-T. Billy Hamilton: 75.0 percent
5-T. Desmond Jennings: 75.0 percent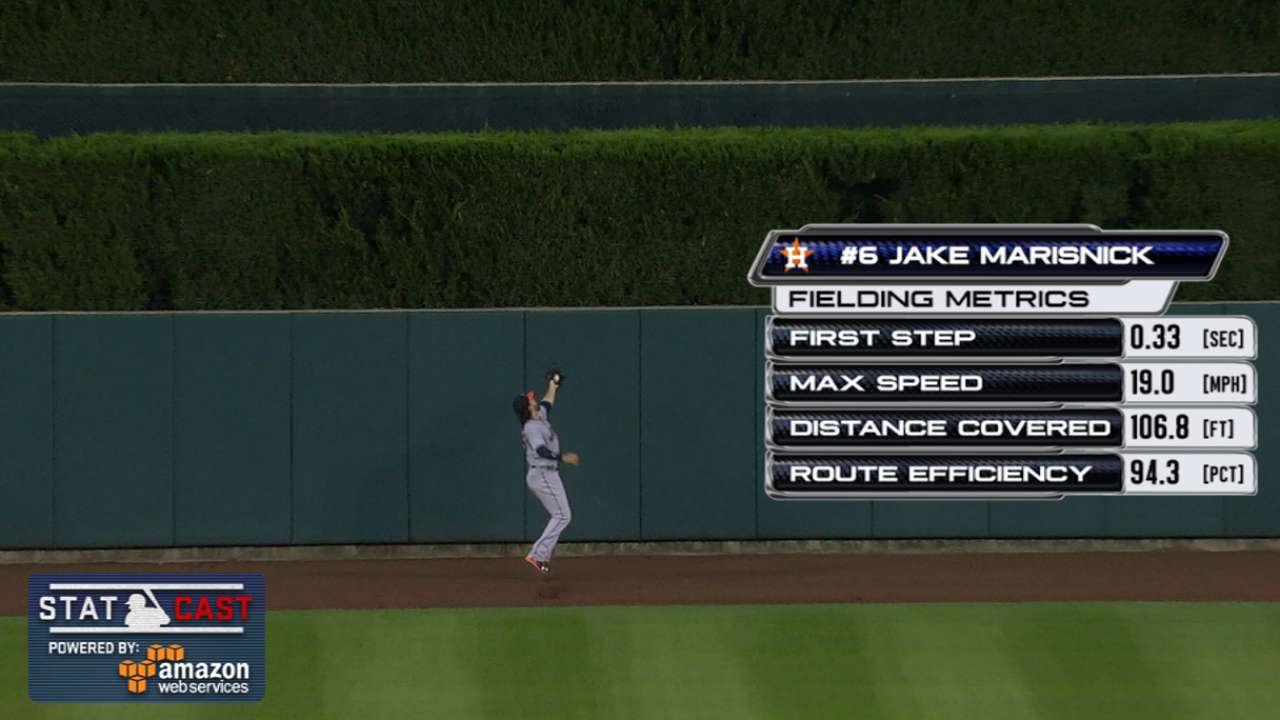 5. Out of sync
Houston ace Dallas Keuchel identified pain in his left pitching shoulder as a major reason why he regressed from a Cy Young Award-winning season in 2015 to a 9-12 record and 4.55 ERA for the Astros in '16. Keuchel's discomfort was evident in the dip in velocity on his signature pitch — the two-seam fastball — and the kind of contact he was giving up with it.
Two-seam fastball in 2015
Average velocity: 89.9 mph
Average exit velocity allowed: 86.5 mph
Barrels/Batted Ball Events: 0.5 percent
Two-seam fastball in 2016
Average velocity: 88.8 mph
Average exit velocity allowed: 92.0 mph
Barrels/BBE: 3.8 percent
Matt Kelly is a reporter for MLB.com based in New York. Follow him on Twitter at @mattkellyMLB. This story was not subject to the approval of Major League Baseball or its clubs.
1
Houston
Houston News & Search
1 News - 1 eMovies - 1 eMusic - 1 eBooks - 1 Search