1
Houston
Houston News & Search
1 News - 1 eMovies - 1 eMusic - 1 eBooks - 1 Search
Each player who gets into the Meikyukai is gifted an honorary jacket. Aoki was given his jacket by Tokuhiro Komada, who flew in from Japan as a Meikyukai representative for Aoki's induction, shortly after the Astros' 12-6 loss to the Angels on Sunday. The Astros will also honor Aoki prior to Monday's game against the Rangers.
"Tip of the cap to him. Congratulations for a really cool accomplishment — 2,000 hits takes a long time. It takes a lot of success," Hinch said. "We had a nice time celebrating him. We pay our respects for what it takes to go from zero hits to 2,000 and then plus one. I know it's been grinding on him a little bit, but I think he's handled everything very professionally.
"Very proud of him, and glad he did it as an Astro."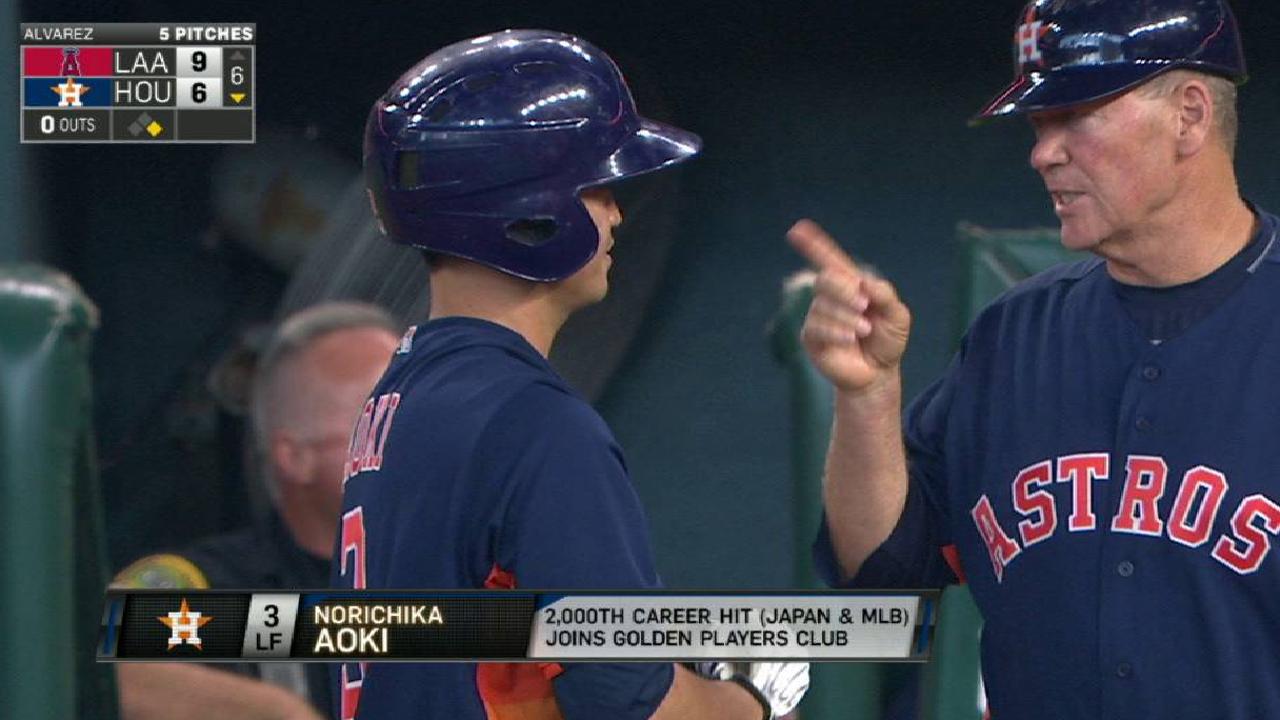 After an RBI double in the fourth inning, Aoki moved to 1,999 career hits before finally knocking in the long-awaited 2,000th two innings later.
Aoki would single again in the eighth for No. 2,001. His three hits Sunday were his most in a game this season.
"Yes, I did think about it. I tried not to think about it, but you know, I thought about it. But I tried to not have it affect my hitting," Aoki said. "Yes, I feel relieved and a little relaxed. We're still trying to win the championship as a team so I'm going to keep trying to contribute to the Astros winning a championship."
Christian Boutwell is a reporter for MLB.com based in Houston. This story was not subject to the approval of Major League Baseball or its clubs.
1 Houston
Houston News & Search
1 News - 1 eMovies - 1 eMusic - 1 eBooks - 1 Search